On August 21, after passing through Oregon, the path of totality from a total solar eclipse total eclipse will reach Idaho -- hitting the westernmost towns around 11:25am. Nearly the entire state will see some level of the eclipse, but the centermost part will see complete coverage, plunging towns from Weiser to Idaho Falls into darkness for one to two minutes, depending on how close to the center line they lie. Idaho is likely to see visitor numbers in the hundreds of thousands, and while many hotel rooms and campsites have been booked for years, there are still available spots throughout the state and a number of towns are throwing festivals celebrating this rare celestial event. To help make the most this once in a lifetime event, here are the best towns to be in on August 21.
Weiser
Partial eclipse start time: 10:10am
Totality start time: 11:25am
Weiser, one of the first towns in Idaho to see totality, is throwing a five-day long Eclipse Festival, complete with music, farmers market, wine tastings, a run, and a car show, all culminating with a pancake breakfast before the eclipse. Memorial Park, Lazy Bear Ranch, Rolling Hills Golf Course, and Weiser High School are all great places with a clear view of the sky for the event, and Sunnyside Retreat Camping, just three miles from Downtown Weiser, has available tent spots.
Payette
Partial eclipse start time: 10:10am
Totality start time: 11:25am
Payette is hosting a three-day long farmers market and swap meet Saturday through Monday at the Payette Track and School District Grounds. Multiple sites throughout town will be providing RV spaces, including Dancer's Edge Academy. Dancer's Edge will also be throwing a five-day party leading up to the eclipse, with plenty of activities for kids, including trampolines, bounce houses, games, vendors, and snow cones. Contact information for that and everything else happening in Payette is available here.
Smiths Ferry
Partial eclipse start time: 10:11am
Totality start time: 11:26am
Smiths Ferry is barely even a town, with a registered population of just 75. However, its position on the path of totality means it's going to be a major destination. The Cougar Mountain Lodge is the only business in town, and the staff there is preparing for the influx of guests with extra food and drinks. Rooms at the lodge are still available, as are RV spaces. The land in and around Smiths Ferry is private property, and they're opening it up for parking for the event. This small community is still looking for volunteers and additional vendors.
Cascade
Partial eclipse start time: 10:11am
Totality start time: 11:26am
Kelly's Whitewater Park is the designated spot to watch the eclipse in Cascade, and will likely be packed. Hiking and camping around Lake Cascade will provide opportunities for eclipse viewing. Just a few miles south of Cascade is the Alpha Nursery and Garden Center, whose location earns it an additional 13 seconds of totality. Dry RV parking will be available for the weekend, as well as eclipse viewing parking spots.
Stanley
Partial eclipse start time: 10:12am
Totality start time: 11:28am
Stanley is in the very center of the totality, giving it one of the longest time frames for the eclipse. The city is celebrating with a multi-day Star Party that includes lectures on the eclipse from astronomers. The hosted river trip to view the eclipse is booked up, but there is plenty of campgrounds around Stanley and the Salmon River Canyon.
Mackay
Partial eclipse start time: 10:13am
Totality start time: 11:30am
Mackay is another long eclipse duration, and the town is hosting a camping party at a private ranch. Tickets are available for individuals, carpools, and families, and it is considered "very dry" camping -- no electricity or water hookups available. The party will include live music, frisbee golf, port-a-potties, and food & water vendors.
Dubois
Partial eclipse start time: 10:15am
Totality start time: 11:32am
Another small town, with fewer than 600 people, Dubois has one event for the eclipse. The park will be open for tent camping sites, just $100 for three nights. A playground, food, and amenities will all be available, and a live band is scheduled for Saturday night. Contact Lisa at the City Office at (208) 374-5241, between the hours of 9am to 3pm, Monday through Thursday, to make reservations.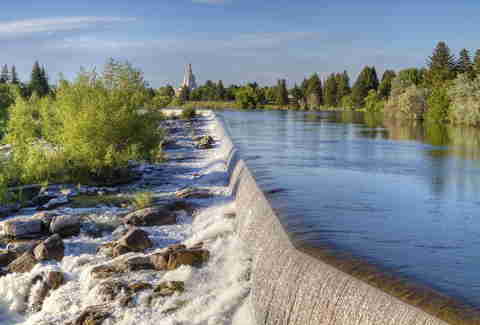 Idaho Falls
Partial eclipse start time: 10:15am
Totality start time: 11:33am
Idaho Falls is likely going to be a madhouse on the weekend of August 19, with an estimated 100,000 to 500,000 people visiting for the eclipse. The weekend will also be packed with events, including stock car races, farmers markets, and "cosmic swimming" at the Aquatic Center. A film and lecture series about the eclipse will be featured Friday through Sunday at the Museum of Idaho, and Saturday night will see the Brothers Osbourne playing at the Sandy Downs Arena, with opener Colt Ford. Designated viewing areas include Old Butte, Tautphaus Park, Freeman Park, and the Community Park. More details are available here.
Menan
Partial eclipse start time: 10:15am
Totality start time: 11:32am
One of the very longest eclipse durations in Idaho, Menan is offering RV parking and tent campsites, both at much lower rates than other towns. Dump sites as well as food and merch vendors will also be provided. More information can be found on the Menan event flyer.
Rigby
Partial eclipse start time: 10:15am
Totality start time: 11:33am
Rigby is closing Main Street for the from 9am to 3pm on the day of the eclipse for the Totality Awesome party, with food and shopping opportunities for revelers. A mile to the north, Jefferson County Lake will be throwing its own party, with lakeside activities and camping opportunities. Jefferson School District 251 has RV camping spots available, while tent and RV camping will be available at the Rigby Rodeo Grounds. Call City Hall at 208-745-8111 or send an email for Rodeo Ground reservations.
Rexburg
Partial eclipse start time: 10:15am
Totality start time: 11:33am
High altitude, a likelihood of clear skies, and a long duration make Rexburg an appealing place for the eclipse. The city has teamed up with Brigham Young University-Idaho for an eclipse-themed lecture series leading up to the event. The morning of, the university is offering a pancake breakfast for visitors. Designated viewing areas include Nature Park, Smith Park, Porter Park, Riverside Park, and Evergreen Park, as well as the BYU-Idaho campus.