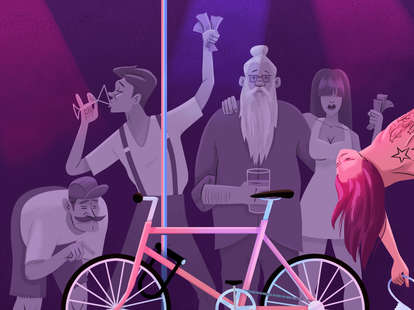 Jason Hoffman/Thrillist
Jason Hoffman/Thrillist
It's a brisk Tuesday night. You're at the bar with your friends, a pint of an obscure, locally brewed IPA in your hand. Depeche Mode and AC/DC are taking turns blasting on the speakers. It just so happens there's an entirely naked woman performing feats of incredible athleticism in front of you, and you're throwing down the better part of your day's wages. It's just another night out in the Portland strip club scene, which -- despite the wild protestations of other writers -- is hands down the best in the country. Skeptical? Keep reading, dear reader.
We have an ungodly amount of strip clubs
Besides beer, liberalism, and vegan food (more on that later), Portland is most famous for its absurd amount of strip clubs. And for good reason: we have the most per capita of any city in the country. To get that statistic we can thank Priceonomics. They used a unique methodology, counting Portland strip clubs on The Ultimate Strip Club List (NSFW) and then cross referencing those results with the results for a "strip club" search on Yelp and Google Maps (for good measure). By their estimation, Portland has 54 strip clubs -- the second most in the US just behind Houston, which has four times Portland's population. So while our esteemed colleague in Atlanta (which only has 30 clubs) has railed against quantity as a bragging point, it does mean you're always in walking distance of a nude bar. If you're in Southeast, you're usually in walking distance from five, but there are plenty of options even all the way out into the suburbs. This also leads to my next point...
We have a strip club for literally everyone
There are clubs and dancers for everyone's style, from the intimate rock 'n' roll-themed Devils Point and the gaudy Spyce Gentleman's Club, to the popular dive-vibe Sassy's, or blue-collar spot Club 205. Vegan? We have a spot for you. Actually, there are two. Are you more about the performative, burlesque aspect of strip clubs? You're covered. Bored with generic hip-hop playing at the club? Head to one of our hard-rock, punk, or metal strip clubs and slam some PBR while a stripper does one arm push-ups onstage. Do you just want to listen to rap while a woman gets naked and bounces her ass on your face? We have a lot of places for that, too.
And while the majority of the dancers here are young, athletic women, there's still a range of age, body type, style, gender, and talent. Into women under 5 feet tall? Go to Lucky Devil Lounge for Tiny Tuesdays (and yes, it's as awesome as it sounds).
We have full nudity, and a full bar
While some cities allow full nudity with full alcohol (yes, Atlanta is one of them) and some states do (West Virginia, oddly), Oregon is the only one with a state constitution that specifically protects "obscenity" under the First Amendment, thanks to a legal battle in the '80s over an adult bookstore. That means we're the only US state unable to pass laws prohibiting bottomless dancers in places that serve the good stuff, like whiskey and gin. And let's be honest, when you're going out to a club, you're going out to 1. see full nudity and 2. have a strong drink in hand while gazing at said nudity. Welcome to Portland.
We have the most beautiful tattooed women dancing here
Not all strippers are tattooed alternative girls, but a lot of them are. Dancers here use their bodies as elegant canvasses for amazing art pieces: Bouquets of Star Wars insignias, full body stitches, a lifelike tattoo of Bruce Campbell, leggings and garters made of flowers, a majestic unicorn... strippers in Portland have some seriously impressive ink. It makes sense, as Portland is well known as an inked city with some of the best artists and shops in the nation.
Not only are the performers hot, but they're as talented as athletes
Above all, strip clubs are about the strippers. And Portland's strippers are 100% top-notch. They perform astounding feats of acrobatics and athletics, titillate and arouse, comfort, amuse, and even educate. There's a reason we host an annual Miss Exotic Contest here, for the sheer amount of talent in performance and athletics. And whether or not Portland is famous for "booty," our dancers are some of the most beautiful women and men you've ever seen in your life. They can hit truly mind-numbing, pocket-emptying levels of attractiveness, and not just because they're physically good looking (though by god they are), but because they're masters of their craft -- talented, engaging, and alluring, from the new girl taking to the stage for the first time, to the veterans who have worked the pole and private dance rooms for years.
Our stippers are a part of the larger community
Portland is famous for being a bastion of progressive, sex-positive feminism (sometimes to the point of parody), and our strip club culture will be sure to remind you of that fact. The dancer clapping her heels in your face may not be a radical feminist activist, but she definitely could be. And she'll definitely be empowered.
Strippers are part of our community (you probably know one or two), and participate in things like raising money for children during Christmas, holding a car wash during the summer for an animal shelter, or spending a portion of their income donating to the ACLU and Planned Parenthood.
This progressive culture and the awesome women onstage make it welcoming to other women and patrons coming to the clubs. Portland is a city where your wife or girlfriend is likely to join you instead of staying behind for the night. Go into Sassy's any night of the week and you'll see plenty of women on their own or in groups, and we're not talking about annoying bachelorette parties there to gawk for the novelty; we're talking about the women going to get a cold beer and enjoy the night.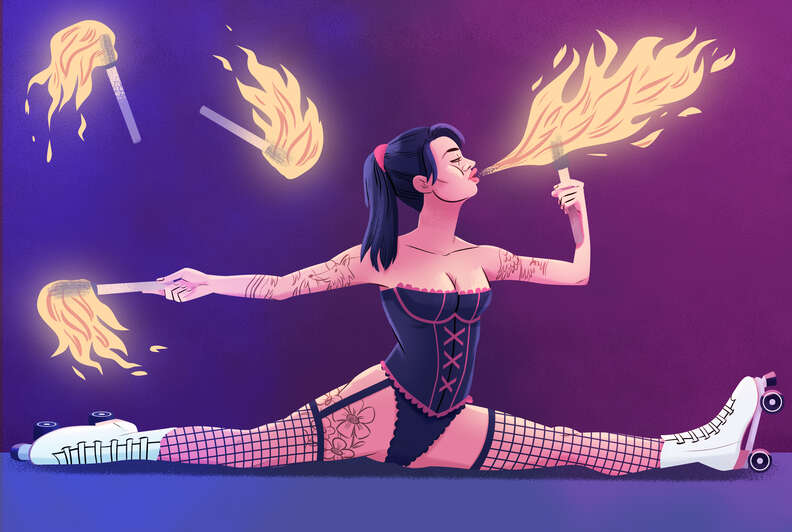 From stripperaoke to fire-breathing, our strippers keep Portland weird
It's not just about nudity and acrobatics in Portland -- an element of the burlesque and theatrical runs through many of our clubs. Where else can you find a naked clown, a sword-swallower, a contortionist, and a roller-skating diva all in one night at one club? The Kit Kat Club feels more like a wild spectacle of sexuality, performance, and art than a traditional "strip club." Sinferno Cabaret at Dante's is a literal burlesque show, featuring numerous dancers from around town performing fire-breathing, silk dancing, puppeteering, and much more, all of which you can enjoy with a bucket of champagne.
And good luck finding a night like Devils Point's stripperaoke in any other city. Here, you can climb on stage and sing a karaoke song while dancers strip and distract you. You might think you can nail every line of Childish Gambino's "Bonfire," but when one of the dancers is spinning naked on a pole a foot away, you might find your brain quickly shutting down. Even in your quiet neighborhood strip club, the dancers are talented performers, exhibiting feats of strength and grace to rival professional athletes.
We've also got male strippers. And they're good.
Portland strip clubs are overwhelmingly filled with female performers, but two clubs celebrate the masculine body: Silverado and the more recently founded Stag Bar, the latter far more accepting of female guests, though still primarily a gay club. For men, women, or anyone else looking to see some washboard abs and toned biceps, Portland's got you. Even if you're a straight man who isn't curious about his sexuality, it's good inspiration to hit the gym: these guys are ridiculously ripped.
Our clubs have better food than most restaurants and even better beer
Oregon requires that all establishments serve food at any hour that hard alcohol is available. This has led strip clubs with fantastic menus. The most famous is The Acropolis Steak House, which serves massive, cheap steaks, as well as a full breakfast menu and salad bar. Casa Diablo and its offshoot, Dusk 'Til Dawn, are famous for their all-vegan menus that are actually good (seriously, get the crunch wrap). Lucky Devil Lounge has an wholly underrated menu, while Mary's next door has delicious Mexican food that you can bring in. Stag Bar even has a weekend brunch with a drag show (we are still Portland, after all).
While we haven't yet formed a cocktail-forward strip club, Portland is called Beervana for a reason -- and that definitely includes our strip clubs, which often boast decent-to-great tap lists. Does Atlanta have a bar like The Acrop with 60+ local beers on tap? Nope... because when was the last time someone bragged about Atlanta's beer culture (save for Creature Comforts)? Plus, our bartenders rock just as hard as the strippers do. To be honest, many are even women who've retired from the stage to move behind the bar.
Portland wouldn't be Portland without our clubs. No other city can say that.
Mary's Club is regarded as Portland's first strip club, having opened in 1954, and is one of the oldest continually running strip clubs in the United States. It's currently owned and operated by the original owner's daughter, and it's a Portland institution. Courtney Love famously danced here. Since then, dozens of other strip clubs have opened around the city, and their ubiquity and the culture that rose within them helped define Portland as a scrappy, rebellious, sexy, weird little city. We're The City that Twerks, to quote our own in-house stripper/writer. We've been the strip club capital of the US for decades, and we will remain so until another city gets the same level of talent, culture, nudity, booze, food, politics, and variety of clubs. But that doesn't seem like it's going to be soon.
Sign up here for our daily PDX email and be the first to get all the food/drink/fun Portland has to offer.
Alex Frane is a Portland native, but that doesn't mean he's not entirely objective when it comes to proving that his city is the best strip club city. Find more of his correct opinions at @franiacdrinks.