Embrace Tomato Girl Summer at This Produce Party in NYC
We're ripe in our veggie-inspired party era.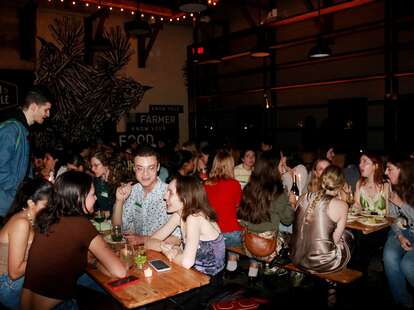 Sarah Teich's most recent produce party celebrating peas.

| Photo by Justine May Goode, courtesy of Sarah Teich
Sarah Teich's most recent produce party celebrating peas.

| Photo by Justine May Goode, courtesy of Sarah Teich
In case you haven't heard, we are in the midst of a tomato girl summer. And we're not talking about the women on TikTok donning linen sundresses and perusing street markets on the Amalfi Coast—but more of the vegetable (or fruit, depending on what side of history you want to be on) kind because it's officially in season and Sarah Teich is throwing a tomato party to celebrate.
In the past, Teich, who works in the food industry, has thrown produce parties dedicated to artichokes, peas, and carrots, amongst other vegetables, where the purpose is to celebrate certain crops at their peak.
Her first fête (like her upcoming one) showcased tomatoes and consisted of 10 friends and a build-your-own BLT station. After some aesthetic photos on Instagram and word of mouth, Teich now typically hosts 400 people, with spots dwindling down by the minute.
This week's event on Friday, July 28 marks the two-year anniversary of Teich's parties, which have previously been sponsored by trendy drink brands like Ghia and AVEC.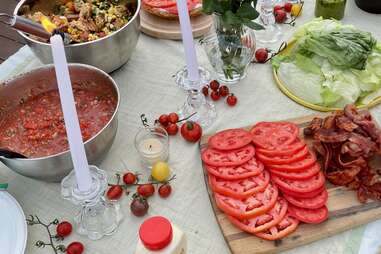 Shindig attendees must bring a dish incorporating the featured produce; people sign up on a Google Sheet in advance, noting any dietary restrictions/allergies. A tomato pesto galette, gazpacho, panzanella, and even micheladas are amongst the myriad dishes partygoers are prepping for this week. Along with the tomato-themed eats and good vibes, a tattoo artist will be at the party, giving flash tattoos inspired by tomatoes.
A ticket to the tomato party is $20, and includes a ticketed bar by Farm To People with a special tomato cocktail, natural wine, and beer, as well as gift bags featuring goodies from sustainable brand Matriark Foods and items from food-themed clothing designers @helloadrianne and Wear Your Snacks. Plus, 25% of the proceeds are going to the National Young Farmers Coalition.
Teich throws multiple produce parties a year, so if you can't make it to this one, check her Instagram to see which produce will be featured next.
Kelsey Allen is an Associate Editor on the local team at Thrillist.