The Most Beautiful Places in San Antonio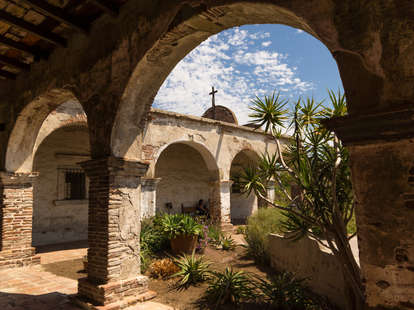 San Antonio's distinctive heritage, art, and culture make it a draw unlike any other city in Texas. Not only does it lead to the beauty of a perfectly puffy taco, but it's typified in iconic landmarks like the missions, King William Street, and Trinity University Campus, as well as a few unexpected locales. So whether you're looking for inspiration, excellent photo ops, or an excuse to get away from it all, seek out the most beautiful places in SA.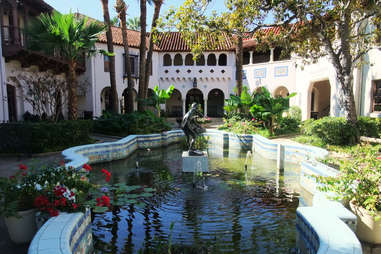 Thanks to heiress Marion Koogler McNay, in 1954 the McNay Art Museum opened in her repurposed Spanish Colonial Revival mansion set on 23 lush and landscaped acres north of Downtown. The facility and collection have expanded aggressively since that time, and the complex now houses more than 20,000 works ranging from Cézanne to Gauguin and van Gogh to O'Keeffe -- a sure recipe for museum fatigue. Soldier on or try this remedy: escape to the inner courtyard of the original building. Here, shadowy loggias surround stately palms, bubbling fountains banish cultural overload, filigreed benches beckon, and a decoratively tiled staircase suggests further retreat to second-story views of this Alamo City ode to the Alhambra, art, and oil money.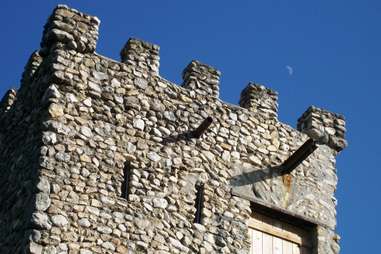 Take a good look around, see any Comanches? We didn't think so. For that matter, we're pretty sure that none were ever spotted in the 1920s when retired army officer, Colonel Edward H. Coppock, an alleged "romantic and history buff," built this fanciful lookout tower as part of a larger, never-completed compound. Its current use is as the centerpiece of a 96-acre public park occupying one of the highest pieces of ground north of San Antonio. In addition to picnic facilities and a covered classroom, the site boasts several miles of trails, and, even though the tower itself isn't open, the views from the hilltop are unparalleled.
San Juan Capistrano is the smallest of the five Spanish missions that form a linked chain along the San Antonio River from the vaunted (and possibly over-loved) Alamo in the center of Downtown to Mission Espada and its renowned acequia south along the Mission Reach hike and bike trails. Dedicated in 1756, the existing chapel is part of a larger compound that was never completed due to politics. "As governing power figures in the area changed, so did support for the mission," says the caretaker National Parks Service, and time wrought its own indignities in the form of imminent structural failure.
But in 2013, after extensive renovations, the chapel reopened, secure in support of both the structural and cultural sort. The simple but evocative interior, still hosting weekly masses, stands in dramatic contrast to the gilded grandeur of its Spanish forebears -- or even cathedrals-come-lately such as San Antonio's own San Fernando.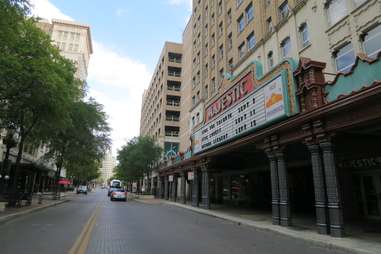 The spelling of "theatre" lets you know that the Majestic Theatre isn't just any old auditorium. Built in 1929, during an era that saw the construction of numerous "atmospheric" movie palaces, the Majestic was once the largest such facility in Texas -- and the second-largest in the country. But it's not the size that impresses us most: Every inch of the interior is covered with decorative detail expressing a loose amalgam of Mediterranean, Spanish Colonial, and Neo-Baroque styles. A white peacock surveys the scene from one balcony, colored glass enlivens crenelated towers, a vineyard's worth of grape vines embraces walls as the "sky" overhead twinkles with electric stars piercing through projected clouds.
It's over-the-top, too much, a throwback to another time... which is exactly why we like it. And why it's the perfect venue for road-show productions such as Phantom of the Opera, The Lion King, and Cats. And Cats again. Fortunately, touring troubadours such as Lyle Lovett and Lila Downs occasionally show up to add an air of authenticity. The smaller, much more restrained Empire Theatre, shares backstage space.
The appeal of the San Antonio Botanical Gardens is not only in its floral arrangements but in its historic structures, dazzlingly contemporary architecture, and wandering native trails. There are even dog-friendly events designed to let you and Fido smell the roses together. Visually, though, the garden's centerpiece is the Lucile Halsell Conservatory, a complex of structures dominated by the glassy greenhouses that look like so many fractured icebergs tossed up on a Texas hillside; paradoxically, they shelter tropical palms.
Much more modest cabins in adobe, limestone, and piñon pine, each representing a Texas ecological region, dot the landscape. And the grand Sullivan Carriage House, a reconstruction that involved meticulously taking apart an historic structure once located Downtown and carefully reassembling it here, currently marks the entrance to the gardens. This is destined to change, however, as construction already underway to create a new entry point, focused on teaching gardens and an outdoor kitchen, will reorient both the physical entrance and the gardens' educational priorities.
The Museum Reach, a new, 4 mile extension of the world-famous River Walk requires a little work, but who's in a hurry? Here, apart from dodging the occasional jogger, you can meander along lushly landscaped banks, stopping to appreciate public art works such as F.I.S.H, a school of 25 suspended long-eared sunfish, each 7ft long and rendered in hand-painted resin.
If you choose, you can stop off at the San Antonio Museum of Art. It occupies a handsomely reprogrammed brewery (San Antonio was once the beer behemoth of Texas) and is especially strong in Latin and Asian art. At the end of your journey, a reward: the Pearl complex. Centered on another historic brewery, this thriving urban center boasts numerous restaurants, bars, shops, and living spaces. The posh Hotel Emma is one highlight; check out its steampunk public spaces. And should you decide to amble back Downtown on foot, here's another suggestion: stop off at classically columned VFW Post 76, the oldest post in Texas. A cold brew awaits.
The heart of the King William Historical District -- often touted as the most beautiful historic neighborhood in Texas -- is, fittingly, King William Street itself. German immigrants responsible for settling the area, once farmlands for the Alamo, allegedly named the thoroughfare in honor of Wilhelm I, King of Prussia, only to see it briefly renamed Pershing Ave during a WWI flurry of anti-German sentiment.
The only controversy these days has to do with tour buses: banned! A leisurely stroll is in any case the best way to appreciate stately homes such as the Steves Homestead Museum and Villa Finale, built starting in 1876 and now housing the quirky collection of furnishings and Napoleana amassed by its last owner. Others such as the elegant Carl Groos House, now occupied by grocery magnate Charles Butt, must be appreciated from the sidewalk; a peek into back yards is available from the River Walk that forms one of the district's boundaries. Afterwards, reward yourself with drinks or dinner nearby at glittery Feast or riotously colorful Hot Joy -- both staunchly non-historic.
Though it's considered English Gothic, Our Lady of the Lake's Conventual chapel reminds some of a more French example: Paris' Sainte-Chapelle. True, the Parisian gem is loftier, glassier, and, well, much older (SHCCA was completed in 1923, and its stained glass happens to be German), but the two share a certain delicacy -- and both prove to be glorious venues for musical performances. Pilgrims after a peek are welcome at regular services, the annual Jubilee Mass, and other special events on the Chapel calendar. If you're planning to get hitched anyway, that's another option to experience the space. But no funerals, baptisms or quinceañeras are conducted in the Westside landmark, just in case.
Sitting on 117 acres just north of Downtown, Trinity University commands both views of the city and the respect of visitors and students alike for its of-a-piece red brick architecture and its rambling layout inspired by Italian hill town sources. The campanile, or bell tower, is the dominant feature here as it is in many Italian towns. After its founding in East Texas, Trinity moved to San Antonio and occupied temporary quarters.
In 1945, it acquired an old limestone quarry, hired renowned local architect O'Neil Ford, and began planning for a new campus, which opened in 1952 and hasn't stopped growing since. There are distinguished individual buildings, including the intimate Margarite B. Parker Chapel with its handmade ceramic light fixtures and carved woodwork by Ford's brother, Lynn, but the campus as a whole is equally compelling with its artist-designed fountains and outdoor artworks such as a 16ft-tall Henry Moore.
The Tower was constructed as a vertical exclamation point for San Antonio's 1968 world's fair, and was said to have been inspired by Seattle's equally emphatic Space Needle. Topography apart (we don't have Puget Sound and the Cascades, although we do have a river and wide-open spaces), the view from the top of SA's 750ft-tall tower could hardly be more different from an urban standpoint; it reveals our city to have a relatively small inner core despite its No. 7 ranking in state population. And yet, vistas North toward the Hill Country are breathtaking, close-in perspectives of historic neighborhoods such as King William, La Villita, and Dignowity Hill are fascinating and revealing of the city's growth, and sunset is just plain romantic. The dining room revolves, slowly, but we don't really recommend eating. Thankfully, the cocktail lounge is stationary; give it your own whirl with a culturally appropriate margarita before descending back to terra firma in the glass-walled elevator.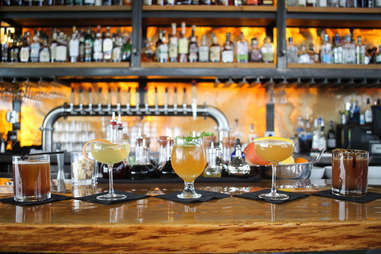 This new bar, four stories above the River Walk's Museum Reach, is posh in its own right with illuminated alabaster behind the bar and cushy seating groups inside and out. But it's those outside spaces, with their unexpected views, that give the place its special allure. In one direction, there's the old brewery-cum-art-venue that is the San Antonio Museum of Art, its recent additions contrasting tellingly with the original brick building. And in the other, there's a close-up of the San Antonio skyline from a perspective we don't normally see. Both views are best at dusk when the museum facade is dramatically lighted and the skyline is especially active with its more-random illumination. The craft cocktails here are exceptional, so grab one, pin down an over-scaled armchair, and contemplate urban living.
Sign up here for our daily San Antonio email and be the first to get all the food/drink/fun in the Alamo City.