San Antonio Local Businesses You Should Support in 2017
Most of us are guilty of shopping at sterile Big Name companies once in a while, especially during the holiday season when promises of reduced prices and convenience are particularly appealing. But as we settle into 2017, we thought now would be a great time to celebrate and support the local businesses that make San Antonio an amazing place to live and shop. Thanks to our city's many talented and creative entrepreneurs, San Antonio offers plenty of opportunities to buy unique and quality goods, while supporting our local economy at the same time. Here's a list of our favorite can't-miss local spots to support in the new year:
Richter Goods' co-owner, Mario Guajardo is obsessed with the details. From the meticulously chosen fabrics, to the store's location on Broadway, nothing he does is by accident. He'll tailor your clothes to your unique body style, too. Just peruse his fine fabrics, chose what looks best to you, and get your measurements -- Guajardo, or one of his trusted employees, will do the rest.
If you're an antique aficionado, then The Junction is for you. Down the street from Chris Madrid's -- the store is perfect for post-burger leisure. With a diverse selection of quality antique furniture, dinnerware, and art filling the store's interior -- the place has become a destination for those looking for quality homegoods at a reasonable price. Check 'em out on a weekday if possible, the place gets crowded on weekends.
The best local resource for San Antonio writers and readers is The Twig. With weekly local readings & author appearances, the store does a lot for this city's creative community. A knowledgeable staff is also always willing to help customers find what they're looking for -- whether that's a well-known classic or a novel by an under-appreciated local author -- this spot has you covered.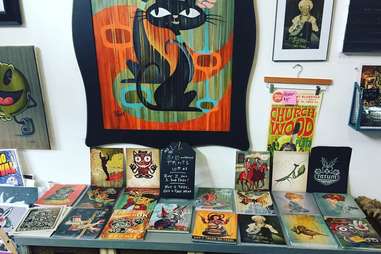 Owned and operated by local artist, Robert Lee Tatum, the store works as a venue for some of Tatum's best works. Most everything in the store pulls inspiration from living in the great city of San Antonio -- so, go get yourself a Spurs inspired T-shirt, print, or postcard, and become a local once and for all. If basketball isn't your thing, find products inspired by barbacoa, Big Red, Topo Chico, tacos, and other local favorites.
Part of The Sporting District's mission is to sell goods that can be passed down through generations of a San Antonian family. Take one stroll through their Pearl Brewery location and it's clear they follow through. Every product in the store is selected with quality in mind -- nothing flimsy or poorly made will make its way on the shelf. Next time you need a pair of boots or slacks or a tie for that important interview, give The Sporting District a shot -- your money won't be wasted.
This is simply the best place to buy music in the city. The people behind Hogwild know their stuff, they're passionate about the music they sell, and are always willing to help you find what you're looking for. A surprisingly diverse selection of both country and death metal means anyone can find something at Hogwild Records. If you're new to record shops, try their $1 mystery bags.
Alamo City has the best selection of mezcal and tequila in the city, and the prices are cheap. The selection is so good that SA bartenders, cocktail connoisseurs, and restaurant owners seem to follow the store's every move (check out its Twitter feed for well known San Antonians geeking out over their wonderful selection). If mezcal is your thing, its wide array of hard-to-find products like Del Maguey's Iberico is sure to impress, but the store also stocks bourbon, vodka, and gin. Be sure to visit during the evening when they're likely to have (generous) tastings.
If you're looking for expert opinions on bikes or commuting with one in, arguably, the most dangerous city in the country to do so, then look no further. The people at Bike World really know their stuff, and they're willing to have a detailed conversation to understand what each customer needs. They'll also fix a flat for you...
Ever have a day where the only option that seems viable to quell your stress is a beer or wine or glass of mezcal? Next time try a coloring book. Blue Star Coloring makes stress relieving coloring books designed to provide catharsis for adults who live in a society that's constantly plugged in. Turn on some music, whip out a coloring book and some coloring pencils, and feel your stress melt away.
Sign up here for our daily San Antonio email and be the first to get all the food/drink/fun in the Alamo City.