When it's so ungodly hot outside that your steering wheel melts in your hand, hair sticks to the back of your neck, and any stroll through an asphalt parking lot feels like a never-ending trek through hell on Earth, it's time for a break. If you'd rather stick your head in front of a window unit for the remainder of summer, we get it, but if you want to cool down the old-fashioned way, these swimming holes near SA will get you started.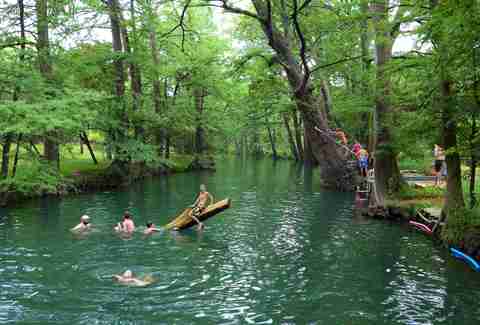 Wimberley
Ease your sunburned body into the cool springs of the San Gabriel River and float until you prune. With ample lush grass lining the water, Blue Hole provides an excellent environment for lengthy, shaded outdoor lounging. Keep in mind: the park is the pride and joy of Wimberley so alcohol and glass containers are forbidden.
Wimberley
If clear cold water and scenic beauty are what you look for in a swimmin' hole then look no further. Despite its refreshing water, Jacob's Well also attracts lunatic underwater cave thrill-seekers. So if you're into that... strap on your best oxygen tank and descend 30ft through a spindly underwater labyrinth.
Blanco
For $4 you can ease your summertime sadness at Blanco State Park. If swimming won't cut the mustard, bring a canoe, a fishing pole, and some stinky fish bait and catch an unlimited supply of sunfish. Make sure to fish like a pro and pick up your trash.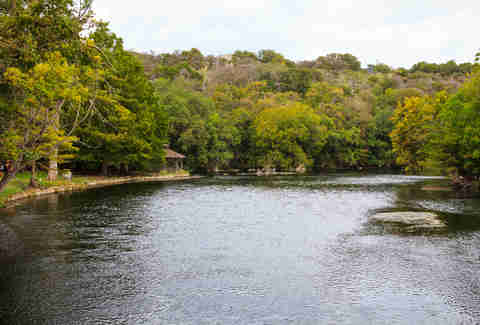 New Braunfels
With 51 oak tree-shaded acres, a train, and a miniature golf course Landa Park isn't just a swimming destination. Here's something to consider though: swimming lowers your internal temperature. So lower yourself into the spring-fed pool and float until your troubles on dry land are distant memories.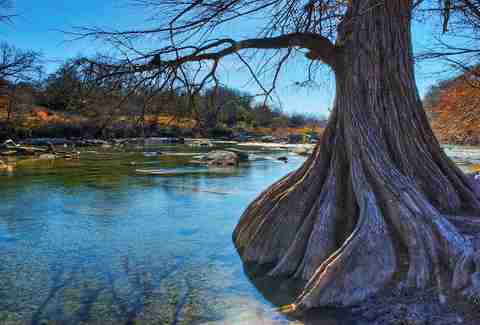 Spring Branch
Tip: bring a friend and some sandwich materials and park yourself at the bank of the river. See who can last the longest without succumbing to the Guadalupe's temptations of natural water and massive bald cypress trees. If this isn't idyllic enough, the park is known for housing diverse wildlife, so keep your eyes peeled for some majestic Hill Country creatures.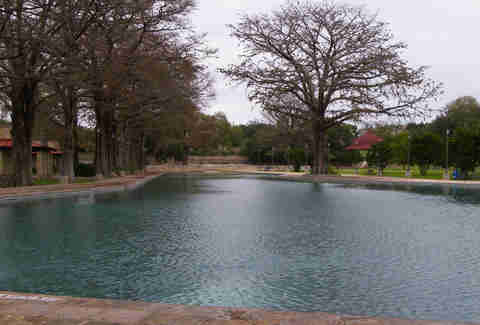 Alta Vista
San Pedro Springs is the oldest public park in Texas and the second oldest in the country. More importantly, it's free and grilling is allowed just outside the pool's gates. So bring burgers or some of HEB's finest fajita meat, claim a grill, and swim 'til your heart's content. When you're done, dry under a tree and look out at one of the best views of Downtown SA the city has to offer.
Boerne
The park has a disc-golf course, grills adjacent to the water, and a butterfly garden. Also, if you're into catamaran sailing, Boerne City Lake has your back (consider yourself lucky if you tip the thing over because you'll experience some of the most refreshing water in Texas if you do). Make sure to arrive early if you want a premium parking spot -- the park gets jammed on summer weekends.
San Marcos
Seat yourself on a large rock in the middle of everything and let spring-fed waters from the San Marcos River cool your burned legs. The park does get crowded during the summer but there are several locations upstream like City Park and Sewell Park that will cool you almost as effectively as Rio Vista.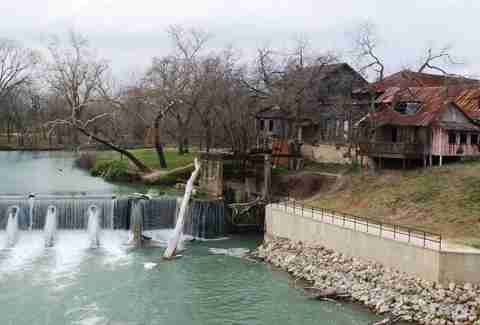 Luling
Zedler Mill has ample swimming opportunities and close proximity to quality BBQ (plus a great name). The first thing you'll notice is the water slide-like dam and sturdy rope swing. Unlike other stranger-built swings, you won't fear for your life as you swing to and fro, waiting to let go into the cool waters of the San Marcos River.
Sign up here for our daily San Antonio email and be the first to get all the food/drink/fun in the Alamo City.  
Stephen writes about all things San Antonio for Thrillist. Find him at questionable drinking establishments, karaoke stages, and restaurants with chips, queso, and beers lined with salt. Follow him on Twitter at @estebanjross for retweets and SA musings. Follow him on Instagram at @stephenjross for filterless pictures.