The Most Haunted Places in All of Texas
Stories of angry spirits, unexplained orbs, and forlorn lovers wandering through desolate fields wearing nothing but a bloodied white gown are as American as apple pie. If you're looking for the best place in the U.S. to scare the crap out of yourself, states like Michigan, Ohio, and Pennsylvania all have plenty of skeletons in their closets... but it's different for Texas, somehow. Our state's long, violent, and controversial past combines with its imaginative and adventurous population, leading to a lot of unexplained phenomena popping up across the former republic's deserts, hills, and pine forests. Here are 13 of our favorite haunted hotspots in Texas.
San Antonio
It might seem obvious, but the Alamo isn't only a landmark for elementary-school kids to visit on field trips. During the infamous siege of 1836, thousands of men were killed & their bodies dumped unceremoniously into mass graves, so it's no wonder a few of their disembodied spirits are pissed off. Several security guards have reported hearing footsteps in the middle of the night, some have seen a small blonde-haired boy in the gift shop, and a ghastly John Wayne -- yes, John Wayne -- reciting lines from his 1960 film on the subject.
Lake Highlands High School
Dallas
Unless you're a character in a Harry Potter book, your school probably doesn't have its own resident spirit -- but Lake Highlands supposedly does, and she's named Elizabeth. According to local legend, she fell to her death in the school auditorium back in the '70s, and students and faculty have both reported seeing objects moving inexplicably across the room in which she died. An actual apparition's never been sighted in the auditorium, though, which might mean Elizabeth's specter suffers from a bad case of… stage fright. Sorry.
Woman Hollering Creek
San Antonio
Most Texans have heard their grandmother say these terrifying words: "La Llorona will get you." Well, San Antonians can probably thank Woman Hollering Creek for that. According to urban legend, a woman who was physically abused by her husband drowned her children in this river. Now her "high, silver" voice mourns for her dead children along the banks of the creek. Is there a chance that fed up grandmothers just use La Llorona to dissuade their rambunctious grandkids from going hanging out near the water? Yeah, probably... but that still doesn't mean it's not real.
(The former) Spaghetti Warehouse
Houston
Housed in the old Desel-Boettcher warehouse, the Houston location of this restaurant chain had a dark history. Employees and guests often heard unexplained footsteps on the second floor. Could it be the young pharmacist who fell to his death down the elevator shaft at the same location? That's what a few ex-employees think: Some have reported seeing floating objects, hearing shuffling in the downstairs bathroom, and having their shoes unexpectedly untied. Don't start planning a ghost-hunting meal just yet, though; after flooding from 2017's Hurricane Harvey caused Spaghetti Warehouse to close and relocate. The building sold to a new owner who plans to renovate and restore the space.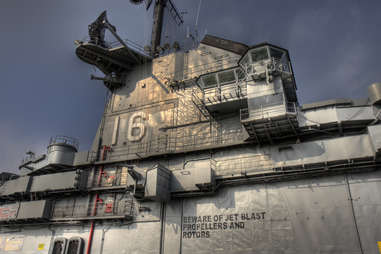 USS LEXINGTON
Corpus Christi
Known locally as the "Blue Ghost" -- a nickname originally given to the ship during its service in World War II -- the Lexington has long been considered by Corpus residents to be occupied by spirits. An engine room operator who was killed during one of the ship's battles is said to still roam the boat at night, and visitors claiming to have witnessed doors slamming and lights flashing on and off without explanation. That's right: flickering lights in a 75-year-old ship with absolutely no explanation whatsoever.
San Antonio
Bill Clinton visited the Menger once, but the hotel's non-living guests are its most infamous. Fellow ex-President Teddy Roosevelt, who recruited rough & tumble cowboys to his detachment of Rough Riders during the Spanish American War, is said to serve himself a drink in the dark barroom off the main lobby some nights. A chambermaid named Sallie was killed by her husband in 1876 and is also said to continue her cleaning duties every day at the Menger.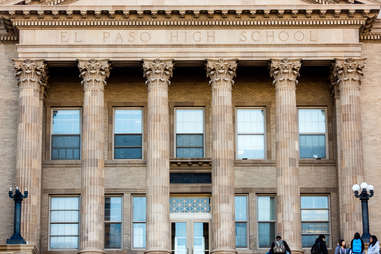 El Paso High School
El Paso
When an unidentified girl showed up in the graduating class of 1985's yearbook photo, people became suspicious. When everyone denied the presence of said girl when the picture was shot, they all felt their palms sweat. To this day, no one can identify the blurry woman who appeared in the graduating class of 1985's yearbook photo. Some say she was a student who died falling from a balcony at El Paso High, but no one is certain. In addition to the unknown student, some alumni & faculty claim hundreds of ghosts hold pep rallies in the middle of the night. They claim to hear basketballs bouncing against the court and hoards of people cheering, but when they peer into the auditorium... no one is there.
The Marfa Lights
Marfa
Marfa isn't just an art gallery with good food and cocktails in the middle of the desert. The Marfa Lights have intrigued Texans for decades. Are they space aliens, the angry ghosts of Spanish Conquistadors, or... y'know, something as benign as car headlights reflected in the atmosphere? Whatever they are, the yellow-orange orbs that float just above the desert foliage near US Route 67 remain unexplained to this day.
The Jefferson Hotel
Jefferson
Built in 1851 as a cotton warehouse, the Jefferson hasn't changed much over the years. Besides the outdated decor, guests often report "sudden cold chills, odors with no discernible origin, phantom footsteps, and strange apparitions." Sounds a lot like puberty. Employees claim most of the haunting comes from Elizabeth, a 19-year-old bride who hung herself on her wedding night. Dishes move unexpectedly, televisions turn on and off, and objects fall from their place without any human touch... allegedly.
Austin
You might not think the Driskill's haunted based on its clean and recently renovated interior, but there are plenty of stories to keep even the most adventurous guests away from the halls of this historic hotel. Consider the girl who fell to her death down the grand staircase; the "suicide brides" who killed themselves in the bathtub of the same room exactly 20 years apart; and the reports of Col. Jesse Driskill (who opened the hotel in 1886) checking on his hotel, cigar still lit in his mouth, to this day.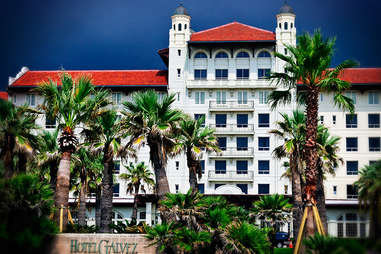 Hotel Galvez
Galveston
Galveston was once the most populous city in Texas, and a booming commercial center for the country, but saw gradual decline for various reasons. The Galvez is a product of that past: a beautiful building constructed to revitalize tourism after the Hurricane of 1900 -- but it's seen a lot of sadness over the years. The most infamous spirit reported here is Audra: a bride-to-be in the '50s, she stayed in room 501 as her fiancé was out to sea, but when she heard that his ship had gone down with all hands, she hung herself in the room. In a twist, her fiancé actually survived the wreck and came back to the Galvez to find his fiancé deceased. Guests and employees both report feeling the presence of the forlorn lover. Doors slamming shut in the middle of the night, strange smells, and visions of orbs are all common occurrences at the Hotel Galvez.
The White Sanitarium
Wichita Falls
Better known as the "Old Insane Asylum," The White Sanitarium was home to a few radical medical procedures in the early 1900s that may have lead to the death of a few patients -- and legend has it, those patients' spirits still live on the property. A woman in white was once seen roaming the exterior of the building, and some have reported seeing a group of men playing cards around a table in the front yard. There's definitely no way those could've been real men playing cards, though... ghosts are the only logical explanation.
Editor's note: This building is now a private residence, so you shouldn't really go snooping around. We're in Texas, after all.
Yorktown Memorial Hospital
Yorktown
Founded by a religious group called the Felician Sisters, Yorktown Memorial Hospital was intended to treat alcoholics and drug addicts in the 1950s. Since its construction, it's said that over 2,000 patients died within Yorktown Memorial's walls, and the spirits of many of those patients still roam the building to this day. Ghost hunters frequently report being pushed, touched, and having their shirts tugged.