Spring is here. Yes, that means the weather is getting warmer and you can spend more and more time outdoors, but that's the same everywhere. Here San Antonio, we've got something extra special. A little event, that we like to keep to ourselves and our millions of close friends. It's over 100 years old, spans nearly three weeks, and shuts down huge swaths of the city with a party that's soaked in beer, margaritas, tacos, and confetti -- a little thing we call Fiesta.
And that's not all: spring is full of events and activities all over the city. Here's a round-up of the very best -- your definitive guide to what to do in San Antonio this spring.
March 26 - March 31
Majestic Theatre
The beloved Fiddler on the Roof makes its return to San Antonio under the care of Tony-winning director Bartlett Sher, with an award-winning ensemble cast. The heartwarming tale of fathers and daughters, husbands and wives is given a fresh new take, while still examining the timeless topics of tradition, faith, and family.
Cost: $67 and up
April 1
Tobin Center for the Performing Arts
The Grammy-nominated Christian rock band, Needtobreathe will bring their uplifting style back to San Antonio. With such hits in their catalog as "Brother," "Forever On Your Side," "Lay 'Em Down," and "Drive All Night," Needtobreathe have become crossover superstars.
Cost: $36.50 and up
April 5 - April 7
Strawberry Festival Grounds
This year marks the 71st anniversary of one of the most beloved events in South Texas, the Poteet Strawberry Festival. It's a celebration of family, fun, and those oh-so-sweet red berries. Located 40 minutes south of San Antonio, the city of Poteet is the unquestioned strawberry capital of Texas. This three-day festival features all manner of food stuffs made from strawberries, along with carnival rides, games, and live music. Some of the bands on tap for this year's festival are the Randy Rogers Band, David Lee Garza y Los Musicales, and Aaron Watson.
Cost: $10-$20 per person
April 6 - April 28
All Over San Antonio -- literally
Every year, over 2.5 million people flock to over 100 events across San Antonio during the three-week Fiesta festival. Concerts, food, dancing, parades, parties, and more all take place in a grand celebration to honor San Antonio's rich culture and unique heritage. Highlights include the Fiesta Oyster Bake (April 12-13) NIOSA – A Night In Old San Antonio (April 23-26), the Fiesta Flambeau Parade (April 27), and the Battle of Flowers Parade (April 26). But there are tons and tons more. Pros pick out their half dozen favorite events and stake out spots on the parade routes. Be on the lookout for collectible Fiesta medals (virtually every business in the city has one), copious amounts of cascarones (a tip from me to you: make sure you cover your beverage at all times, or you'll be drinking confetti), and a joyful energy that can only be found in San Antonio.
April 7
Tobin Center for the Performing Arts
Celebrating the 20th anniversary of her breakthrough album Car Wheels on Gravel Road, Grammy-winning rock, folk, country, and blues singer Lucinda Williams is coming to San Antonio. She will be playing the hits from this acclaimed album from beginning to end with her band, Buick 6.
Cost: $29.50 and up
April 13
Aztec Theatre
Few singers captivated the imagination of their audience quite like the legendary Selena. Before her life was tragically cut short, Selena became a cultural phenomenon and her adopted hometown of San Antonio has never forgotten her. This year, the Aztec Theatre will host Bidi Bidi Birthday with Siempre Selena. Fans are invited to relive the memory of the Queen.
Cost: $18 and up
May 6
AT&T Center
The seven-time Grammy winner Carrie Underwood is bringing her Cry Pretty Tour 360 to San Antonio. Buoyed by such hits as "Jesus, Take the Wheel," "Cowboy Casanova," and "Before He Cheats," Underwood has become a multi-platinum selling country music superstar.
Cost: $44 and up
May 7 - May 25
Majestic Theatre
Since making its debut in 2015, the ground-breaking musical hit Hamilton has become a bonafide global phenomenon. Now, after years of selling out shows on Broadway, the show is hitting the road for its first-ever US tour. Telling the story of American founding father Alexander Hamilton, the show has produced a slew of hit songs, including "My Shot" and "The Story of Tonight," and "You'll Be Back."
Cost: $49 and up
May 12
Aztec Theatre
Garbage, the band behind such seminal '90s hits as "Stupid Girl" and "When I Grow Up," are once again on tour. Heading out in support of their latest album, Strange Little Birds, Shirley Manson and company will be bringing their unique sound to the intimate setting of the Aztec Theatre.
Cost: $35 and up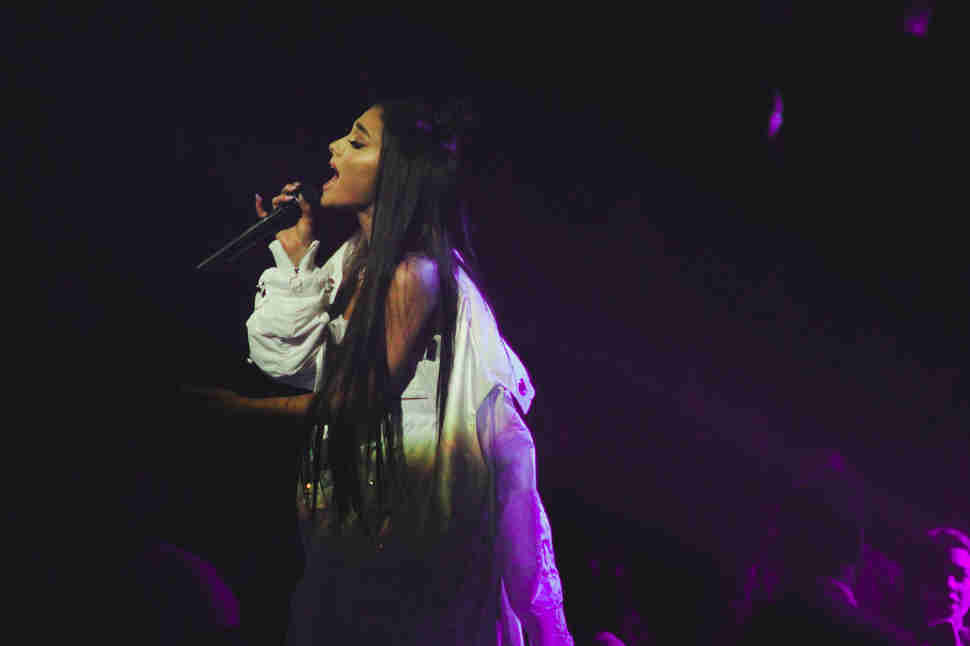 May 17
AT&T Center
Since starting out on Nickelodeon's Victorious, Ariana Grande has become a worldwide pop superstar. With her latest album, thank u, next, Grande became the first artist since The Beatles in 1964 to hold the top three spots on the Billboard Hot 100 simultaneously.
Cost: $100 and up
May 30
Tobin Center for the Performing Arts
Actor, author, and comedian Patton Oswalt has become a pop culture icon thanks to appearances in shows such as The King of Queens and Happy as well as in such films as Ratatouille and Young Adult. His recent Netflix comedy special Annihilation earned him the Emmy for "Outstanding Writing for a Variety Special."
Cost: $34.50 and up
May 31
Majestic Theatre
Penn & Teller have forged a legendary career over the last 40 years, become pop culture icons with their music/comedy double-act. They've been in The Big Bang Theory, The Simpsons, Modern Family and Friends, and had a record-breaking run in Las Vegas. Now they're bringing their logic-defying act to San Antonio's Majestic Theatre.
Cost: $49.50 and up
Sign up here for our daily San Antonio email and be the first to get all the food/drink/fun in the Alamo City.