San Antonio's basketball messiah, Spurs Jesus, has built up quite a following in our city. When dressed in full garb he can't go five seconds without someone begging for a duckface selfie -- you can imagine the frenzy would be identical if the people of Nazareth had iPhones during Christ's time. While one could heal leprosy and the other can only pray there's no ACL tears this season, the Jesuses still have plenty in common.
"If Jesus liked sports he would definitely be a Spurs fan." - Spurs Jesus, 2015 A.D.

When he's not crime fighting, San Antonio's Jesus speaks with any neighboring peasants, making bold proclamations about the future of SA's beloved basketball organization (we're winning it all this year). A new theology born from the teachings of Spurs Jesus might even be next. Spursianity or is it Spursolithism?
I met with Spurs Jesus at the San Antonio Beer Festival and spoke with him in depth about how the rest of us Spurs fans may hope to achieve the highest level of diehard fandom. Here's the gospel:
Thou shall yell with the intention of losing thy voice at all Spurs games attended
"Every game I go to I intend to lose my voice. I bang my [replica] championship rings on the rafters and yell so that I won't have a voice in the morning," says Spurs Jesus. 
If we are to walk in His image we are to yell at all Spurs games with the intention of sounding like a hungover Sigma Alpha Epsilon pledge the morning after an all-night bender. Replica championship rings are optional but encouraged. 
 
Trust thy Popovich
NO ONE is to question the almighty authority of the Popovich. For He has navigated Spurs nation through five championships and millions of painful press conferences and His word is our word. 
Thou shall love thy neighbor (unless it's the Mavericks, Rockets, or Lakers)
Treat all teams with respect but treat the Mavericks, Lakers, and Rockets with considerably less respect. Consider the sins of James Harden and his refusal to play defense, Mark Cuban's passionate yet unreasonable hatred for San Antonio, and Kobe Bryant's inability to beat the Spurs. 
 
Thou shall wear Spurs gear always
"I want Spurs fans to wear the gear all the time. I'm talking when you're bumming about the house, when you're at the grocery store, or when you're at the game. You have to wear the gear," says Spurs Jesus. The gear is essential to any Spurs Jesus follower and their quest to walk in His image. To wear the gear at AT&T Center is expected, but to wear His preferred cloth in privacy is to be divine. 
Thou shall pay no heed to the words of Charles Barkley or Mark Cuban
Our women are beautiful and our river is sure as hell not dirty. First off, anything Barkley says amounts to nothing, watch out for false prophets. 
Cuban ought to know that April rain makes our beautiful river cloudy. If he were in San Antonio in April during the playoffs instead of watching on TV, he'd know.
To walk with Barkley and Cuban is to walk in the valley of the shadow of death.
 
Love thy Fiesta-colored gear
And lo, Spurs Jesus proclaims "the Fiesta-colored gear is the best gear in the Spurs repertoire."
It should be known that the colorful Fiesta warm-up gear that adorned our team in the '90s should make a glorious come back and should have the full support of Spurs nation. Any backlash will be seen as sacrilege.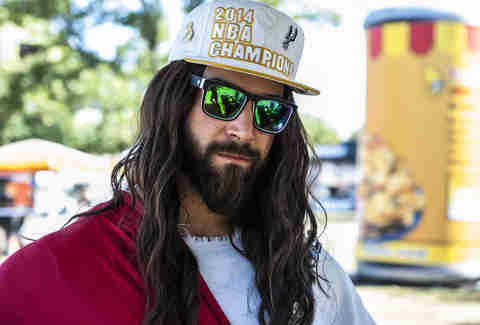 San Antonio natives, thou shall never wear any other team's jersey in thy stadium
"If you're from San Antonio and you're in the AT&T Center with a Lakers jersey on and I ask if you're from LA and you say 'no,' and I ask why you're wearing that jersey and you say, 'I like Kobe Bryant,' then you're in trouble with me," says Spurs Jesus.
Don't let Spurs Jesus catch you in His house with a damn Lakers jersey draped over your wretched shoulders. 
 
Thou shall participate in Commerce St honking
Any follower of Spurs Jesus must participate in the Commerce St festivities which follow a big team win. To honk your horn on Commerce is to proudly scream your affection for Him. 
Sign up here for our daily San Antonio email and be the first to get all the food/drink/fun in the Alamo City.
Stephen is a follower and potential disciple of Spurs Jesus. Follow him on Twitter: @estebanjross.