Fun Things to Do With Visitors in San Antonio This Winter
Remember more than the Alamo.
San Antonio River Walk

| Sean Pavone/Shutterstock
San Antonio River Walk

| Sean Pavone/Shutterstock
No matter how many times we visit San Antonio, we always discover something new and exciting. Rites of passage for every first-time visitor include a photo in front of The Alamo (of course), some time strolling the world-famous San Antonio River Walk, and a platter of traditional SA-style Mexican food at Rosario's. But there's much more to explore across the nation's seventh-largest city, home to some of the best restaurants and liveliest bars in Texas. Whether you're a local looking for new ideas when friends and family come to visit or you're headed to San Antonio for the first (or 10th) time, check out our suggestions for 12 really cool things to do. We've included some holiday-specific gems, as well as some exciting attractions worth visiting any time of year.
Various locations
Sure, The Alamo may be the most famous mission in the entire United States, but San Antonio's home to four other missions, each about 2.5 miles apart from one another. Start by checking out the trail map to decide where to go first, no matter your mode of transportation. If you're the cycling type, it's easy to rent a bike for a few hours from a BCycle docking station or full-service Bike World. Pro tip: If you only have time for one mission other than The Alamo, head to Mission San José y San Miguel de Aguayo, a 300-year-old complex that gives a fascinating peek into a different era.
Cost: Admission is free to San Antonio missions; bike rental prices vary.
Downtown
Featuring interactive installations from more than 40 local and global artists, this 20,000-square-foot gallery features 15 immersive experiences that transport visitors to whole new worlds. Feel free to take photos along the way, and enjoy a cocktail from the lounge before, during, or after. Adult beverages are available to the general public, too, if you're looking for a cool place to hang without necessarily visiting the exhibits.
Cost: Tickets are $24 per adult; the lounge is free to access.
River Walk
One of our favorite spas anywhere, not just in San Antonio, Mokara Spa & Wellness makes a great escape from a busy day of sightseeing. It's especially nice to warm up, if it's cold outside, by spending some time in the separate men's and women's sauna, steam room, and jacuzzi before or after an incredible massage or facial. Heck, set aside a few hours and treat yourself to all of the above.
Cost: The spa amenities may be accessed without booking a treatment with a $50 day pass; spa services range from $20 - $430.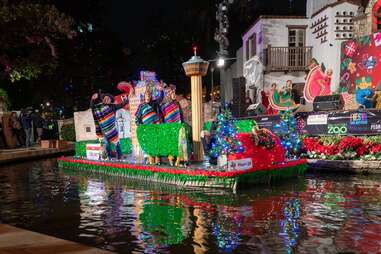 Downtown; Museum Reach; The Pearl
The San Antonio River Walk gets decked out in hundreds of thousands of lights for a magical stroll from the moment the sun begins to dip beyond the horizon. For much of December, you can go on special caroling cruises along the river.
Cost: Viewing the holiday lights along the River Walk is free; cruises and other events may have additional charges.
Downtown
Travis Park becomes a winter wonderland from now through January 16 as a giant ice skating rink welcomes skaters of all ages and skill levels. Best of all, your ticket price includes skate rentals. Because who travels to San Antonio with their own skates besides Nathan Chen?
Cost: Tickets are $14 per person.
Grab a margarita on the banks of the River Walk
Various locations
You'll find dozens of places to sip on a sweet or spicy margarita along the San Antonio River Walk and, as long as you find a spot with a great view, you can't go wrong. However, if you're looking to visit one of our personal favorites, we highly recommend Tiki drinks on the patio at Hugman's Oasis, the Otro terrace at Canopy by Hilton San Antonio Riverwalk, and the recently debuted Four Brothers at the Omni La Mansión del Rio.
Cost: Access to each of these venues is free. Reservations are recommended for Hugman's Oasis and Four Brothers.
Fredericksburg
Located only 75 minutes from San Antonio, the small town of Fredericksburg makes for a fantastic day trip (or weekend getaway) this time of year. The town's German heritage shines through at a variety of festivals, events, and displays, plus you can visit a bunch of incredible wineries (more than 50) while you're in the area. Pick up a bottle or 20 for gifts (after you drink all you want), and shop at a variety of charming local boutiques along Fredericksburg's Main Street.
Cost: Prices vary according to venue.
La Villita; Hemisfair
Ring in 2023 in a uniquely San Antonio way at La Villita (Little Village), a colorful destination dating back to 1722. Details are still in the works but check back for more info on celebrating the New Year with a few thousand of your new best friends. Another celebration will take place at Hemisfair Park.
Cost: Details to come.
Northside
Anyone who visits Texas should at least attempt to learn some traditional country-western dances and Cowboys Dance Hall has some fun free ones several times a week. Learn to triple two-step all November and two-step throughout December, then wow your friends with videos of you tearing up the dance floor. Of course, if you have two left feet and you'd rather watch others twirl about or catch a live music concert, Cowboys Dance Hall has you covered there, too.
Cost: Dance lessons are free; cover charges range from free to $30.
Mahncke Park
For a second year, the San Antonio Botanical Garden gets immersed in twinkle lights and holiday music with Lightscape, a one-mile path through the gardens. Seasonal food and drinks (including s'mores you roast yourself) add to the festive cheer.
Cost: Tickets are $26 - $60 (VIP) per adult.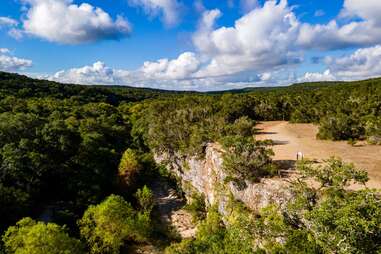 Government Canyon SNA
Despite the super-generic name that has zero to do with politics (unless you consider the occasional Acro­can­thosaurus filibuster), Government Canyon should not be overlooked. Among its 40 miles of trails, the 12,000-acre park has loads of preserved dinosaur tracks that scientists believe were left more than 110 million years ago. You can also camp here if you're the tent-pitching type. Worth noting: The park is closed Tuesday - Thursday.
Cost: Entrance fees are $6 per adult; Campsites are an additional $18 - $40 per night.
Museum Reach
Every Sunday, Paramour at the Phipps hosts an outrageous drag brunch featuring some of the best local queens in the business. Dine on Mexican classics from chilaquiles to barbacoa tacos while enjoying some fiercely entertaining lip-syncing and dancing. Seating is first come, first served, so plan to arrive early to snag the best spot in the house. And make sure to bring cash for tips.
Cost: Tickets are $17.60 per adult; brunch menu priced a la carte.
Sign up here for our daily San Antonio email and be the first to get all the food/drink/fun in the Alamo City.