Dating in San Diego is hard enough without worrying about breaking a law, so we've rounded up 10 illegal date ideas to make sure you don't ever wind up making mistakes that we're sure you would totally and completely regret. Like taking a bottle of wine on the beach, something we'd never, ever recommend for a romantic date. Again, Thrillist does not endorse these 10 fun-sounding illegal date ideas.
Partake in some herbal delights at SeaWorld
How to pull it off even though this is not something we condone: With all that's available in 2015, like sprays, special lollipops, and e-cigs, it should be simple enough. SeaWorld's got enough on its hands with PETA to notice a couple of stoned ponies roaming the park.
Laws you'd be breaking: Illegally maximizing your interest in penguins, sharks, and Shamu-shaped ice cream bars.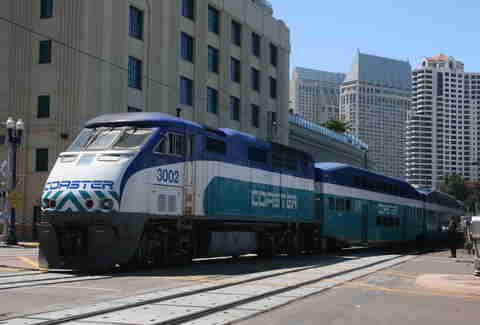 Sneak alcohol onto the Coaster
How to pull it off despite our total disapproval: Bring a disposable coffee cup filled with your drink of choice.
Laws you'd be breaking: Alcohol consumption is not allowed on the Coaster (which started in February) so we're definitely not encouraging you to imbibe while watching a beautiful sunset over San Diego's coastline on the way to dinner or a legal watering hole. Only "light snacks" are allowed on the train, so for extra nefarious behavior, bring along a lasagna to enjoy with your date, not that we'd approve.
Go nude at Black's Beach
How to pull it off even though we really frown upon it: This one is pretty self-explanatory.
Laws you'd be breaking: Despite widespread nudity at Black's Beach, it's actually illegal. You would be indecently exposing yourself, and if it's a first date, you run the risk of seriously creeping out your date... or impressing her. This one could go both ways.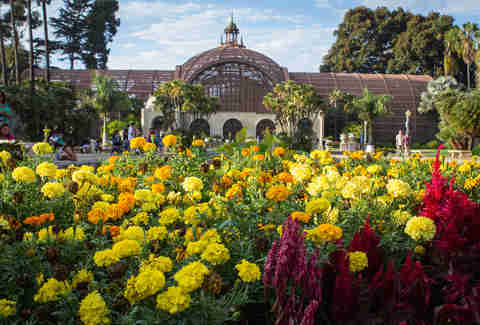 Pick a flower in Balboa Park's rose garden or Botanical Building
How to pull it off, even though we're highly discouraging you from criminal behavior: Stroll through the garden and wait until nobody is looking while you snap a stem off a rose bush.
Laws you'd be breaking: It's illegal to take any plants or vegetation from the city-owned park. Your date is bound to be impressed by your daredevil-ish ways -- although we, sir, are not.
Shoot jackrabbits from the back of a streetcar
How to pull it off even though we barely understand this law, let alone approve of you breaking it: Since nothing screams romance like a dead jackrabbit, hop in the back of a car while your date drives. Ideally, you'd be in a very deserted location ripe with jackrabbits you could pick off, even though this sounds like a terrible idea we DO NOT condone.
Laws you'd be breaking: It's against the law to shoot jackrabbits from the back of a streetcar in San Diego. However, the front of the streetcar? Hmmm, probably still illegal.
Hike to Devil's Punchbowl for a romantic swim
How to pull it off even though we're not monsters that approve of this type of thing: Hike the Cedar Creek Falls Trail to the 80ft waterfall at Devil's Punchbowl and jump off a very low rock into the pond.
Laws you'd be breaking: This law is actually to protect people who have died jumping from too high into the pond, but we get you like to live fast and loose with the laws. That's why, if you were to jump, which again, we don't approve of, do it from a very low hanging ledge or rock because you never know how shallow the water is.
Bring a bottle of wine to the beach
How to pull it off even though we're saddened by your life choices up to this point: Pick out a nice bottle of wine (or Two Buck Chuck) and smuggle it down onto the beach outside of the lifeguard's view. Don't forget a wine opener and cups if you disregard our repeated pleas to be a better human.
Laws you'd be breaking: This one is a two-fer. Both glass and alcohol are illegal on the beach, but if you really want to get criminal, do it naked at Black's Beach.
Enjoy a concert at Humphreys by the Bay
How to pull it off despite us repeatedly asking that you don't: Summertime concerts at Humphreys by the Bay can get pricey, so enjoy it from the comfort of a rented kayak or someone's boat. Boat into the marina outside Humphreys by the Bay before the concert starts and join the flotilla.
Laws you'd be breaking: Probably trespassing and possibly some maritime law, although boaters have been doing this for years. Bring some drinks and snacks for an extra romantic vibe, although be wary of your date's bladder since you'll be stuck in a kayak for the duration of the concert.
Hang out on the porch with Christmas lights up after Feb 3rd
How to pull it off (alright this one is fine, go for it): Leave your Christmas lights up and lit after Feb 3rd.
Laws you'd be breaking: In San Diego, you can get slapped with a $250 fine if you leave your Christmas lights up after Feb 3rd. Your date is bound to be wowed by your ability to stick it to the Grinch, and your neighbors... who might uninvite you to every future ugly sweater party.
Sneak into a hotel pool
How to pull it off even though we'd really wish you'd turn out more like your law abiding sibling: This one can be tricky but pick out a hotel pool that hosts enough guests that you won't stick out. Try Omni La Costa Resort & Spa or the Marriott Marquis San Diego Marina. Most resorts will look the other way if you spend some money.
Laws you'd be breaking even though this is a terrible idea: Trespassing. Usually, worst-case scenario, you get the boot, but the romance and the thrill of an illegal hot tub session are an intoxicating aphrodisiac.
Sign up here for our daily San Diego email and be the first to get all the food/drink/fun in town.
Ellen Wright is a freelance writer for Thrillist who may or may not have a stash of coffee cups ready for riding the Coaster. Follow her on Twitter at @PacificPolished.