Editor's note: The operating hours for cannabis dispensaries and delivery services have changed due to COVID. We have done our best to update accordingly, but as with anything in these times, it's best to confirm hours and services in advance.
Spring has sprung, 4/20 is here, and more San Diegans are getting vaccinated everyday. It's a far cry from saying that life has returned to normal, but it's also safe to say that hope is finally lining the horizon. Since everyone was on strict lockdown for weed's most famous day in 2020, chances are that more people will be ready to venture out and stock up for the most lifted day on the calendar.
San Diego's dispensaries serve a diverse range of customers: some are tourists enjoying a beachside vacation with a decidedly smokey tinge, while others are just looking for reliable, knowledgeable shops where they can get the dankest weed. San Diego's many dispensary options mean there's something for everyone, whether you're a seasoned smoker or a curious novice.
COVID-19 has turned businesses on their heads and the cannabis industry is no exception. Thankfully, cannabis businesses were declared "essential" by Governor Gavin Newsom in March 2020, so they never had to close and will not in the future. All dispensaries have pivoted, offering curbside pick-up and, in most cases, delivery too. This way, shoppers can remain socially distant before enjoying their buzzes back home. Every dispensary listed here is also open for in-store shopping, too, with safety protocols still very much in place.
Here are the best dispensaries in San Diego that are ready to satisfy all of your weed needs on 420 and beyond: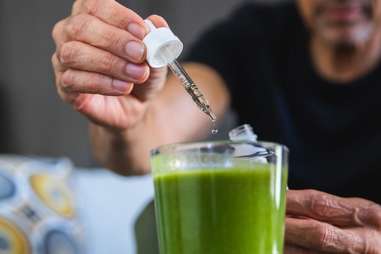 Bay Park and San Ysidro
Urbn Leaf's two locations in Bay Park and San Ysidro are sleek, modern, and look like they could double as matcha-serving cafes. They also sell one of the widest varieties of non-flower products out there, including lubes, suppositories, salves, and more; plus, the bud they do have is often proprietary and high quality.
How to order: The Bay Park location is doing express pick-up only (call ahead 619-275-2235 or order online) and delivery is offered throughout San Diego with a minimum order of $60. Orders exceeding $100 get free delivery.
Barrio Logan
With its accessible, central location, Harbor Collective is a haven of convenience and premium products. The shop carries many of the name brands you know and love: designer strains like Cookies by Berner and Cheech's Private Stash, edibles from Korova, and concentrates from Moxie and Raw Gardens. Harbor Collective also boasts the largest selection of extracts in San Diego County, so if you're seeking pressed water hash, CO2 oil cartridges, or a dab of shatter pulled straight from the slab, you've found the droids you're looking for.
How to order: Harbor Collective is doing free delivery for orders of $50 or more and is open for in-person orders, but place your order online for a faster checkout.
Point Loma
Pot enthusiasts' favorite dispensary in the Point Loma area is Golden State Greens, which used to be called Point Loma Patient-Consumer Co-op. The interior is plain, but nice—all of the floors and counters are paneled in light-colored wood, with some of the selection available in ensconced glass display cases. Like many of San Diego's dispensaries, customer service is at a premium here, with knowledgeable, eager-to-please budtenders, many of whom have spent years working in the industry. Here you'll get a wide selection of top shelf flower, wax, oil, and other products, and can order in advance to pick up.
How to order: Golden State is open from 7 am–9 pm for pickup and delivery (while accepting full punch cards).
Sorrento Valley
Claiming itself as the first dispensary in the State of California to be licensed to sell recreational cannabis, Torrey Holistics is tucked away in a Sorrento Valley office park, making it a bit of a drive for its many fans, who nonetheless flock in from all over the city. Locals also love Torrey Holistics for their product offerings—while they do feature a good variety of bud strains, they offer fewer than other dispensaries do, choosing to focus on quality rather than quantity. The dispensary is favored by cancer doctors at UCSD, who recommend the dispensary to their patients because of their experience handling medical cannabis patients, as well as the PhD they have on staff, who is available for consultations to answer any medical-related questions.
How to order: Torrey is offering free, cash-only delivery within 20 miles as well as curbside pickup. You can call 619-940-0420 to modify your order.
Otay Mesa
A Green Alternative sits mere feet from the Mexican border, making this shop a staple for both South Bay and across-the-border stoners. Having partnered with PharmLabs, A Green Alternative tests for both safety screening and potency analysis, with information not only on their product labels, but in a book containing the complete spectrometry reports.
How to order: Online orders are open 24/7, while delivery hours are from 12:30 am–9 pm Monday–Saturday and 11:30 am–6 pm on Sundays. Pickup and delivery orders can also be placed over the phone by calling 619-920-8500 between 9 am–9 pm Monday through Saturday and 10 am–6 pm on Sundays. Free delivery is available, but delivery minimums are determined by zip code. Pickup orders are generally ready within half an hour and orders not picked up within 24 hours will be canceled.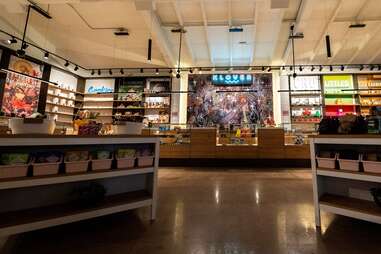 Little Italy
Little Italy's Klover opened in an industrial section on Estudillo Street, near the airport, in January 2020. Besides its selection of some of California's best brands—the dispensary features names like Papa & Barkley, ABX, Farmer & the Felon, Friendly Farms, and more—the dispensary offers pickup and delivery seven days a week. There are deals, too. Veterans and seniors get 10% off all purchases, people buying two edibles get the third 50% off weekdays between 3–6 pm, and there's also an art-related discount. The building boasts several colorful murals painted by Mexican-American street artist Panca and customers who snap a selfie with one of her murals, post it on Instagram, and show it to the budtender will receive 10% off their entire purchase. What's more, Klover is the only legal BIPOC-owned dispensary in town.
How to order: Online ordering for curbside pickup is open from 9 am–8:30 pm daily and from 8:45 am–8:30 pm daily for delivery.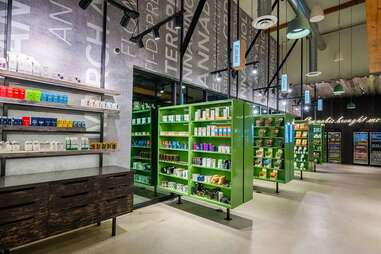 Mission Valley and City Heights
One of San Diego's best-stocked dispensaries, March & Ash, has opened a new location in City Heights just in time for the 420 holiday. The dispensary's newest location is also sponsoring an Earth Day celebration that will take place on April 24 from noon—4 pm, and attendees will have the chance to meet with cannabis brand vendors, enjoy acai from Soul Baked, and participate in free succulent planting. Vendors include Dr. Raw, Kaneh Co., Himalaya, Honey Oil, and many more. March and Ash is also recycling and reusing old eighth jars for the succulent planting station and inviting customers to drop off their old jars at the City Heights location between April 1—23. To drop off a jar, just look for the recycling bin in the lobby and notify the receptionist, and you'll receive a 5% discount on the next purchase.
How to order: March & Ash offers curbside pickup for online and phone (760-62-GREEN) orders, which require a one-hour lead time. Delivery requires a $30 minimum but can be accessed throughout much of San Diego County, which is especially good news for those without a dispensary in their zip code. Curbside and in-store pick-up orders need to be completed at least 30 minutes before closing. Customers can also use March & Ash's proprietary app.
Miramar
Located just near the Marine Air Corps Station Miramar, Mankind boasts products from top brands like Kiva, Canndescent, Jetty Extracts, and others. The dispensary prides itself on being "self-serve," which means its products are out in the open, rather than locked up in cases, and available for customers to inspect on sight. Deals include 20% off customers' first in-store visit and 10% for retired military (due to its proximity to the Marines base, the dispensary takes a hard-line and will not sell to those on active duty, spouses, and dependants).
How to order: Mankind offers curbside pick-up from 8 am to 8 pm and delivery from 9 am to 7 pm.
Fairmount Park
Tucked in an industrial corner of the city between the 15 and 94 freeways to the east of Golden Hill, north of Mountain View, and south of City Heights is the design-forward dispensary Hikei. Opened in September 2019, the dispensary, which looks like a hipsterized garage, boasts a wide selection of products, as well as friendly and experienced budtenders. For those looking for a little extracurricular knowledge, the dispensary also regularly updates its blog with consumer-friendly posts like "Best Indica," "Cannabis for Sleep," or "CBD for Hangovers."
How to order: Shop online for curbside pickup and delivery.
Jackie Bryant is a cannabis, food/beverage, travel, and culture writer based in San Diego. In addition to her cannabis newsletter and podcast, both called Cannabitch, her work can also be found in publications like Forbes (where she writes a cannabis column), Playboy, Sierra, the San Diego Union-Tribune, San Diego Magazine, WeedWeek, Afar, and many others. Find her on Twitter and on Instagram.