The worst thing about San Diego is that anytime you mention you live there, someone will always mention the whale's vagina (thanks, Anchorman). That minor inconvenience is about as bad as it gets for us San Diegans, considering the year-round sunshine, beautiful beaches, great craft beer, and that immutable work-life balance. While we doubt you need reminding of why San Diego's quality of life is unbeatable, we rounded up the 15 reasons why it is.
1. We live where most people vacation
Tourists flock to San Diego to escape their local summer heat (we're looking at you, Arizona), while we enjoy the temperate weather year-round. On top of that, we have a zillion theme parks, including LEGOLAND, SeaWorld, and the San Diego Zoo, so there is always something to do.
2. Everyone has a year-round tan
Thanks to the mild temperatures, people spend all year outdoors. That means everyone is glowing, which leads us to our next point…
3. San Diegans are extremely good-looking
Sure, not absolutely every single person living in San Diego is a knockout. But the healthy lifestyle most people live means a lot of people are in great shape. There are four major colleges in the city, which means a constant influx of youthful coeds, and as a majority, San Diegans have got it going on.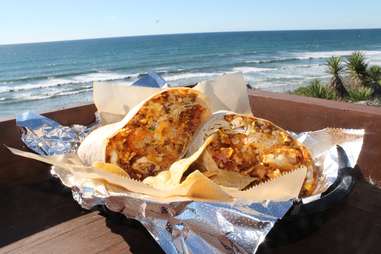 4. Burritos.
It's hard to throw a flip-flop in San Diego and not hit some hole-in-the-wall Mexican joint. We invented the beautiful monstrosity that is the California burrito, and you can get one at any hour, no matter where in the city you may find yourself.
5. We're a 30-minute drive from an international vacation
Baja California, Mexico, is just a few freeway exits away. San Diegans looking for a low-cost vacation and some good tequila needn't travel very far. Lobsters are always available in nearby Puerto Nuevo, and the surf is usually less crowded down south.
6. There are tons of parks
From San Diego's Waterfront Park to Balboa Park, there are an endless number of historic and unique parks peppering the city, and we don't fear looking foolish utilizing them as locals. Whether you want to see ships coming in and out of the bay, or host a picnic surrounded by museums, there's no shortage of places to go.
7. We've got more water than we know what to do with
Despite the rest of the state being in a historic drought, San Diego is totally fine. After years of careful planning, a new desalination plant, and strict regulations, the city has an abundance of water. That's despite all the beer brewed and drank here.
8. There's a ton of innovation going on
San Diego ranks ninth in the country for the number of technology patents granted. The amount of innovation might not have us poised to be the next Silicon Valley (like that would happen anyway, what with our less-than-cutthroat disposition), but it means there's a constant smattering of new jobs opening, which comes in handy to pay for all of the great beers on tap. Which, speaking of...
9. We have one of the best craft beer industries in the nation
No matter where you live in San Diego, the chances are high that a brewery, tap room, gastropub, or beer bar either exists nearby, or is coming soon. There's some sort of beer event nearly every weekend, and there's no shortage of hop-heavy IPAs that have become synonymous with the area. But there's much more to the scene than that -- we're blessed with plenty of balanced brews, too. We may not have given birth to beer tourism (Oktoberfest anyone?), but it sure is booming… or should we say buzzing.
10. Zen is a way of life
The only thing that flows more heavily than hops in San Diego is the sun salutations. Yoga is a way of life in San Diego. You cannot visit a coffee shop without seeing at least one set of Lululemon workout pants, and people are more likely to have a spare yoga mat in their car than a tire. Yoga is in our elementary schools, old folk's homes, and even breweries.
11. Casual wear is acceptable everywhere
Thanks to all of that yoga, and other fun outdoor activities that everyone's so into, businesses have no choice but to be lax in their dress codes. Rocking up to your favorite juice bar or taco stand in nothing but swim trunks is completely acceptable. People are more likely to gape at you in a three-piece suit than if you were donning flip-flops and no shirt.
12. Our beaches are some of the most scenic in the country
Local cities are extremely protective of their beaches, which has led to most being preserved from behemoth developments. Just cruise the coastline near Carlsbad, or the boardwalk in Mission Beach, and you'll see that public beach access is plentiful.
13. It's well-protected
San Diego has been a military town for decades. Camps Pendleton and Miramar both serve as hubs for the Marine Corps; the Naval Base is in Coronado. Our land, sea, and air are all pretty damn well-patrolled by the military. We'll leave it up to you to decide how to feel about that.
14. It's easy to get out of town
While San Diego is a fantastic place to live, it's also easy to leave. There are plenty of trains, planes, and boats that you can hop on for a weekend adventure. The desert, snowy mountains, LA, and Catalina are all within about two hours of the city limits.
15. It's not LA
Sure, traffic is occasionally stop-and-go around the triangle. But it's never, and will never be, as bad as LA's. We don't have a disgusting layer of smog permanently lingering between our buildings. Every time a Dodgers fan gets rowdy at a Padres game, we're reminded just how lucky we are that we get to call San Diego home.
Sign up here for our daily San Diego email and be the first to get all the food/drink/fun in town.
Ellen Wright is a freelance writer at Thrillist who spent a winter out of San Diego once… she lost her tan and sanity. Follow her on Twitter: @PacificPolished.