The Best Spots to Take Your Dog in San Diego
People who live in San Diego have it pretty damn good, and our dogs do too, thanks in large part to dog-friendly beaches, boutiques stocked with doggie-safe goodies, and urban pop-up parks where owners and their pups will both be entertained. If your best friend could use some spoiling, here are some of the best places to do so:
Dog beaches
Ocean Beach & other locations
Dogs can romp off-leash at the Original Dog Beach (at the northern end of Ocean Beach) and the western part of Coronado Beach 24/7 (plus Del Mar, though that particular location has slightly stricter regulations). Fiesta Island is another prime spot for your pup to roam free and catch some long-range tennis balls. The large sandy peninsula in Mission Bay has soft dunes to climb, calm water to swim in, and several fire pits (though not much else, so plan accordingly).
Balboa Park
Balboa Park
From scenic walking paths to gardens bursting with fragrant rose blossoms, this 1,200-acre urban cultural park has tons of things to see (and more importantly, sniff). Some of the best spots to explore with your four-legged friend include the three on-site dog parks (Grape Street Dog Park, Morley Field Dog Park, and Nate's Point) where pups can play off-leash, as well as the many trails, which range from a flat 1.5-mile stroll along tree-lined laneways (Trail #1) to the challenging 6.6-mile hike of Trail #6 that takes you through the more rugged areas of the park. When you're ready to stop for refreshments, swing by Panama 66, an all-outdoor, dog-friendly spot with local craft brews and a satisfying menu of hearty sandwiches and salads.
SUP Pups
Liberty Station
Your dog isn't truly a San Diego resident until it's hopped on a stand-up paddleboard for a jaunt around the bay. Luckily, SUP Pups San Diego (in partnership with The SUP Connection) offers special one-hour tours for dogs and their owners that departs from the sandy shores behind the Liberty Station Courtyard Marriott. Tour manager Samantha Eastburn, a certified ISA flat water instructor, says that 85% of the time, dogs quickly learn to stay on the board and love the experience. The tour takes you and your canine companion under the North Harbor Bridge by the Navy Dolphin training facility and out into the open waters of the San Diego Bay. Tours mainly run in the summer, but Eastburn will take groups out in winter months too (as long as participants don't mind the chill). Book online, or reach out via Facebook.
Quartyard
East Village
This dog-friendly pop-up park in the East Village offers several creature comforts for both pups and their owners. There's an enclosed dog run with artificial turf and a few benches where dogs can make friends with other neighborhood pups, plus a large, open area outfitted with oversized picnic tables and food & drink vendors housed in former shipping containers -- including Meshuggah Shack (a quirky coffee shop), S&M Sausage and Meat, and a compact bar serving beer and cocktails. Even the on-site restrooms are remarkably clean! Take advantage of the space while you can; it's at risk of being bulldozed to make room for a 34-story tower.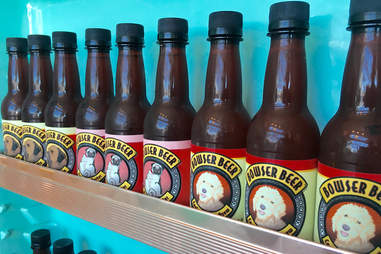 COURTESY OF BOW WOW BEAUTY SHOPPE
Bow Wow Beauty Shoppe
Hillcrest
Whether you bring your dog to this retro-themed shop(pe) to browse for a stylish new outfit or to grab a pre-made doggie birthday cake or bottle of doggie beer (yes, you read that correctly) from one of the vintage fridges, it'll be a fun time. Owner Leel Michelle says many customers like to celebrate their pup's first birthday with a cake, and their third birthday with a beer. Using the logic that three years old in dog years is 21 in human years, it's only natural to mark the occasion with a bottle of Beefy Brown Ale, Cockadoodle Brew, or Porky Pug Porter. The cakes -- available in carob, vanilla, or peanut -- are made with all-natural ingredients, so they're much healthier than those made for humans (in case you're tempted to steal a slice for yourself), and the doggie brews are non-alcoholic and non-carbonated.
COURTESY OF ORIGINAL PAW PLEASERS
Original Paw Pleasers
North Park
Since 1992, this pet bakery and boutique has been making pups happy with grain- and lactose-free doggie birthday cakes, colorful themed cookies, and ice cream available by the scoop or hand-packed pint. The bakery just purchased a pet-friendly photo printer, so now you can order a birthday cake personalized with an image of your dog. Custom photo cakes have to be ordered seven days in advance, but if you want something right away, the cookies are a great option -- if you buy three, the fourth one's free.
ERIN JACKSON/THRILLIST
Urban Wolf
East Village
If you've ever considered transitioning your dog to an all-natural, raw diet, this is the place to start. All of the food sold here is made from only human-grade protein vegetables, fruit, and micronutrients (no gluten, antibiotics, grain, preservatives, or fillers here). The shop's small storefront has fridges stocked with grab-and-go food and a commercial kitchen (visible from the front counter) where food is prepared and packaged, basically like a gourmet deli for dogs. If you're not quite ready to make the hard switch, there's also an assortment of affordable treats, like cod skins, thin slices of dehydrated chicken breasts, and chicken and duck pellets (all priced around $1.50/oz).
Sign up here for our daily San Diego email and be the first to get all the food/drink/fun in town.
Erin Jackson is a San Diego-based food writer and photographer who loves sharing her latest finds. If you enjoy food and cat photos, by all means, follow her on Instagram.