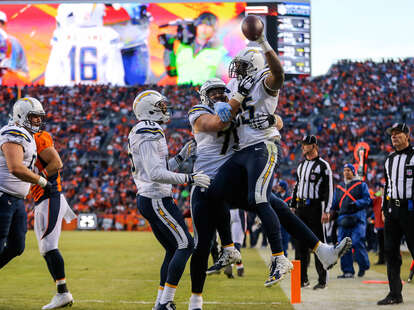 Justin Edmonds/Stringer/Getty Images
Justin Edmonds/Stringer/Getty Images
Editor's Note: As of the 13th, the St. Louis Rams are officially packing it up and moving back west. Owner Stan Kroenke is building that $1.86 billion stadium on top of the old Hollywood Park racetrack in Inglewood -- a little more than 10 miles southwest of downtown LA. The Chargers saga, however, has yet to conclude -- they have a year to choose whether they want to join the Rams, and if Spanos ultimately chooses 'no,' the same option goes to the Raiders. Oy vey.
After 55 seasons in San Diego, the Chargers may be moving to LA, and... what's that? You would like a thorough rundown of the Chargers' "potential" (in air quotes because it's looking more and more likely to happen) bolt? One you could send to your Mom who thinks a "blitz" is a delicious fruit or cheese-filled pancake, and your college roommate who named his, uh, water pipe LaDainian Bonglinson? Your wish is our command!

The basics
December 30th was the deadline for three cities -- San Diego, Oakland, and St. Louis -- to submit their final proposals to the NFL to retain their football teams. Accordingly, Mayor Faulconer submitted his proposal to keep the Chargers in SD to the NFL, which included a pledge of $350 million in public money -- a portion of the $1.1 billion needed for the new stadium. This public money would require a vote, and the Chargers aren't into it.
The Chargers, and the NFL for that matter, have serious Fouts (see what we did there?) that the public will approve the plan. Not to mention, with the necessity of a public vote, the plan for the new stadium also isn't actionable right now -- it would require a vote later this year -- and the NFL doesn't like that.
So, instead, after trying nine times in 14 years to get the city to build them a new stadium, the Chargers have been focusing on lobbying the NFL to be allowed to move to Los Angeles.
We're good at math, so like, where would the rest of the $1.1 billion for San Diego's new stadium be coming from? Faulconer's proposal asks the Chargers to put in $362.5 million, the NFL $200 million, and the selling of personal seat licenses would bring in $187.5 million. (Exactly $1.1 billion. Thank you, phone calculator.) The stadium would be built on the old Qualcomm site with a projected completion date of 2019 (the year of the pig!).
Let's do the relocation
On January 4th, all three teams vying to move to the land of smog and traffic -- Raiders, Rams, and Chargers -- filed applications, effectual for the 2016 season. These are being presented for consideration by the league owners at, likely, very chaotic meetings happening right now, at this very moment (January 12th and 13th), in Houston. There were rumors that even if the owners approved the Chargers/Raiders proposal for a shared stadium in Carson, which is located 13 miles south of downtown Los Angeles, the NFL would be like, 'Nuh-uh, no you don't,' and put the relocation off for another year. Yeahhhh, that's probably not going to happen.

... conference in Houston, you say?
For one of the teams to relocate (or two of them to share one joint stadium, as is proposed by the Chargers and Raiders), they need approval from 24 of the 32 owners, and the relocating team's owner(s) would have to pay a relocation fee of $550 million (per team). Who is going to get the go-ahead?
Right now, the goal of the meetings is to get at least one team to LA, maybe two in the case of the Chargers/Raiders partnership. But what's determining who exactly that will be is complicated, and a lot of rumors are flying around. But St. Louis is important, because while San Diego and Oakland -- the cities whose teams play in the two oldest stadiums in the NFL -- have put forward either a "meh" proposal (Oakland), or a proposal with hang ups (San Diego), St. Louis put together a pretty good plan, which means the Rams might be forced to stay in their home market.

A red herring?
Some people think this is all a gigantic bluff to get San Diegans to pay up for a new stadium (ideally, half the cost of the stadium). It very well could be a façade, but as this goes on, it's not looking like a red herring, but a blue one. Or a yellow one. Or whatever color a bluff isn't.
The Deal with Qualcomm
Horton Plaza. Qualcomm. Neither are exactly points of architectural pride in San Diego ("Where is my car?! *Sob.* Where is my car?! I thought it was in chile?!? Was it tomato?!?" -every person in the HP parking garage at some point). But even so, it's hard not to feel a little sentimental about the Q, so here's a brief hist (an abreev for history): When hotel heir, Barron Hilton, moved his team in 1961 from LA to San Diego, the Chargers' home field was Balboa Stadium in Balboa Park. It wasn't until August 20th, 1967 that, via the efforts of local sportswriter, Jack Murphy, pushing a local multi-purpose stadium, that the Chargers played their first game in Qualcomm -- then, San Diego Stadium. Single tear.
It's likely that if the Chargers move to LA, Qualcomm/Jack Murphy/San Diego Stadium will be torn down, and something will be built in its place. San Diego State still needs a place for the Aztecs to play, so it could be sold to them and turned into another stadium. Or a mixed-use SDSU housing/entertainment complex.
The future of the Q is unclear, but what's not is the fact that we will miss it. The fact that this writer went to the 1998 World Series in it. We all have fond memories of Qualcomm. No matter how ugly we think its "brutalist" style is, we will be sad if our memories are replaced with dorms and a Jamba Juice.

Inglewood v. Carson
Rams owner, Stan Kroenke, wants to build a stadium in Inglewood, team or no team, on land he purchased two years ago. It would cost an estimated $1.86 billion dollars, making it the most expensive stadium ever built in the US.
Meanwhile, Chargers owner, Dean Spanos, and Raiders owner, Mark Davis (and owner of the most epic bowl cut you've ever seen), teamed up on a proposal for a new stadium in Carson for $1.7 billion, a project that would be overseen by Disney's Bob Iger. (The land in Carson has also already been acquired -- 11 acres for $20 million.)
Both Inglewood and Carson have approved the plans for the respective stadiums. Which is better? Trick question! Neither, because they're both in LA, which is actually hell...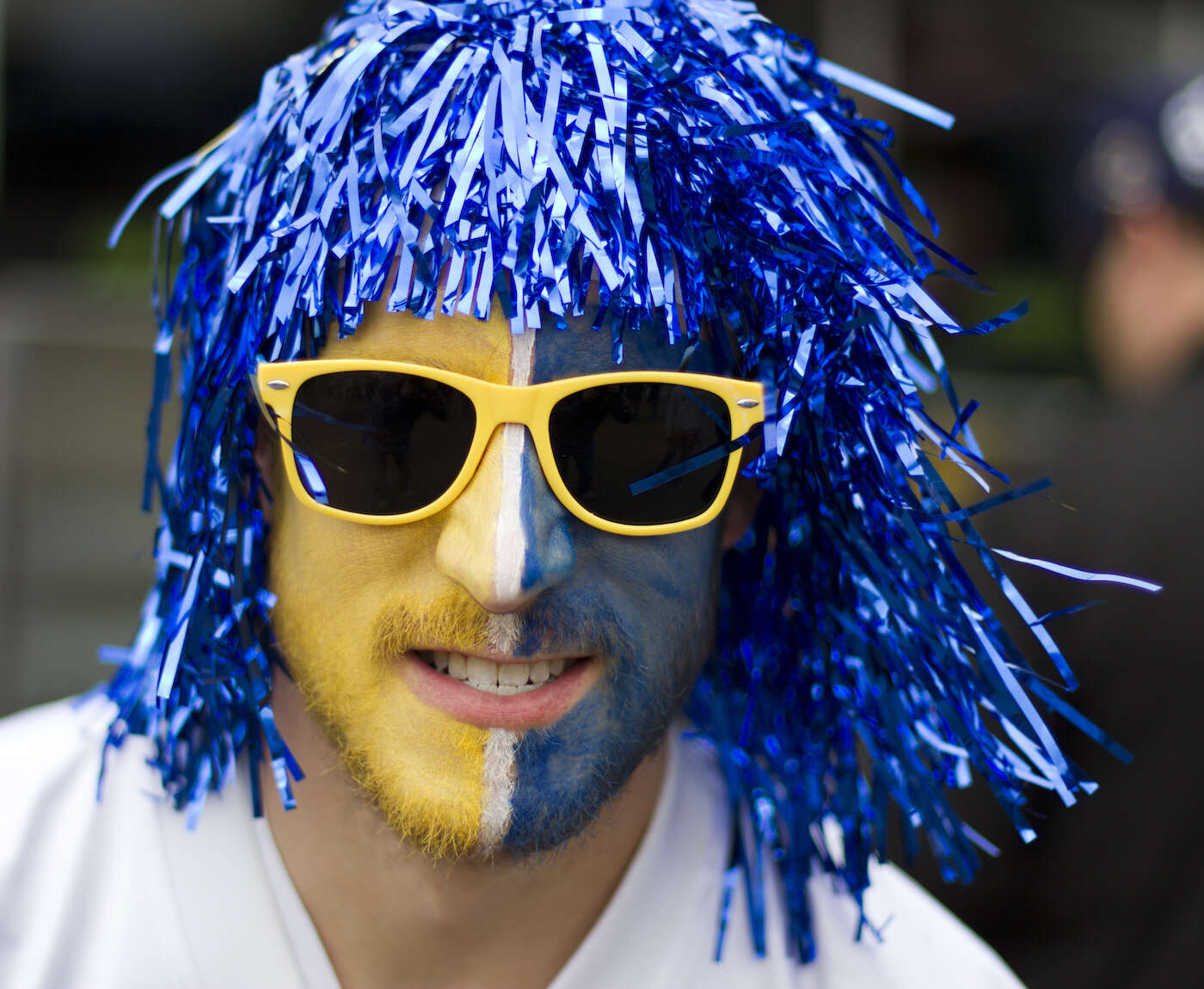 Tell me what you want, what you really, really want
Like everyone has their favorite Spice Girl (lie, Posh is everyone's favorite), everyone has different agendas in regards to the Chargers.

The NFL wants LA to have a football team
Los Angeles has not had a professional football team in almost 21 years, and it has the second-best sports media market in the country. You know what else LA has? A lot of other sports teams -- the Dodgers, Lakers, Kings, Clippers… hmph.
Dean Spanos wants $$$$$$$$$$$$$ ($$$$$$$$$$$$$$$)... and still more $$$$$$$$$$$$$
If the Spanos family were to move the Chargers from San Diego to LA, their franchise's value would essentially double overnight from 1.5 to three billion dollars (Dr. Evil voice -- IT'S STILL A GOOD JOKE, OK?). This doubling in value is largely because LA has that great sports media market we mentioned, and because the Chargers would be playing in a new stadium. That new stadium is huge for a team -- see: the 49ers' move to Levi's Stadium and their corresponding 69% increase in franchise value. So, you may ask, why wouldn't the Spanos family move the team to LA? Loyalty, legacy, sentimentality...
Why, indeed.
Mr. Mayor wants the Chargers right where they are
Faulconer has tried everything to keep the Chargers in San Diego, and rightly so. He put a fair deal out there. He, commendably, stuck to his guns on to the public vote thing. Like any protective City Dad, he pressured the Chargers to be honest about their intentions with us. And what Faulconer was fighting for is civic pride. Tradition. Our parents didn't watch Chargers games growing up (OK, maybe as teens), but we did. As much as it hurts, we all know the team is as much a part of SD as Mexican food, surfing, and Sea W -- no, not a good example. Point is, we would absolutely miss them.
Haters are gonna hate, because players aren't going to play
It's ugly out there in Internet-land right now: "No bigger city in America has suffered a sadder sports history than this one... In exchange for being able to live and work in a warm and sunny coastal climate, San Diego residents are burdened with distractions that tend to prevent productivity." Thanks, USA Today. To that last dig, we say: "Hey!! That's just, like, your opinion, man." We're trying to find some positives, but...

Silver linings to no more playbooks
If the Chargers do move, at least this long, dramatic saga will be over. At least we can start our stages of grief firmly knowing they are actually leaving. At least the Chargers have kind of acted poorly lately, so we can feel better about their departure. Like, really? You're going to place Eric Weddle on injured reserve against his wishes in likely his last game with the Chargers after nine years, then fine him $10,000 for watching his daughter dance at half, and not let him travel to Denver because the "plane is too small?"
Another thing we have to remember during this mess: this is all about money, and, maybe at times, San Diego not getting its shit together. But to the fans who have watched every single game, faithfully, year after year: there's nothing you could have done.
We also live in San Diego, which should be some solace to us. San Diego is not just home and paradise; it's an up-and-coming city. New York and San Francisco are our over-the-hill, much older stepbrothers, while we're hotter, smarter, and still in college. We'll bounce back from this. We'll have more professional sports teams come here. Yeah, the situation sort of sucks, but hey: at least we're not moving to LA.
Sign up here for our daily San Diego email and be the first to get all the food/drink/fun in town.
Natalie Holtz is writer from San Diego who might actually die if the Chargers leave. Comfort her on Twitter @natalie_holtz.