Fall has arrived in San Diego, which means the tourists are gone and it's time to celebrate the subtle change in weather by drinking spicy beer, gorging on discount restaurant meals, and (finally) wearing layers for a change. If you want to stay put and enjoy the beach life, we don't blame you, but fall is also the perfect time to get out of town and explore vineyards, pumpkin patches, and mountain meadows (on horseback, no less). Whatever your pleasure, you'll want to bookmark this checklist and refer back to it whenever you need more autumnal inspiration.
Drink seasonal beer
During fall, local craft brewers are known to create inspired brews with seasonally appropriate ingredients, like pumpkin, warm spices, and chocolate. Second Chance Beer Company is one such brewer, releasing its Pumpkin Pi brew with roasted pumpkin and spices at its Carmel Mountain brewery on October 20, and the North Park taproom on November 4. Coronado Brewing Company's Sunken Pumpkin (available starting September 22) is another great pick -- the medium-bodied imperial pumpkin ale pairs great with steaks or rich desserts. If chocolate is more your speed, Stone Brewing's Xocoveza, a "winter-spiced mocha stout" inspired by Mexican hot chocolate, will be flowing from October till December.
Actually get to wear layers
Oh yes, it's scarf, cardigan, and sweater time once more. Enjoy it while you can... summer will be back in about five minutes.
Elevate your pumpkin spice game
If you love the flavors of pumpkin spice but wish it came with a bigger buzz than coffee can provide, head directly to the Grant Grill ( in the US Grant Hotel) for a Smashing Pumpkin cocktail. The perennial favorite features pumpkin and star anise-infused rum, Grand Marnier, St. Elizabeth Allspice Dram, Saffron syrup, cardamom bitters, and fresh Meyer lemon, with a sugar and spice rim.
Visit a pumpkin patch
Bates Nut Farm in Valley Center has country charm on lock with a massive pumpkin patch, hayrides, a petting zoo, a straw maze, and a general store bursting with timeless treats like pumpkin fudge, apple butter, and toffee. Daytime temps are typically between 70-80 degrees in the fall, but it can creep into the 90s with high UV, so remember to slap on some sunscreen.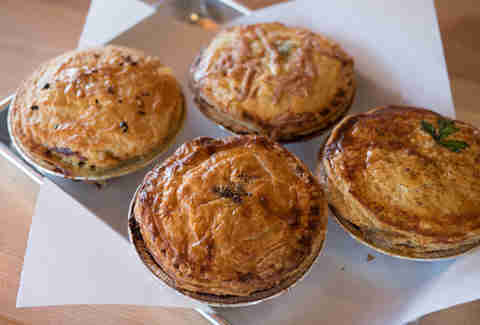 Eat apple pie
Fall is apple season, which means it's also pie season, which means... you can see what we're getting at here. Bonus points for getting a slice in Julian, but if you're just not down for the drive, Pop Pie Co. will set you up with something tasty, too.
Learn how to make a really good cocktail
Upgrade your bartending skills at a hands-on cocktail class at You & Yours, where you'll learn how to measure, shake, and pour two different beverages (including signature drink from You & Yours and a classic cocktail). Classes run September 20, October 18, November 15, and December 20.
Relax at the beach
The tourists are gone, and accessing the beach -- any beach -- is beyond easy. Pick a location with tasty provisions nearby, like Ocean Beach, where you can park at the top of the strip, grab a coffee and pumpkin bread at Azucar, and wander down to the waves.
Go on a trail ride
It's worth the road trip to Julian to take in some mountain vistas on horseback, and weather-wise, fall is the best time to visit. Several operators offer 60-90 minute trail rides through woodlands, meadows, and ranch lands.
Put on a few pounds during Restaurant Week
San Diego's Restaurant Week (September 24 to October 1) is perfectly timed to cultivate a little "dinner roll" to keep you toasty during San Diego's technically non-existent winter. Some of the more affordable picks for quality comfort food served in cozy spaces include Bankers Hill Bar and Restaurant (don't miss the butterscotch pudding!), Red Card Cafe (beef bolognese, please), and Salt & Whiskey, where you can get your fill of buttery pastry in the appetizer and entree courses before sliding into home with a sticky toffee pudding for dessert.
Attend a neighborhood-wide food fest
If you somehow manage to sleep through Restaurant Week, there's always neighborhood gorging events with tasty bites from dozens of restaurants, like Taste of Mission Hills (October 10), A Taste of Coronado (October 11), and Taste of North Park (October 14). There's a free trolley at the Coronado event, and attendees of the North Park feeding can upgrade their experience to include 15 beer tastings.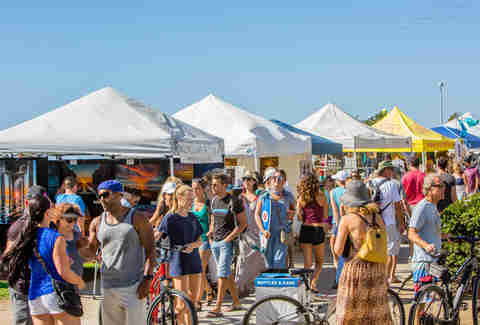 Party at the beach
For the full summer-in-fall experience, make plans to hit Pacific Beachfest on October 7. This year's event marks the 20th anniversary, and will feature the same winning mix of volleyball and surf contests, live music, fish tacos, and beer that make the annual festival so popular.
Give your bike some TLC
Summer's over and we're willing to bet your bike could use some love. Whether your tires need some air or your cables are out of whack, the pros at the Central Library's free "Bike Kitchen" event will get you rolling in no time.
Explore local wineries
Cooler temperatures and the annual wine harvest make fall the perfect season to journey to Escondido or Temecula for a laid-back afternoon of wine tasting. If you can't convince a friend to be your DD, several tours are available at both locations, including options where you can travel by limo, bus, Jeep, or cable car.
Swim with sharks... tiny ones!
Pack your snorkel and fins and head to La Jolla Shores to get up close and personal with the leopard sharks that congregate in the calm, shallow warm waters near The Marine Room restaurant. The skinny, pointy-nosed species are typically about 3 feet long (and totally harmless).
Check out a free concert
Maybe classical music isn't your thing... or maybe it is, and you just don't know it yet. Find out how you feel at a free concert at the Central Library. The events take place on Sunday afternoons at 2:30pm, which leaves plenty of time for brunch beforehand.
Sign up here for our daily San Diego email and be the first to get all the food/drink/fun in town.