Check Off the Last of Your Shopping List With a Trip to the San Diego Farmers Markets
If the thought of going to the mall has you breaking out in a cold sweat, you're not alone. Finding something thoughtful and unique for those last few friends on your gift list can be stressful, especially as the number of shopping days dwindles. Instead of spending hours cruising for an empty parking spot or scrambling to buy another mass-produced trinket, head down to your neighborhood farmers market. There's an average of five markets every day somewhere in San Diego County where you'll find locally produced, one-of-a-kind artisan products ranging from gourmet granola to perfect patisserie, and graphic T-shirts to elegant jewelry.
We visited three of San Diego's best markets -- the Little Italy Mercato, the Hillcrest Farmers Market, and the Liberty Station Public Market -- to find some of the season's most gift-worthy items. Grab your reusable grocery bags, your naughty/nice list, and check out some of our favorite gifting solutions.
For your host
Forget the grocery store poinsettia; opt instead for fresh floral arrangements from growers like
Maldonado Farms
, whose jewel-toned mini bouquets are a mere $3.50 and so fresh they were still attached to their roots yesterday. Update their Moscow Mule or Dark and Stormy with
San Diego Ginger Beer Company's
non-alcoholic beverage/mixers in flavors like pineapple, strawberry, or hibiscus. If you're spending the night, grab
Grammy's Granola
or scones from
Prager Brothers Artisan Breads
to help out your hosts the next morning. In charge of dessert? Bring a showstopping
croquembouche Christmas tree
or yule log from
Le Parfait Paris
for a memorable ending to your holiday meal.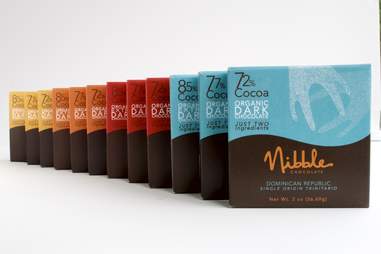 Courtesy of Nibble Chocolate
For your foodie friends
Your biggest problem will be that there's too many options.
Nibble Chocolate's
Tasting Flight, which are organic vegan single-origin dark chocolate bars from Peru, Dominican Republic, Venezuela, and Madagascar, are made with only two ingredients, allowing the characteristics of each origin to shine. Home cooks will appreciate organic herbs, spices, blends, mineral and sea salts, teas, and three different types of mole at
Coronado Spice and Tea
. The kombucha fan in your life should love the Kombucha Kit from
Happy Pantry
. While you're there, pick up a few jars of their tangy pickles and fermented vegetables -- the Moroccan lemons, kimchi, or garlic cauliflower pickles are particularly good.
For the freewheeling hippie
Clothing and jewelry stands at open air markets have always been partial to hippies old and young, but it's not all beads and tie dye.
Nobelrags
features jewelry both inspirational and unusual, along with vintage clothing that ranges from sequined bustiers to tweed blazers. For every sale, Nobelrags donates $1 to one of six nonprofits. At
Whims of Wanderlust
, Roger and Cecilia Gabriel fashion crystals, polished stones, shells and other earth elements, sterling silver, and copper into gorgeous earrings, necklaces, rings, and bracelets.
Think Positive Apparel
gives the ubiquitous graphic t-shirt an uplifting spin with affirmations and quotations in tiny text in winding labyrinths to form Buddhas, yoga asanas, animals, and lotus blossoms. Magnifying glasses are not included.
For the hipster
If the sharp-dressed man in your life needs to up his game, head over to The
ZB Savoy Bowtie Company
. Musician ZB Savoy's shirts, blazers, leather goods, tieless shoelaces, and, yes, bowties, are classic but fresh and fun. William Waters of
Creations by Will
uses reclaimed and sustainably harvested wood for his striking handmade shaving sets, while
Whiscare's
beard oils and balms will keep facial hair shiny, soft, and manageable.
Courtesy of Evolution Dog Treats
For furry friends
Make pampering your pets extra luxe during the holidays. Get your favorite canine some special snacks from
Evolution Dog Treats
-- they're handmade, grain- and gluten-free, and come in salmon, liver, and peanut butter flavors.
Doggy Dollar Club
offers premium, hand-crafted treats, health and grooming products, even aromatherapy, and just like the shave club, you can sign up for automated shipments. For pet parents, commission artist
Amy Baca Lopez
to immortalize their four-legged kids with an acrylic on wood painting in their favorite colors.
Sign up here for our daily Thrillist email, and get your fix of the best in food/drink/fun.
Mary Beth Abate is a San Diego-based food writer who is fascinated by all things pickled, preserved, or fermented. Follow her experiments @MaryBeth_Abate.