Tailgating doesn't have to be relegated to Qualcomm Stadium on game day -- tons of San Diego's beaches have some of the most scenic parking lots on the West Coast, which serve as the perfect backdrop for a day of hanging out. And instead of schlepping a day's worth of things down to the beach, spend your time in the parking lot where you'll get some great people-watching done from the comfort of your folding chair behind your parked car. Grab your friends, load up the trunk, and head to the nearest beach parking lot with these helpful tips.
Do: carpool
Telling someone you'll meet them at the beach is a recipe for frustration. For one, the beach parking lots in the summer are packed, so you're being nothing shy of selfish if you're trying to poach three spots next to each other all for your crew. Do your best to squeeze your friends in one car so you all collectively only need one parking spot.
Don't: ask another car if they're "coming or going"
Hanging out in the beach parking lot means you'll get this question from tons of circling cars that've just pulled in and are eager to claim their own spot to post up in. Do everyone else a favor and don't ask it. True parking lot veterans know the correct answer is neither. After spending a day beach tailgating, you'll understand why. Instead, simply ask someone if they're leaving.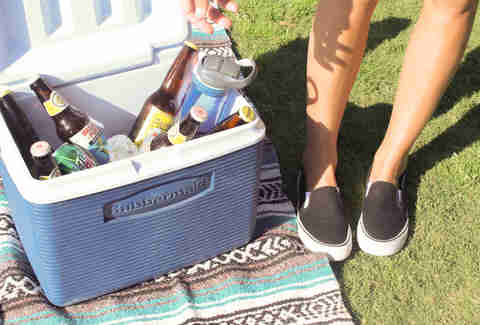 Do: bring lots of snacks and drinks
Hanging in the beach lot all day can really work up an appetite, so load up on lots of snacks, ice, and drinks so you won't have to give up your coveted spot to grab a sandwich later. Just remember: most beaches don't allow beer, which is where coffee mugs come in handy.
Don't: rely on your car stereo to blast music all day
Your car will die if you run it all day, and having to ask for a jump after aggressively pumping EDM to the dismay of your neighbors is no fun. Bring a fully charged portable stereo that you can move around if you get the stink eye. Great dance moves also prove to be a good shield against the haters.
Do: spark up conversation with fellow parking lot people
People who spend a good chunk of their time in the beach parking lot tend to be interesting characters. They usually have good stories to tell and can be a wealth of knowledge. If you're trying to figure out when the best time to go surfing is or looking to score a certain something, your parking lot comrades should be more than likely able to help.
Don't: forget games
Just because you're a grown-ass adult doesn't mean you can't still have fun playing games. Bring your cornhole setup, Frisbee, paddleball, or even something as low key as a deck of cards (also, who doesn't still get down on a competitive round of Uno?). Spread out on some nearby grass and let the shit-talking begin.
Don't: draw the heat
The fuzz, the man... you get what we're saying here. Just play it cool. If you're going to light one up, find a hidden tree enclave away from the parking lot. Keep your adult beverages in a container and don't give anybody a reason to call the cops and ruin it for everyone else hanging out there too.
Do: eventually find your way to the ocean
Whether you surf, swim, snorkel, standup paddleboard, whatever. Find a way to get in the ocean. That is why you came to the beach after all... right?
Sign up here for our daily San Diego email and be the first to get all the food/drink/fun in town.