How to Support San Diego's Queer Community During Pride Month
We're here, we're queer, and we're vaccinated!
If there's one thing we've learned from 2020, it's that Pride cannot, and will never be, canceled. June is Pride Month, but here in San Diego, we celebrate Pride twice—this month along with the rest of the world, and again in July, when we have another week of festivities hosted by San Diego Pride. This year's event, appropriately themed "Resilient", takes place July 10-18, and will have a virtual parade, as well as live events.
San Diego's Pride movement began in 1970, just months after the historic Stonewall Uprising, when LGBTQ+ students at San Diego State College organized to form the Gay Liberation Front, which later that year hosted a "Gay-In" in Presido Park, likely the first Pride event in San Diego history. And while last year COVID-19 forced the cancellation of live Pride events worldwide, it's a new year and we're ready for Pride 2021! Here are some of our favorite ways to celebrate and support San Diego's queer community this month, and all year long:
Support vital LGBTQ+ nonprofits and community organizations
Organizations that help the LGBTQ+ community have been experiencing even greater challenges during the COVID-19 pandemic. The San Diego LGBT Center, better known as just The Center, reaches out to the LGBTQ+ community through special events, HIV awareness programs, civic involvement with Engage San Diego and critical housing services, among its many programs. The Gender Advocacy Project provides support for transgender individuals through various social groups, mental and physical health care, legal services, cosmetic services, and trans-friendly employers. San Diego Pride depends on over 1,500 volunteers to plan and implement our city's Pride festivals, parades, and events. You can donate at any time, knowing that 84 cents of every dollar goes to education, advocacy, and civic organization.
Dine out at LGBTQ+-owned restaurants
San Diego's restaurants took a gut-punch during the pandemic, barely scraping by with delivery and takeout only. Now that lockdown restrictions are lifting, one of the best ways to help them is to dine out (or use takeout and delivery options) as often as your wallet allows. Gossip Grill, a friendly, inclusive lesbian bar, has a full patio bar and restaurant for day drinking, brunching, and cozy dinners around the fire pits, then transforms into a dance club after dark. The party never really stops at Urban Mo's Bar and Grill, a gay bar famous for its daily bottomless mimosas and Sunday Funday brunches. Industrial Grind Coffee, the brainchild of Navy veterans Kathy Hansen and Barbara Jeanine, serves all your favorite coffee drinks, along with their own line of gluten-free baked goods, mixes, and gourmet chocolates developed by their niece Crystal Jones.
Grab a drink at a local hotspot
Much of San Diego's queer nightlife is centered in the Hillcrest neighborhood, with enclaves in North Park, University Heights, Middletown, Point Loma and beyond, so there's no reason why you shouldn't venture out of your comfort zone and try someplace new. Local favorites include The Loft, a lowkey dive bar with heavy pours, hot bartenders, and a jammin' jukebox; San Diego Eagle, for those who enjoy a bit of leather with their nightlife; The Rail (formerly the Brass Rail), San Diego's oldest gay bar, reopening June 15; and Pecs, a popular gay bar that hosts screenings of RuPaul's Drag Race on Friday nights. And San Diego's world class craft beer culture makes it a given that we'd also be the home to the world's first gay brewery, Hillcrest Brewing Company.
Support LGBTQ+ artists and their work
We can all thank the artists, musicians, and actors who took to the internet and streaming services for helping us all cope with the boredom, isolation, and loneliness of the pandemic lockdowns. The Diversionary Theatre is the third-oldest LBGTQ+ theatre in the country and continues to host online events, this month featuring And We Danced, part of the SAY IT LOUD FEST. The Studio Door is a Nicky Award-winning art gallery in Hillcrest that includes a 4,300-square foot gallery space, 16 working artist studios, and a small museum store featuring invitation-only, locally created art works, such as jewelry, scarves, ceramics, glass and art books. The current exhibit, HYPE!, celebrates street art with more than 25 artists' works and runs through June 26. To honor Pride Month in San Diego, they are hosting PROUD+, the fourth edition of national LGBTQ+ artists, presenting contemporary works celebrating diversity and featuring guest artist Tom Acevedo. The PROUD+ exhibit runs July 3-30, with preview nights on July 1 and an artist reception on July 17.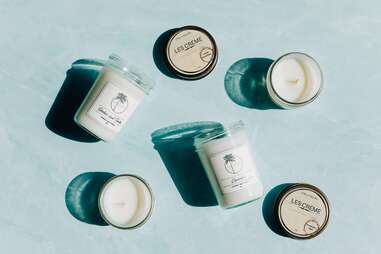 Shop til you drop
After a year in sweatpants and baggy t-shirts, it's time for some retail therapy and a new wardrobe for all those in-person events you'll finally be attending. Dapper Boi, based in Chula Vista, is an online, gender-neutral clothing line that offers a unique fit and a wide range of sizes. Pamper yourself with luxurious, eco-friendly soaps and scents, skincare options, lotions and clean candles from Les Creme, available online or at shops throughout the country. And before you take your bad self out on the town, deck yourself out in eye-catching denim, beach wear and RuferizedTM rubberized sportswear from Rufskin.

Be an ally
As Dr. Martin Luther King, Jr., once said, "No one is free until we are all free." It's not enough to pay lip service to Pride, or Black History Month, or Hispanic Heritage Month, or any of the other months dedicated to recognizing the history and ongoing struggles of fellow humans. Combating hate and prejudice is a year-long, day in and day out grind, and requires everyone's participation. If you are witness or a victim of hate-based harassment or violence, there are things you can do:
Report hate crimes
All hate-based harassment and other incidents, regardless of severity, should be reported. If you or someone else is in immediate danger, call local authorities and the San Diego County District Attorney's office to document it as soon as possible.
Learn how to intervene safely
We've all seen videos of LGBTQ+ persons and other minorities on the receiving end of public harassment in stores, on public transportation, and on the street, with bystanders casually watching it happen. You may want to offer help, but you're understandably afraid. You know who else is afraid? The person being bullied, intimidated, and humiliated. But how can you intervene safely? Hollaback! is a grassroots initiative to raise awareness of and combat street harassment while avoiding directly confronting the aggressor. They've put together a free guide for bystander intervention and free interactive, virtual bystander intervention and de-escalation training, including youth training, online, voter, sexual, police-sponsored, and other harassment situations.
Check in on your friends
Don't assume that your friends are okay just because they aren't talking to you about hate-based harassment or violence. Reach out in a call, a text, or visit and let them know that you care about their wellbeing and safety. Tell them you're available if they feel unsafe or need to talk. Be the ally they need right now.
Most importantly, register and vote! Change doesn't happen without action, and your voice is needed now more than ever.
Mary Beth Abate is a San Diego-based freelance writer by way of Chicago and Los Angeles. Her hobbies include yoga, pickling and fermenting stuff, reading cookbooks and drinking fabulous gin. Keep up with her experiments @MaryBeth_Abate.