Admission is Free at Orange County's New Modern Art Museum
Explore some of California's most acclaimed modern artists with five exhibitions at the newly opened Orange County Museum of Art.
Photo by Joshua White, courtesy of Orange County Museum of Art and Morphosis
From a free exhibit at SoFi Stadium to a new street art gallery on La Brea, LA has plenty of options when it comes to getting your modern art fix. In fact, the whole of Southern California is awash in art viewing opportunities, from the expanse of San Diego's Balboa Park, to the newly reopened Orange County Museum of Art (OCMA) at Segerstrom Center for the Arts in Costa Mesa. At 53,000-square-feet, OMCA's new building is almost double the size of its predecessor in Newport Beach, and is sure to attract art enthusiasts across the region with its promise of free admission to all for its first ten years of operation.
Designed by Morphosis, the building immediately captures attention with a distinct exterior that seems to recall the nearby ocean with wave-like terracotta tiles and metal panels. The building curves, leading your eyes up to large windows that filter natural light into the space. But before entering the museum, you'll be confronted with artist Sanford Biggers' "Of many waters…," a massive, commissioned sculpture that's composed of metal sequins, with a figure head based on a 19th century Baule double-face mask while the body poses in a reclined position reminiscent of classic European paintings. It will remain on view until August 2023.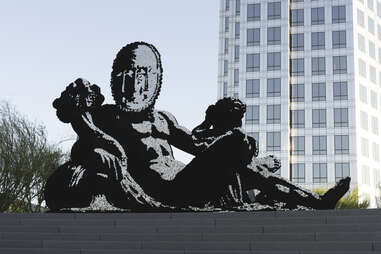 On the ground floor of the museum, visitors will find 13 Women, an homage to the 13 women who founded the Balboa Pavilion Gallery, an early iteration of the museum. Curated by OCMA CEO and Director Heidi Zuckerman, the exhibition features 13 female artists who share the same visionary qualities as the museum's original founders and will have multiple rotations over the course of a year. The works range from the 1960s to the present, with the exception of Agnes Pelton's celestial abstract The Guide from 1929. The dreamy number includes sheer curtains opening up to reveal a single star that sits at the top pulling focus to it, perhaps as the titular guide.
The museum has also revived the California Biennial which dates back to 1984, and is organized by former OCMA curator Elizabeth Armstrong, with pieces that reflect on the unique space the Golden State occupies in the American imagination, including mythical stories and musings on the state's future, featuring 19 contemporary artists from across California, including Tanya Aguiñiga, Alex Anderson, Sadie Barnette, and Kenturah Davis.
You can also stare into artist Fred Eversley's hypnotic lenses and mirrored forms in his Reflecting Back (The World) exhibition and stroll through landscape architect Peter Walker's Minimalist Landscape, including Fountains and Plantings at the entry court for Cesar Pelli's Plaza Tower and Arrival Garden at the ramped entrance to the Performing Arts Center.
The updated digs also include Verdant Café, developed by Ross Panglinan and Nick Weber (Populaire), with a mostly vegetarian menu that will change weekly, featuring fresh, seasonal produce like a Koji-roasted acorn squash with shelling beans, mushrooms, roasted endive, and porcini puree. The indoor-outdoor space is located on the terrace level with Scandinavian-inspired light fixtures, velvet and macrame textiles, and light-colored wood. The outdoors are brought indoors with large trees punctuating the dining room.
For those looking to bring the museum experience home, there's THE MIND, OCMA's gift store that's located in the lobby and provides visitors with a glimpse into the galleries. Operated by Emmanuel Renoird and Nicolas Libert of LA- and OC-based concept stores Please Do Not Enter, THE MIND hopes to become a destination within a destination by featuring a rotating selection of artist- and artisan-designed products. In the center is a sculptural display piece by LA-based artist Sébastien Léon that mimics the building's design with metal plates.
With a new expanded building, eye-catching galleries, a chic store, an innovative cafe, and free admission to all for the next decade, it's easy to justify OCMA as a worthwhile cultural excursion, whether you're an OC local or road tripping from LA or San Diego.
OCMA is open to the public for free admission with no reservations required Tuesday, Wednesday, and Sunday from 10 am–6 pm and on Thursday, Friday, and Saturday from 10 am–8 pm.
Keisha Raines is a 15-year veteran of LA. Follow her on Twitter and Instagram at @reishakaines.