10 Reasons You Should Trade the Ocean for a Desert Road Trip This Spring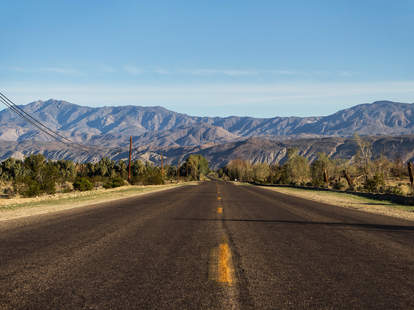 Unless they're heading to Coachella, or a weekend getaway in Palm Springs, most San Diegans wouldn't dream of trading a beach day for a romp in the desert. Sure, one of the best things about living in SD is its proximity to the deep blue sea. But there are also 600,000 acres of open desert in Anza-Borrego Desert State Park, just a short drive to the other side of the county. Here are 10 reasons (including "It's close as hell") to pry yourself away from the coastline and trade sandy beaches for sand dunes.
Sara Norris/Thrillist
For those homebody San Diegans who can't be bothered to drink at a bar outside of their own neighborhood, the desert is much closer than you think. Even if you can only get away from the city for a day, taking in the scenery on the two-hour drive alone is totally worth the trip. You'll drive through winding, tree-lined mountain roads. You'll pass through Julian, where you can stop for a slice of famous apple pie. Or you can hit a few wineries on the way. Keep your phone handy -- as you descend into the desert, the mountain vistas will have you wanting to stop at every turnout to snap some photos.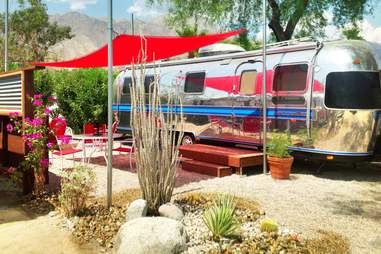 Courtesy of Palm Canyon Hotel & RV Resort
You can live in an Airstream
Staying at the Palm Canyon Hotel & RV Resort is like vacationing on the movie set of a Western, except with Airstreams and two swimming pools. Go old school and stay in one of the revamped vintage Airstreams or Canned Ham trailers with themes like "Hound Dog" and "Baby Blues." Traditional rooms are available in the Wild West-themed hotel, or reserve a space to hook up your own RV. Either way, finish off a day of hiking and offroading through the desert with a cold beer in the saloon and a pulled pork sandwich from the on-site Bighorn Restaurant.
Sara Norris/Thrillist
The only place you'd ever expect to see a 350ft-long serpent crossing the road is in your worst nightmare. But thanks to artist Ricardo Breceda and philanthropist Dennis Avery, such a scene exists in real life. Borrego Springs is home to 130 detailed metal animal sculptures. From dinosaurs and elephants, to wild horses being taken down by a saber-toothed tiger, Ricardo's creations can be found dotted throughout the local landscape. Get yourself a map of all the sculpture locations so you don't miss out on any of them.
Nighttime will give 'star power' an entirely different meaning
Don't worry, it's not a blackout. There's a good reason why it seems like the entire city of Borrego Springs is on a dimmer. As an official International Dark City, they keep the street and business lights low so light pollution doesn't drown out the stars at night. This is a prime spot to lay out on a blanket and do some stargazing, or watch a meteor shower. On clear nights, you have a prime view of the Milky Way. If you don't know Orion from Perseus, you can hire an expert to help you locate the constellations, or go to a local stargazing event and get some direction on what's what. You finally have a reason to break out that telescope that's been gathering dust in your closet since eighth grade.
 
While there are 12 designated campgrounds throughout Anza-Borrego Desert State Park, this is one of the few places in California where you have the freedom to set up camp wherever your heart desires. As long as you set up camp at least 100ft away from water and keep your campfire in a metal container, you're welcome to pitch your tent and do some primitive camping just about anywhere in the 600,000 acres of open desert.
If you think the desert is nothing but a bunch of drab dirt and rocks, then you don't even know what you don't know. One of the desert's biggest surprises is that, for a short time in the spring, it comes alive with wildflowers. With the El Niño storms we've had this winter, there's a chance for an incredible wildflower bloom this year. Die-hard flower fans can call the wildflower hotline (no, we're not kidding), or check the website to get the latest on what's blooming and where.
There are more than 85,000 acres of open desert and 500 miles of 4x4 trails in California state parks. The Ocotillo Wells State Vehicular Recreation Area has at least seven offroading spots with a mess of terrains. Plus, there's open camping throughout the area after you're done for the day.
 
You'd never see the Salton Sea otherwise
If you venture just a little further east, you'll find the Salton Sea. It's the largest lake in California, but one in which you'd never want to swim. Once a mid-century paradise that attracted stars like Frank Sinatra and the Beach Boys, it's now a mostly abandoned wasteland with shorelines littered with thousands of dead fish. As if the putrid smell of rotting aquatic life permeating the air wasn't enough, when you take a closer look, you realize the white beaches are white because they're made of pulverized fish bones... not sand. You're asking yourself why the hell you'd ever want to go there, but the area's overwhelming creepiness is all part of the appeal, and particularly attractive to photographers and documentarians. However, there is a beacon of light amongst all the ruin. The Instagram-worthy Salvation Mountain in Niland, CA, on the eastern side of the Salton Sea, is Leonard Knight's 50ft high, 150ft wide tribute to his faith. It is certainly a rainbow-colored sight to behold in a forgotten place lousy with decay.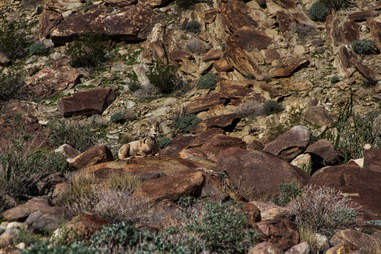 Sara Norris/Thrillist
You'll spot elusive wild animals like it's the goddamn jungle
You wouldn't think anything could survive in this harsh landscape. But the desert is full of wildlife if you're keen enough to spot it. Their camouflage is on point, so keep an eye out when you're hiking -- everything from mountain lions to bighorn sheep roam the mountainsides. The popular Palm Canyon trail is only a three mile hike, but it leads to a palm-laden oasis with little spring-fed waterfalls. Bighorn sheep love the shady spot, and if you're lucky, you'll catch them coming down for a drink.
 
You can play some of the prettiest golf courses of your life
There's a surprising amount of grass in the desert, thanks to the de Anza Country Club, The Springs at Borrego, Rams Hill Golf Club, and RoadRunner Golf and Country Club. Some of the clubs have swanky accommodations, so you can stay and play with all the luxuries of a country club in a place that's a little rough around the edges.
Sign up here for our daily San Diego email and be the first to get all the food/drink/fun in town.
Sara Norris is a desert-loving freelance writer and photographer based in San Diego.