We may live in paradise here in San Diego, but that doesn't mean life is always awesome. Sometimes the daily stresses of adulting can make even the most optimistic person feel a little discouraged. When that happens, it's time to carve out a little peace and restoration for yourself. We've rounded up 10 of the best places for the perfect antidote to life's worries, from a meditation retreat and high-flying yoga to a dinner club that encourages conversation and a peaceful butterfly garden. So turn off your phone for a couple of hours, grab some sunscreen, and check out our list of places to reclaim your zen.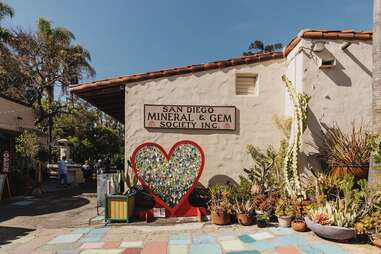 Arts & Culture in San Diego
Downtown
Jacobs Park, home to The Rady Shell, is open to the public when it's not in use as a performance venue. You can spread out on the grassy areas and seating for picnicking, lounging, and other activities. If your schedule permits, you might be able to coordinate your visit to coincide with performance rehearsals by the San Diego Symphony Orchestra, who invite the public to enjoy their practice sessions. It's free, and you don't need reservations unless your group numbers over 15 guests. Check their website for rehearsal schedules and attendance guidelines, and note that rehearsal times may change or be canceled without notice.
Visit a museum
Various locations
San Diego County boasts nearly 100 museums, ranging from musical endeavors and artistic creations to preserving the culture of Indigenous communities and documenting our long maritime history.
Some of our favorite, must-visit museums are in Balboa Park, including the San Diego Natural History Museum, which first opened in 1874 and is the oldest scientific institution in Southern California; the Fleet Science Center and planetarium that's home to the world's first IMAX Dome Theater; and Centro Cultural de la Raza, a nonprofit center that promotes, preserves, and educates around Chicano, Mexican, Indigenous, and Latinx art and culture. San Diego residents can take advantage of free days, and the Timken Museum of Art and the San Diego Mineral & Gem Society Museum are always free.
The WNDR Museum is an immersive art and technology experience that invites guests to fully engage with local and international artists, collectives, technologists, designers, and makers in a completely new museum experience. Dance across the Lightfloor, which reacts to the visitors' every move and touch, step into Inside Out by Leigh Sachwitz and flora&faunavisions, a mesmerizing, translucent garden house where you'll weather a digitized storm, or encounter nearly 20 other hypnotic exhibits.
The Museum of Making Music in Carlsbad is the only museum of its kind in the world, celebrating the achievements and significance of those who craft, sell and use musical goods and instruments. Through unique rotating exhibitions, live music performances, and cutting-edge educational programs, four distinct galleries take you on a musical journey through instruments, artifacts, and immersive multimedia displays, with each room highlighting a different theme: "Making the Instruments," "Providing the Instruments," "Using the Instruments," and "Beyond the Instruments." There's also "Sit & Play" areas for solo or group experimentation.
The Barona Cultural Center & Museum on the Barona Indian Reservation is dedicated to preserving the Native American culture and history of San Diego County. It's the county's only museum on an Indian reservation. It houses more than 3,000 artifacts, along with listening nooks, photographs, and archives that tell the compelling stories of the Kumeyaay tribes. The creativity and proficiency of North America's first inhabitants are on full display, with some objects dating back more than 10,000 years. In addition, the museum's library houses over 1,000 books and an extensive archive of photos and historical documents that tell the story of how Indigenous groups lived.
Chula Vista
Pile everyone into the car and head for an old-fashioned drive-in movie. You can see a current double-feature every day, year-round, at South Bay Drive-in Theatre on three 100-foot screens that are entirely digital and present the brightest picture quality available. It's a bargain at $10 for adults and just $1 for kids 5-9 years old—they even have email coupons for food discounts at the snack bar. Credit cards are accepted for admission, but the snack bar is cash only.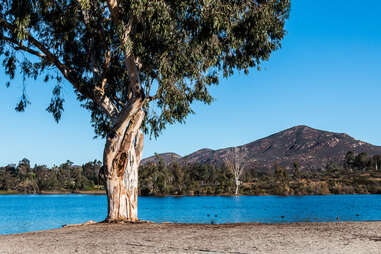 Outdoor Activities in San Diego
Balboa Park
The Zoro Garden is a beautiful area of Balboa Park that has a long and slightly naughty history. Named after Zoroaster, founder of Zoroastrianism, one of the oldest organized faiths, it's tucked into a sunken grotto nestled between the Reuben H. Fleet Science Center and the Casa de Balboa in Balboa Park. It was originally built for the Panama-California Exposition in 1915-16 and renovated in 1935 to host the California Pacific International Exposition, where it was home to an odd sort of nudist colony run by sideshow promoters Nate Eagle and Stanley R. Graham. Visitors were charged an entry fee of 25 cents to watch paid actors in loincloths and body stockings pose, play sports, and engage in quasi-religious ceremonies. Today, Zoro Garden has been reimagined as a serene butterfly garden, where monarchs, swallowtails, and sulfur butterflies drink water from tiny pools in the rocks and plantings include food sources like milkweed, passion fruit vines, and California lilac for butterfly larvae, and verbena, butterfly bush, lantana, and the like to provide nectar for adult butterflies. Relax and rejuvenate in the shade of towering Ficus trees while you watch the butterflies flit and dance around you.
La Mesa
The main difference between fly fishing and spin and bait fishing is simple—in fly fishing, the weight of the line carries the hook through the air rather than a lure or sinker. Consequently, the technique for casting a nearly weightless fly differs from other casting types. San Diego Fly Fishers, one of the few fishing clubs in the country to offer free fly casting clinics, meets at Lake Murray every Sunday from 9 am until noon to show you the ins and outs. You can bring your own equipment or borrow club equipment from one of the certified instructors. The California Department of Fish and Wildlife stocks Lake Murray with rainbow trout, but you can also catch largemouth bass, blue catfish, bluegill, channel catfish, red-ear sunfish, and black crappie. A fishing license isn't necessary for the fly casting clinic, but if you're 16 or over, you'll need one to catch fish.
La Jolla
Murals of La Jolla features 15 large-scale murals scattered about the city, all within easy walking distance of each other. A collaboration between the La Jolla Community Foundation and Athenaeum Music & Arts Library, the project was founded in 2010 and has commissioned more than 41 murals over the years. Free guided tours are available monthly; online registration is required, and the tours do fill up quickly. It's even more fun to strike out on your own with a self-guided tour, though, so feel free to just download the map and wander at your own pace. Past exhibits can be viewed online.
Wellness Spots in San Diego
Encinitas
The founder of modern yoga, Paramahansa Yogananda, was the first major teacher of the practice to spend most of his life in the West, and for a time, he called Encinitas home. Visit his old digs just north of Swami's beach, where there's a meditation garden with ocean vistas, a temple, a retreat center, and the hermitage where he wrote his critically and commercially successful Autobiography of a Yogi.
La Jolla
Yoga gives you a great antidote to a nerve-wracking day—deep breathing, stretching, and the all-important savasana can bust you out of a bad mood in no time. Whether it's your first class or you're a lifelong yogi, you'll soar to new heights with Trilogy Sanctuary's rooftop aerial yoga class. You'll use long, hammock-like fabric loops to hang, swing, dangle, and rock your way through a series of asanas guided by a certified aerial yoga instructor. Classes range from gentle stretching and floating to strength-building and dynamic dance-like sessions. Aerial yoga is accessible to nearly all ages, body types, and experience levels. If it's your first try, sign up for Aerial Yoga L1 and Aerial Healing L1 to learn the basics, while more advanced aerial practitioners will enjoy Aerial Fitness, Aerial Lyra, Aerial Strength, and Aerial Flips and Tricks. As a bonus, the studio also has a cafe that serves amazing organic, vegan, gluten-free smoothies, bowls, salads, entrees, and desserts so that you can relax and refuel after your session.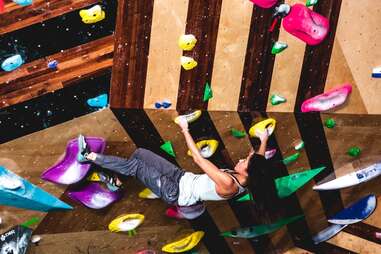 More Ways to Unplug in San Diego
Pacific Beach
If you're tired of sitting around the table with everyone glued to their electronic devices, join the tertulia at Pacific Beach's Cafe Bar Europa Turquoise and their Euro Bohemian Club. Modeled after the old Salons du Paris, it attracts epicureans, artists, poets, philosophers, and conversationalists (and drinkers), who gather around the fire pit for food, libations, live music, and great conversation.
Grantville
Show off your climbing skills and get a great workout in the process on Grotto Climbing and Yoga's 7000 square feet of wall space. Its state-of-the-art indoor bouldering terrain includes more than 13,000 handmade holds, a campus board, a peg board, an illuminated moon board, fingerboards, and a 60-degree training board, guaranteeing climbers of all skill levels an exhilarating experience. In addition, there's a yoga studio teaching all-level Vinyasa, Power, Yin, Hatha, and Sound Healing flow classes and a fitness area with a Rogue fitness rack, weights, and rings. The Intro to Bouldering class is an excellent choice for first-timers and includes shoe rental, 30 minutes of instruction, and a day pass, so afterward, you can hit the weights or stretch out any sore muscles in a yoga class.