The Chargers' LA Move Is One Big Sucker Punch to San Diego, According to Team Historian and Superfan
Lately, I've been fielding a lot of questions about my feelings on the football team formerly known as the San Diego Chargers now that owner Dean Spanos uprooted the organization and moved them north to Los Angeles. As a historian and lifelong fan, how do I feel? Well, how should I feel when the team that I grew up with suddenly, and in cowardly fashion, leaves my hometown for supposed greener pastures? Does "numb" cover it? How about "pissed off"? Sad, jilted, frustrated, cheated... those are appropriate. "Hurt," for sure. But my overriding feeling: "unsurprised."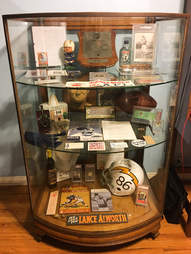 Chargers memorabilia

| Todd Tobias/Thrillist
Born and raised in San Diego, I have followed the team nearly all my life. I've watched a lot of Chargers football, both very good and very bad. I wrote my master's thesis on Sid Gillman, the team's first head coach, as well as twobooks about different periods in the team's history. I've amassed one of the largest collections of early Chargers memorabilia in existence. When the team photo archive fell into disarray (twice!), the Chargers hired me to reorganize. I redecorated the team business offices in 2006, essentially turning the building into a museum. When the public relations department had questions about their own team history, my phone would ring. I guess that you could say that the Chargers have played a fairly significant role in my life.
Looking back at it all, I simply, somberly, shake my head. I'd seen the warning signs along the way; all of San Diego had, really. The Spanos family was never in this because they loved San Diego, or even the Chargers. The organization and players were agents of money making. Nothing more, nothing less. Dan Fouts, Junior Seau, and LaDainian Tomlinson were no different than the hammers, saws, and drills that the AG Spanos Companies use in their buildings. Assets with values that depreciate over time. When the value begins to wane, get rid of it while you can; find something new to take its place. Core players' years of loyalty, sacrifice, and dedication have always played second fiddle to the almighty dollar.
The same can be said about the fans. Fifty-six years of support -- what of it? Fan rallies at the airport when the team returns from a road trip? Generations of season ticket holders who made tailgating before home games the highlights of their year? Apparently, there is more money to be made in Los Angeles, so thanks for your time, but screw you, San Diego. We're outta here.
After years of half-hearted attempts to build a new stadium at the taxpayer's expense, Dean Spanos picked up his team and moved them to LA. And what did he leave behind for those who supported his organization for so many years? The people who supported the Chargers as they grew in value from $70 million in 1984 to a $2 billion-plus franchise in 2017? We were left with this letter, passive-aggressively distributed via the team website while Dean Spanos flew on a private plane to his team's new home in Los Angeles:
After much deliberation, I have made the decision to relocate the Chargers to Los Angeles, beginning with the 2017 NFL season.
San Diego has been our home for 56 years. It will always be part of our identity, and my family and I have nothing but gratitude and appreciation for the support and passion our fans have shared with us over the years.
But today, we turn the page and begin an exciting new era as the Los Angeles Chargers.
LA is a remarkable place, and while we played our first season there in 1960 and have had fans there ever since, our entire organization knows that we have a tremendous amount of work to do. We must earn the respect and support of LA football fans. We must get back to winning. And, we must make a meaningful contribution, not just on the field, but off the field as a leader and champion for the community.
The Chargers are determined to fight for LA and we are excited to get started.
Dean
Apparently, 56 years of history and dedication warrant nothing more than 173 words distributed second-hand, while the author counts his hypothetical billions at 30,000ft in the comfort of a chartered jet. I don't know if Spanos actually believed that his letter adequately explained the situation, or if he even cared that it did. But by pushing the "print" button on that little document, he at once slapped the faces of more than 3 million people in San Diego County.
I hear that Los Angeles doesn't really want the Chargers. (For what it's worth, this will now be its second football team in its city limits -- what use do they have for them?) The Spanos clan has not been welcomed with the open arms for which they had hoped. While that thought provides a bit of backhanded gratification to jilted San Diegans, it hurts a bit too. We wanted those Chargers. They were ours and we loved them.
But I can't love them anymore. A one-way love affair never works, and I have no desire to put in the effort. The truth is, the NFL no longer provides the kind of fun I grew up with. An NFL game is no longer about the game. The focus is on big-ticket commercials, excessive celebrations for marginal plays, customized cleats, giant gleaming video boards, and $12 beers that you could find for $3 at a grocery store. The game itself is practically an afterthought these days.
Football is still an electrifying sport. I love the sense of community that is built when fans rally wholeheartedly around their team. Having two teenage sons, I get my fill through high school football; in that regard, I am fortunate. I cheer on my boys and their friends on Friday nights. We celebrate victories over a pizza, and mourn the losses in similar fashion. I support a group of young men who play the game because it's fun, not because of the paycheck, the shoe deal, or any of the superfluities the NFL relies on.
For me, I'll continue to research the old AFL -- my favorite aspect of professional football even before the Chargers debacle. I will still collect old bubble gum cards. But how will I spend my Sundays each autumn? With friends and family, enjoying any number of activities that do not involve professional football. And I'll be just fine.
Sign up here for our daily San Diego email and be the first to get all the food/drink/fun in town.