Recommended Video
Please Don't Hang Up: The Best Things to See, Eat, and Do in Seattle, WA
Sure, clubbing and bar hopping in San Diego can be fun, but sometimes you want to change up your usual weekend nightlife routine. Don't worry; America's Finest City has some of the coolest, most unique spots to spend your precious evenings. Whether you want to see some lions and giraffes up close, challenge yourself with extemporaneous storytelling, or just hang out in a grown-up arcade, we have all your nightlife bases covered.
Get wild at the San Diego Wild Animal Park
Escondido
The San Diego Wild Animal Park's popular sleepover event gets an R-rated makeover once a month with Adults Only Roar and Snore Safari Night. Like its kid-friendly counterpart, you'll have guided hikes, campfire chats, plenty of animal viewing, snacks, dinner, and breakfast the next morning -- but unlike the kiddie version, there's a cash bar serving beer and wine, and the behind-the-scenes info takes a decidedly naughty turn. Tent options range from a basic five-sleeper with pads for your sleeping bags to a deluxe four-sleeper with a queen-sized bed and two cots, linens and pillows, and electrical outlets.
Cost: $140-220 per person
Cuddle up at an old fashioned drive-in movie
Chula Vista
Pile the blankets and pillows into the car and head to South Bay Drive-in Theatre for a double feature. Films are shown every day, all year round, on three 100-foot screens using state-of-the-art digital projection, and you can receive emailed coupons for food discounts at the snack bar (which has everything from popcorn to carne asada nachos). You're welcome to bring your own food and drinks as well, but note that alcoholic beverages are prohibited.
Cost: $9 for adults, $1 for children 5-9 years old
Join Crazed Imaginations for the ultimate Rocky Horror Picture Show experience
Encinitas, Kensington
Sure, you've snapped a rubber glove and thrown toast at the screen, but Crazed Imaginations gives you a RHPS experience befitting their reputation for being raunchy, offensive, crude, silly, loud, and sexy by shadow casting the film (acting out the parts live while the movie plays in the background). Of course, audience participation is encouraged, and first-timers, or "virgins," are welcomed beforehand with games and other rites of passage that are only slightly embarrassing. Prior to the show, head to the merch table for a prop bag, then grab some popcorn, a seat near the stage, and get ready to shout "Asshole!" and "Slut!" at all the appropriate moments. See the show every Friday at La Paloma Theatre in Encinitas and on the third Saturday of the month at Landmark Ken in Kensington, both at midnight. Karma note: The live performers are unpaid actors, so be a good egg and throw a nice tip into the golden hat as you leave.
Cost: $9-10 for admission
Unleash your inner lumberjack
University Heights
If yoga and meditation aren't doing it for you, have a go at a different kind of stress relief and visit AxeVentures in North Park, one of several new ax-throwing venues that have popped up across the city. The idea is pretty straightforward: Book a lane online or walk in anytime, learn the ropes from one of the coaches, and spend the next hour or so perfecting your tomahawk technique. Already love throwing? League play starts early October and runs for six weeks. Not a fan of throwing? Cornhole, giant Jenga and Connect Four are available for the ax-averse. Safety note: Closed-toe shoes are required.
Cost: $29.50 for 1.5 hours, and includes instructions
Slam some poetry at Queen Bee's
North Park
So what exactly is a poetry slam? It's a poetry competition in which performers compete before a panel of three to five judges who are usually selected from the audience. It was originally intended to make poetry recitals more interesting and accessible by adding a competitive element. San Diego Poetry Slam happens the second Monday of every month at Queen Bee's Art and Cultural Center in North Park. The club welcomes new and experienced poets and has gained national recognition -- in 2017, they took first place in the National Poetry Slam team event, beating out 83 other teams from the United States, Canada, Germany, France, and Australia.
Cost: $5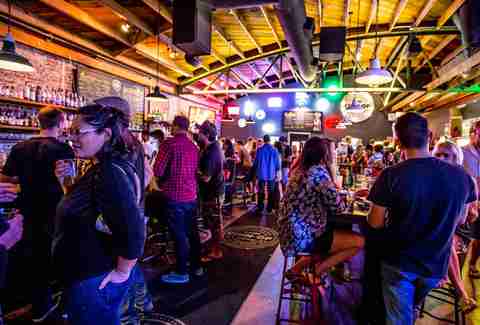 Visit a boozy arcade
North Park, Gaslamp Quarter
Hang out and play arcade games in a grown-up environment at Coin Op Game Rooms in North Park and the Gaslamp Quarter. These "barcades" feature old-school games like Ms. Pac-Man, Donkey Kong, and Mortal Kombat, with the added allure of craft cocktails, punch bowls, a dozen or so beer taps, and inventive twists on classic bar bites. Both locations also have vintage pinball, and the Gaslamp venue has Skee-Ball machines and Super Shot Basketball games.
Cost: Varies
Listen to some true confessions
Hillcrest
Listen to true stories capturing the essence and absurdities of being human (or tell your own) at So Say We All's Long Story Short monthly open mic showcase, held at Rooted Kava Bar in Hillcrest. Each storyteller shares a five-minute, theme-based experience without the aid of notes; future subjects for exploration will be "The Body", "Home at Last" and "Holidays, Schmolidays". So Say We All also holds a monthly curated storytelling showcase, VAMP, held at the Whistle Stop Bar in North Park; upcoming themes include "Experiments", "Skin & Bones", "Safe Harbor" and "Home for the Holidays-Black Sheep." New and experienced writers are also welcome at monthly Greenroom Writing Workshops, free creative writing sessions held at Words Alive. So Say We All is a nonprofit organization supporting literary and performing arts, whose stated mission is "to create opportunities for individuals to tell their stories, and tell them better, through three core priorities: publishing, performance, and education."
Cost: Free
Sing with your mouth full
Hillcrest
Join the fun at one of Hillcrest's most popular gay bars, Urban Mo's, for Showtunes Spaghetti Tuesdays. Just $6.50 gets you all-you-can-eat spaghetti, along with a sing-along to musical treasures from your favorite TV, movie, and stage productions from 6-10pm and pop-up dance videos from 10pm-close. Wash it all down with $6.50 Black Lemonades, $6.50 Skyy Vodka Cocktails, and $4.75 Big Ass Bud Lights from 6pm-close.
Cost: $6.50 for dinner, dine-in only
Explore First Fridays at Liberty Station
Liberty Station
Stroll through the trendy Liberty Station Arts District on the first Friday of every month from 5pm to 9pm, and you'll get to meet working artists, enjoy dance, theater, and music performances, and visit museums and galleries. Wander through the latest exhibits at the Women's Museum of California, Visions Art Museum, and the San Diego Comic Art Gallery, then hit up Comickaze Comics for their diverse selection of mainstream and independent comics, graphic novels, manga, statues, and action figures. Cap the evening off with cocktails from The Bar at Moniker General and dinner at one of Liberty Public Market's dozens of food venues.
Cost: Free
Join a secret Bohemian Dining Club
Pacific Beach
If you're tired of sitting around the table with everyone glued to their electronic devices, join the Tertulia at Pacific Beach's Cafe Bar Europa Turquoise and their Euro Bohemian Club. Modeled after the old Salons du Paris, it attracts epicureans, artists, poets, philosophers, and conversationalists (and drinkers), who gather around the fire pit for food, libations, live music, and great conversation.
Cost: Varies
Get competitive at trivia night
Various locations
Everyone loves playing trivia, and luckily for us, San Diegans have options for basically every night of the week. True North in North Park pairs trivia with $4 Espolon shots and $4 Blue Moon/Coors Light cans on Mondays, Park & Rec in University Heights is a popular spot on Tuesday nights, The Regal Beagle in Mission Hills has Wednesdays covered, and the East Village's Knotty Barrel Gastropub combines trivia with half-price bottles of wine every Thursday night.
Cost: Varies
Look up at the stars
Balboa Park
The Fleet Science Center in Balboa Park hosts two planetarium shows, one at 7pm and again at 8:15pm on the first Wednesday of each month. Called The Sky Tonight, the program is narrated by one of the Fleet's astronomers; each hour-long program focuses on a different topic, such as "Neutron Stars, Black Holes, and Gravitational Waves", "Tidal Forces", "Mercury" and "Our Milky Way Galaxy." Free telescope viewing with the San Diego Astronomy Association is available outside after the shows, weather permitting.
Cost: $14.95-19.95
Dig a drag show at Lips
North Park
Dinner and a show takes on a whole new meaning at San Diego's favorite drag club, where the servers are also the performers. Each night at Lips has a different theme, from the Turnback Tuesdays retro show featuring all the hits of the '70s, '80s, and '90s, to Bitchy Bingo Wednesdays and Saturday's dirty late show, Taboo. Besides a nominal cover charge, there's a $15 per person minimum food purchase, and reservations are required for all shows.
Cost: $5-10 cover, $15 food minimum per person
Gondola through the Coronado Cays
Coronado
Sip wine while The Gondola Company takes you on a relaxing and romantic twilight cruise through the canals and waterways of the Coronado Cays. Select wines and nonalcoholic beverages are available for purchase, but you can also bring your own wine and finger foods to enjoy; blankets, an ice bucket, bottle opener, and wine glasses are provided. The cruise is 50 minutes long, and each gondola holds up to six adults.
Cost: $95-115 for two people, $20 for each additional person
Come to the cabaret
Hillcrest
Martinis Above Fourth, Hillcrest's most popular cabaret, features over 100 shaken, stirred, or served with a twist specialty martinis and cocktails, an eclectic menu focused on seasonal flavors and incredible cabaret-style entertainment. From music to comedy to celebrity impersonations, there's great no-cover entertainment and ticketed shows with headliners such as Babette's Bingo Brunch, Lorna Luft, Jimmy Webb, and Miss Coco Peru.
Cost: Varies by show
Go to a Gulls game
Midway District
Okay, so the Chargers are still gone and the Padres season is over, but you can still root for the home team whenever the San Diego Gulls take the ice at the Pechanga Arena. On select weekdays, take advantage of the Gulls Bud Light Hockey Night out package, including two terrace level tickets, two Bud Lights and two hot dogs, for just $49. Arrive early and you can nosh your way around the concourse, which has everything from poutine to ice cream, along with plenty of craft beer and cocktails. 
Price: $49 for the Hockey Night package, regular seats are $23-116
Rock out to some live music
Various locations
Nothing beats seeing a live band, but tickets for the big names can get expensive. Fortunately, San Diego's live music scene is as exciting and diverse as the venues that provide them. The Belly Up in Solana Beach welcomes acts ranging from Saharan folk music to alt-reggae, with a sprinkling of legendary early rockers from the '60s and '70s. The Music Box's three tiers of seating include opera booths with bottle service, two outdoor patios, bars on two levels, and a private VIP skybox overlooking the stage, as well as a menu that includes charcuterie, flatbreads, and cocktails on tap. See up-and-coming underground alt-rock at the famously divey Casbah (whose previous acts have included Nirvana and Smashing Pumpkins), or hit Winston's Beach Club in Ocean Beach for a jam band/reggae vibe. 
Cost: Varies
Enjoy a bonfire at the beach
Various locations
One of the very best ways to end a day at the beach is with a gorgeous sunset and a cozy bonfire. While bonfires are only allowed in designated fire pits, there are over a dozen beaches that supply them from North County to the southern border. Different beaches operate by different rules, even within the San Diego Park System, so be sure to read all the signage when you enter the beach or parking lot. Once you're done making s'mores and telling ghost stories, be sure that your fire is out before leaving. Never dump hot coals in the sand -- even if you cover them, they can still be red-hot hours later for some poor unsuspecting soul to step on. Lastly, the Golden Rule of Beachgoing: leave things cleaner than you found them for good karma!
Sign up here for our daily San Diego email and be the first to get all the food/drink/fun in town.