After an unseasonably cloudy and cool spring and early summer, we've finally gotten past the gloom and can officially start complaining about how hot it is outside. Okay, so compared to most of the country, we're still living in paradise, but we're also coming up on the hottest months of the year and the return of the Santa Ana winds that can make temperatures soar. Our advice: Stay hydrated, slather on the sunscreen, grab your hat and sunglasses, and head out the door with this handy list of all the best ways to beat the heat in San Diego.
Hit the beach
"Going to the beach" might mean picnicking near an oceanfront cliff, partying with friends, catching the perfect wave, or watching a spectacular sunset, but when the heat is on, San Diego's 70 miles of coastline provides the ideal spots for your sunny day adventures. Head to Coronado Beach for a long, wide stretch of soft, glittery sand and some of the most complete amenities around. Dogs are welcome on North Beach at Dog Run Beach near Sunset Park, where you'll also find a foot shower and free litter bags.
Black's Beach may be best known as San Diego's gay and nude-friendly beach, but all sorts of people, including many families with young children, come to enjoy some of the most stunning beach scenery in the county. It's nestled under the bluffs at Torrey Pines State Natural Reserve and offers views of La Jolla to the south, San Diego's coastal towns to the north, and gliders soaring high above the water.
Pacific Beach is the spot for beachside bars and casual fun—it's also one of the busiest beaches in San Diego. Surfers of all levels enjoy the various breaks at Pacific Beach, especially at Tourmaline Surf Park, a surfing-only beach. Non-surfers can swim, kayak, or body surf along the shore or bike, skate, walk, or jog on miles of paved paths.
Swami's Beach is one of San Diego's most famous and gorgeous surfing spots, with a standout right point break and numerous fun reef and beach breaks. The park at Swami's has shaded areas for picnicking, where you'll have an excellent vantage point to watch the surfers.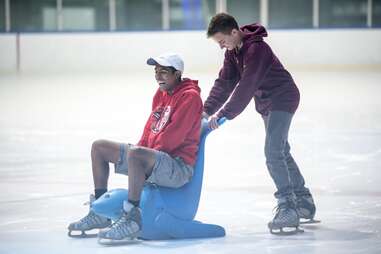 Skate the day away
Lace up your skates and hit the ice at UTC Ice Sports Center, located next to the food court inside Westfield UTC. Daily public skating sessions are available in two-hour sessions, and include four hours of free parking with validation, so you can glide to your heart's content, then grab lunch or dinner at one of UTC's cafes, coffee shops, or fine dining restaurants. Rental skates are included, and helmets are available for a few bucks more.
Lounge at a fancy pool
As much as we love going to the beach, sometimes you want to take a dip without the sandy mess. Head to one of the city's luxe hotel pools to get your sunshine fix, along with comfy loungers and refreshing cocktails. If your group likes to splish and splash, look no further than Town and Country Resort. After a recently completed, multi-million dollar renovation, the resort introduced a new sun-drenched pool deck with a zero-entry family pool, hot tub, children's pool, and a four-story "Twister" waterslide, along with complimentary Wi-Fi and complimentary self-parking.
For a truly elevated experience, soak up views of the San Diego Bay and skyline at the Manchester Grand Hyatt San Diego while soaking in one of two rooftop pools, both of which offer private cabanas. The adult pool (ages 21+) is on the third floor, while the family pool is on the fourth, featuring a large pool deck and a turfed area for lawn games.
North County's Rancho Bernardo Inn boasts two outdoor pools, one for adults and a family-friendly option, and includes access to the fitness center, complimentary Wi-Fi, and complimentary self-parking available only with ResortPass.
Every Saturday from noon until 6 pm, the Hard Rock Hotel's Float Rooftop Bar hosts Liquid Sunshine pool parties featuring DJs, special hosts, and drink specials. Several ticket options are available: a comped entry (one per person, arrive before 2 pm) or guaranteed entry any time tickets for $10-$20.
The Dive Pool at Harrah's Resort is home to Southern California's first swim-up bar and includes a trifecta of pools, including a 21+ option and a 400-foot lazy river for leisurely floating the day away.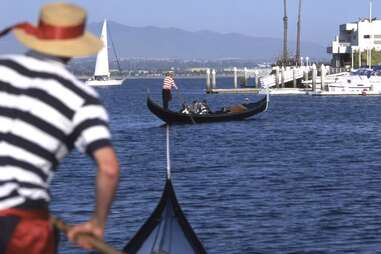 Cruise San Diego Bay
There are so many ways to get out on the water that your main problem will be deciding what kind of cruise you want to take. There are brunch, dinner, and booze cruises from the two main players in town, City Cruises and Flagship Cruises, which will take you on a lovely journey to see key sights like the US Navy submarine base, the USS Midway, and the Coronado Bridge with marine life sightings along the way, including sea lions, but those aren't your only option.
Sip wine while The Gondola Company takes you on a relaxing and romantic twilight cruise through the canals and waterways of the Coronado Cays. Choose wines and non-alcoholic beverages that are available for purchase, or bring your own wine and snacks to enjoy. The cruise is 50 minutes long, and each gondola holds up to six adults.
Zip around the bay in a mini speed boat on Speed Boat Adventures' 90-minute group tour, where you'll captain your own boat while following your guide, who is in another speedboat and communicates with you via a speaker.
Adventure Whale Watching uses Rigid Inflatable Boats (R.I.B.s) purchased from the Navy SEALs and customized with comfy bench seats, new Yamaha engines, and a Bluetooth sound system. The low-profile vessels reach speeds of over 50 mph and carry you just above the water's surface, virtually eliminating sea-sickness and getting you up close to marine life.
Explore the La Jolla Sea Caves
Thousands of years of pounding surf and storms along La Jolla's coastline have created La Jolla Caves, a series of seven sea caverns nestled between La Jolla Shores Beach and La Jolla Cove. Only one, Sunny Jim Sea Cave, is accessible by land via The Cave Store, a tunnel, and a 145-step descent down a wooden staircase. If you want to see all seven caves, your best bet is to rent or bring your own kayak and explore them from the sea. Two caves, Clam Cave and Arches Cave, are large enough to enter by kayak, but you must be with an approved kayak tour. You can swim into them all, though, or just relax and enjoy the wildlife—you might see leopard sharks or garibaldi swimming by or sea lions lazing on the rocks.
Go camping
Living in San Diego is pretty much like being on a permanent vacation, but sometimes we want to get out of town and back to Mother Nature, and there's plenty of camping within a couple of hours drive that will get you into cooler temperatures. You'll find several campgrounds to choose from in the Cleveland National Forest on Mount Laguna. Sites at Boulder Oaks and Cibbets Flat Campgrounds are first-come, first-served, but if you're more of a planner, you can reserve spots at Burnt Rancheria and Laguna Campgrounds. There are plenty of mountain biking, hiking, and backpacking trails to explore in the area, and if you need supplies, you can always stop by the Laguna Mountain Lodge. It has a general store selling everything from beer to firewood, plus rooms and cabins if you decide to bail on the camping idea altogether.
If you're into astronomy, check out the Observatory Campground on Mount Palomar. You can explore the surrounding forest by bike or hike during the day and get up close and personal with the cosmos at night. The site is just a two-mile hike from the observatory itself, and they have astronomy events at the campground on some weekends during the summer. The observatory isn't the only reason to visit Mt. Palomar, though. You can camp out in several other campgrounds on the mountain while doing a little stargazing on your own.
Camp out near Lake Arrowhead, surrounded by the pine trees of the San Bernardino National Forest. Head down to the lake to take a dip, water ski, or take a boat out on the water, and take advantage of the list of hiking trails that will lead you all over the forest. Deep Creek Hot Springs/Goat Trail will lead you to (you guessed it) hot springs. You'll also run into the Pacific Coast Trail, which follows the creek along the way.
There is so much more to Catalina than just Avalon. Campsites are available both on the beach and further inland, where you can enjoy the beauty of Catalina without dealing with a mob of tourists. Several locations on the island can be booked up to a year in advance, and you should definitely do that before taking the ferry all the way out there. They also have equipment rentals available so that you don't have to haul all of your camping gear on the ferry if you don't want to. Again, do this in advance, or you might find yourself sleeping with your head in the sand. Your options range from tent cabins to primitive campsites and secluded boat-in camping.
Build a sand castle
Everyone loves to build sand castles at the beach, and former math teacher, sand castle artist, and founder JT Estrela can show you how to create like the pros at San Diego Sand Castles. During your two- to three-hour session at Crown Point Beach, you'll learn tons of cool sand tricks like hand stacking, making towers, carving windows, doors, walls, stairs, and forming arches and bridges. All tools are provided and are available for purchase for your further construction endeavors.
Paddle with your pup
Spend quality time with your best friend and learn how to stand-up paddleboard at West Coast Paddle Board Rentals SUP Pups San Diego. Led by certified SUP instructor Samantha and her dog, Captain Dingo Jack, your one-hour lesson includes the basics, terminology, and technique and your paddle board rental, human and pup life vests, and GoPro action photos. The launch point is the sandy beach located right behind the Courtyard Marriott Hotel in Liberty Station.
Chill out with icy desserts
Nothing is more refreshing on a blistering summer day than an icy popsicle or a cool, creamy bowl of ice cream. The Convoy District has some of the best ice cream shops in San Diego, with inventive flavors and adorable cones that might tempt you to skip dinner and go on an ice cream crawl instead. SomiSomi's Instagram-popular ah-boong is a cute fish-shaped waffle cone you can order filled with Nutella, custard, red bean, or taro, topped with soft-serve in flavors like ube, black sesame, matcha, milk tea and showered in crumbles or sprinkles. Bing Haus specializes in Thai-style rolled ice cream and a spectacular seasonal bingsu—shaved ice and red beans under a mountain of watermelon or honeydew balls, all doused in condensed milk. For the lightest, fluffiest Taiwanese shaved snow ever, stop by Iceskimo, where owner Robert Yang still hand-makes each ice block for the freshest quality. Hong Kong bubble waffles filled with creamy soft serve are also popular.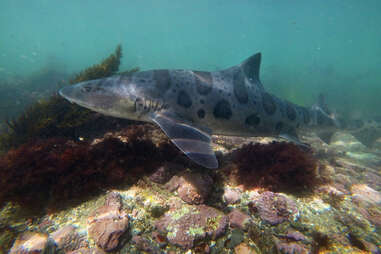 Swim with sharks
The waters of La Jolla Shores attract scores of leopard sharks year round, especially from spring until late autumn, when they move into their breeding grounds in the shallow areas. During peak season, the sharks typically hang out in groups of hundreds in about four to five feet of water. Although seeing a five-foot-long shark can be intimidating, leopard sharks pose no danger; despite being carnivores, they've never been known to attack humans. The sharks at La Jolla Shores draw snorkelers from around the world and are used to seeing people gawking at them. All you need is a mask, snorkel, and fins to get started.
Bio: Mary Beth Abate is a San Diego-based freelance writer.