Duuuude. A city with a world-class beer scene, glut of outdoor activities, and summers that look like something out of a Pacifico commercial, San Diego is a SICK place to live. But if you plan on moving here from elsewhere, prepare yourself, man. Because as any transplant will tell you, moving to San Diego involves a lengthy adjustment process which always involves the following seven stages:
Stage one: The "I am the luckiest person alive" phase
Where you're living: It's a range: your cousin's couch, Mission Beach, or someplace that makes no sense at all, like Mission Valley, because you didn't know any better.
Where you're going out: Mostly beach bars full of tourists. Who are still wearing their bathing suits. Even though it's midnight. And November.
Your mantra: "Heaven... I'm in heaven... "
Go-to activity: Instagramming photos of palm trees, eating In-N-Out, smiling.
If you were hit tomorrow by one of those VW buses you see in the Tourmaline parking lot, you would die happy. You have realized your lifelong dream of living in California, and right now, nothing -- NOTHING -- can rain on your parade (only partly because there is no rain). Ahhhh, yes, it is perfect here. Your dreams of becoming an excellent surfer are fully forming in your mind. You are standing on a beach in Encinitas, wondering how anyone ever goes to work in this paradise. Even pumping gas seems more glamorous. Also, your seasonal affective disorder, which you had a little of before you got here, never stood a chance because it is sunny and 75 degrees here every damn day. Welcome to San Diego, my friend. Drink it in. It always goes down smooth. (Until it doesn't.)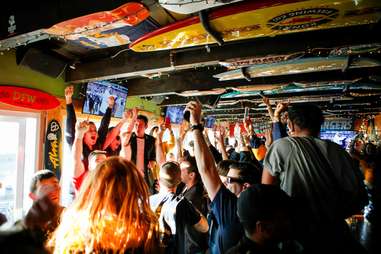 Stage two: The Pacific Beach phase
Where you're living: PB.
Where you're going out: Miller's Field. PB Shore Club. If you're incredibly sophisticated, PB Ale House.
Your mantra: "California knows how to party."
Go-to activity: $1 oyster night, avoiding your Craigslist roommate, drinking, skateboarding, and surfing (although probably not all that well).
Living in PB is like how getting the chickenpox was back in the day: not everyone gets them, but most people do. And since most people live in PB at some point, most people have their PB firsts. Their first Red Bull vodka slushie. Their first Slomo sighting (that guy is winning at life, by the way). The first time they learn that drivers in PB are vicious because a car almost hit them on their beach cruiser. PB is a mixed bag. It's college kids, tourists, and surf rats, and then it's families doing remodels on their two-million dollar homes. This stage, though, is "I'm young, pretty broke, brand new to San Diego, and destined to make questionable decisions," and though it's not the classiest stage in your evolution of becoming a real San Diegan, it is a fun, and dare we say necessary, one.
Stage three: The "I am a kook" phase
Where you're living: PB, OB, or North Park.
Where you're going out: You're not. You need a break.
Your mantra: "I will adjust, I will adjust, I will adjust... "
Go-to activity: Saying I-5 and I-8 instead of the 5 and the 8, getting stung by stingrays because you don't know to shuffle your feetsies, crying yourself to sleep.
At six months in, there's still a lot you don't know, and this can be challenging. "That dude had so much speed on that last gurgler, but all he did was ramp out" sounds like gibberish, but you know, with a sinking feeling, that it's a real sentence. You don't know which is your favorite hot sauce between Cholula and Tapatío, and this is a HUGE deal, but you don't yet understand why. In some ways, you have become more like a local, e.g., your parallel parking skills have improved, and you were miffed when you couldn't find a decent açaí bowl at the Newark airport. But you're still a newbie. A kook. Essentially, a foreigner. But don't worry, brah. Your kookhood (Kookdom? Kookage? Kookiness?) won't last forever.
Stage four: The transformation phase
Where you're living: North Park, Normal Heights, OB, or Encinitas.
Where you're going out: Seven Grand, Park & Rec, Winstons, Sycamore Den, Union, sweet, sweet breweries. Basically wherever your hipster friends/kickball team wants to go.
Your mantra: "Dude, I'm down."
Go-to activity: Going to beer/food/music festivals, making friends, exploring the city.
Like a caterpillar transforming into a tanner, less punctual butterfly, you are turning into a local. You have said adios to your boat shoes, North Faces, and Lacoste polos, and hola to ironic Hawaiian shirts, Rainbows, and Vans. At this stage, one year gone, you're more settled. And sure. Maybe you're not the best surfer, e.g., you paddled out at Windansea yesterday on a Wavestorm and were almost murdered by a sea of aggro 14-year-olds with acne and sponsors to boot. But at least you're putting yourself out there. And at this stage, that's basically your motto. You are realizing that San Diego is like a sandy, saltwater-rich onion: it has a lot of layers. And you intend to slice it and start crying make the most of it.
Stage five: The calm before the storm phase
Where you're living: All over. Normal Heights, Little Italy, South Park, something on the other side of the train tracks in Carlsbad or Leucadia...
Where you're going out: Whatever cool spot that just opened up. A smattering of breweries.
Your mantra: "Zonies go home."
Go-to activity: Outdoor activities (hiking, golf, laying on the beach doing nothing); making trips to places like Palm Springs, Mammoth, Oaxaca, and Tahoe; enjoying our beautiful weather.
If your life were a surf report, it would be 4-5+, glassy, and, dude: so much fun. You're comfortable here now. You love the city. And when you talk to friends and family from out-of-state, you keep telling them that, and this is important: you don't think you'll "ever be able to leave." This phrasing hints at something of a phenomenon in San Diego. Something all of us will go through if/when we live here long enough. You feel it when you're frustrated with the sports teams. Or when none of your friends knows what "NPR" stands for. It is feeling torn between wanting the benefits of a bigger, more fast-paced city, while at the same time, wondering how you could ever leave this paradise. For now, though, three to four years in, you're not there yet. You are as happy as a clam that has yet to be dredged from the ocean floor by Point Loma Seafoods. But like that clam, your happiness may be fleeting, because soon you will go through...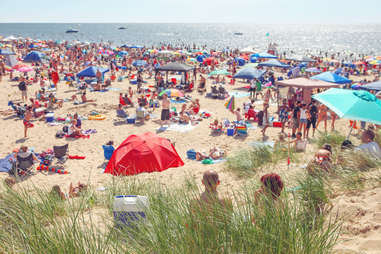 Stage six: The "I need to get the hell out of here" phase
Where you're living: Doesn't matter because in a month, you'll be living in Denver, Chicago, or San Francisco.
Where you're going out: You're not. You're pinching pennies. Moving is expensive.
Your mantra: "Get your s*&$ together, San Diego."
Go-to activity: Taking online apartment tours, packing, surfing while weeping a little. You're going to miss it.
Enough is enough. If you see one more "PB SD" tattoo... If you have to sit on the 805 in mind-numbing traffic one more time... If you see one more person barefoot in a restaurant… You're going to end up with your arms wrapped around your knees rocking to and fro in a corner somewhere, drooling and eating a bar of Sticky Bumps.
It was a buildup of things. It was the fact that you're starting to think about buying a home, and the only thing you can afford is a trailer in Temecula. It was the fact that you have no air conditioning, and it's been 100 degrees for four weeks straight in September with lightning storms and hot rain in a scene that looked like something out of Apocalypse Now. It was the fact that, even though it would probably help our economy tremendously, California is still super-lame about weed (it was mostly this). Whatever it was, that's it. You. Are. DONE. At this point, you might even you might even do the unthinkable. You might even move to LA. But then again, if you don't you'll reach...
Stage seven: The appreciation phase
Where you're living: The places mentioned in Stages Three through Five. Or, a house you bought in Clairemont, Oceanside, or a suburb off the 15.
Where you're going out: The best spots. Plus, better-than-average beach bars (because this will just be a constant in your life).
Your mantra: "For better or for worse, in sickness and in health... "
Go-to activity: Becoming a grownup, promising yourself that this will be the year that you finally master surfing, pronouncing the Spanish street names correctly, feeling pride when you hear a Blink-182 or Slightly Stoopid song.
Congratulations, brah! If you have made it to this stage, you are officially a true San Diegan. Closing in on a decade here, you know that while San Diego is not a perfect city -- hell, you were about to leave -- it is a special one. From its beer and food scenes, to its art, to its gorgeous beaches, SD has so much to offer, and frankly, just seems to be getting better and better. San Diego is your home now, and like, dude... there's like, nowhere else you'd, like, rather be.
Sign up here for our daily San Diego email and be the first to get all the food/drink/fun in town.