The 7 Coolest Jobs in San Diego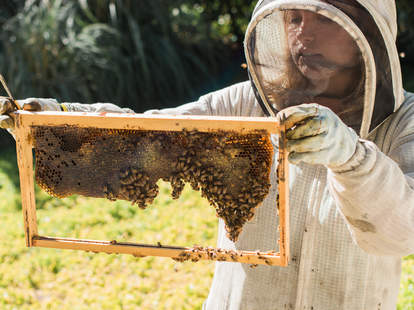 Courtesy of Cam Buker
Being a city that already has a better climate than 90% of the country is already one in the victory column for everyone. When it comes to career paths, though, some people have it better than others. Like, you might have a salary with benefits, and that's "cool," but it's not the same kind of cool as being the captain of a high-speed boat or painting huge, urban murals. Which is exactly what these people with the actually coolest jobs in San Diego do.
How she got the job:
"I like to tell people it's the classic tale of 'girl meets bee.' I picked up a beekeeping how-to book by chance and was fascinated by the chapters that described how bees live and work. I just fell in love with bees. After I graduated from UCSC, I moved home to San Diego and was living with my dad. He happens to have a large backyard and agreed to let me start a hive there. I began doing bee removals immediately. I got my very first bee colony by posting an ad for free swarm removal on Craigslist. Word got out that I was keeping and rescuing bees and everything just snowballed from there, so I started my own beekeeping business."
What she does: "I do almost anything bee-related. I spend a lot of time sawing to the walls of people's houses and pulling out giant, wild bee colonies. Some people assume I only do easy bee removals, like swarm catches, but I know how to use power tools and get my hands dirty. I also teach new beekeepers how to get started beekeeping. I have a whole series of classes designed to train beginners. For those who want bees, but don't want to do the work I have a Host-a-Hive program. I do a lot of kids presentations for schools. I also do Beehive Tours once a month at Suzie's Farm, which allows the public to suit up and go inside a beehive with me."
Courtesy of Darren Gray
Abby Youngs, aerialist/circus performer
How she got the job:
"I grew up in Ohio and my best friend in high school was a powerhouse cheer base and used to throw me around a bit. After a brief stint one summer in college, I didn't think I'd get to fly again. After a lifetime of California dreaming, I finally came here for my 25th birthday. I took myself surfing and couchsurfing down the Cali coast. My first host, and now a very dear friend, took me to the original muscle beach where I found acroyoga and it took over my life! It was still new in the Midwest, but I began dating a circus fella who transformed our acro practice into a fire show, and thus begun my circus career. I trained aerial in Detroit for a spell, then after relocating here, I met the Flores family who took me in early on as a teacher and performer with their company,
De Leon Dynamics
. I've been performing around town when I can and teaching with them ever since. We have a booming circus scene here in San Diego, so I'm always learning and evolving!"
What she does: "I train mainly in partner acrobatics and solo silks. I teach both at De Leon Dynamics. I enjoy training there, as well as at other gyms and acro jams across town. My background is in theatre, so from time to time, I also perform on stilts or as an interactive character. This year, I was lucky enough to meet and begin working with the one and only Ryan "The Elevator" Gibson. Together, we are the San Diego Air Devils, a budding acrobatic duo, and we teach together from time to time. It's so wonderful to teach people how to fly. Flying brings such magic to people's lives."
Courtesy of Alex. H. Banach
How she got the job:
"I have drawn and painted my entire life, and in 2008 I took the big leap and went full time. I began showing fine art at art festivals and developing feedback on my style and imagery. I painted my first urban art mural in 2011 with two other artists, Persue and Monstrinho, who were invited after a group show. Soon thereafter, I joined Few and Far Crew and began collaborating on many more walls and meeting and collaborating with other artists. Painting murals has offered me the opportunity to travel, experience a wide gamut of cultural experiences, and ultimately to develop the craft of painting urban art and building a reputation within San Diego. I have gained recognition for my style, and for the emotion presented in the eyes I paint. My style is often described as 'unique, yet very recognizable,' and argued to be like the very fingerprint of novelty itself."
What she does: "I paints fine art, murals, builds installation art, and graphic design and illustration. My urban art style was developed through sketching and painting on canvas. My murals are often based around the geometries of a face, with lines and patterns borrowed from the natural world -- elements of flowing water and sublime vegetation suggest an abundance of growing, healing, and evolving life. Using a combination of roller, brush, and can, I typically spend several days painting a single mural, adding elements as layers of development through the process. I never know for sure what I'll paint until faced with the wall of the day with paint in hand."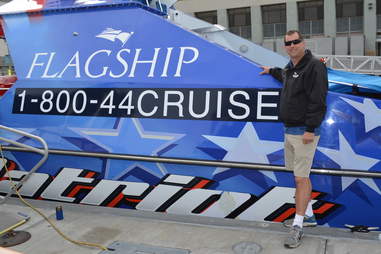 Courtesy of Flagship Cruises
Josh Gaylord, captain of the Patriot Jet Boat
How he got the Job:
"I'm a San Diego native that has worked on boats operating out of San Diego Bay for 34 years. I have worked on fishing yachts, schooners, large passenger vessels, whale watching vessels, and ferries. I have worked for
Flagship Cruises and Events
for 27 years. I got the job to be the captain on the Patriot from my background in customer service, my experience as a captain, and for my local knowledge."
What he does: "The Patriot is the newest of the large jet drive thrill ride boats built and the owners spared no expense in outfitting it with the best equipment available, from the seats to the engines. With such great maneuverability and speed, it's my job to push the boat to its limits giving the most thrilling ride possible. Carrying up to 130 passengers, the Patriot will still get up to 50mph and be able to spin on a dime soaking all the passengers and crew. You can hardly hear the screams over the music. For a change of pace, we do whale and dolphin watching off the coast (dry trip). It takes us 1.5 hours to do what takes other boats 3 hours or more to do. The best part is the dolphins. We slow down to a speed that makes a big wake and the dolphins surf it right up to the boat. For a captain, it's the best job ever and never gets old."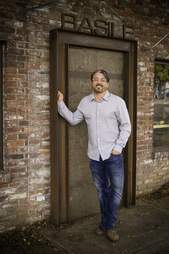 Courtesy of Basile Studio
Paul Basile, designer/fabricator, principle of Basile Studio
How he got the job:
"I started wanting to design furniture and quickly realized there are no jobs with that description. I decided to start my fabrication studio and opened a furniture store. This led to custom designed work that eventually turned into a full-service design/construction/fabrication studio. I'm completely self-taught."
What he does: "We always start with the structure. We respect the building and its history. Because of this, the concept for each project is different in the sense that the we begin with an overarching idea for the space. We allow ourselves to envision all types of concepts. As the process continues, the concept is narrowed down until we feel it's right. You just know. Everything splinters off of this organic process."
Courtesy of Bryan Dietz
Bryan Dietz, San Diego market manager for Infinium Spirits (Fernet-Branca)
How he got the job:
"I've been bartending in the industry for about 14 years. I started out bartending in Nebraska, but I'd never been to San Diego, so I packed up the car and moved out! I began as as food runner at Decos Restaurant, then worked my way up to barback, bartender, bar manager, and then F&B. Dealing with liquor reps all of the time made me curious about the other side of the business. A part time Fernet-Branca job opened up and my boss said if I sold 50 cases of Fernet-Branca in a month, I'd get the job. Not knowing that the previous rep only sold 50 cases in the last 6 months, I ended up selling 75 cases in that month and over 400 cases in the next 6 months. So instead of hiring a rep in LA at the time, they gave me the full time position in San Diego."
What he does: "I manage all aspects of sales, both on and off premise, for the greater San Diego area. I've done some pretty awesome events; number one being the Fernet-Branca Tattoo Party. Adam Stemmler and Tim Stevens started this tradition to celebrate some of the bartending elite that work hard to strengthen bonds in the industry and who also educate the consumers and communities on amazing spirits/experiences in San Diego. Basically, if an account has something fun they want to do and wants to involve the brand I'll do whatever I can do. One of my vices is a first timer trying Fernet. I used to just give them a shot to see the amazing Fernet face, but now I'm slowing it down and letting people taste the Fernet first before they slam it. But still, slam the shot!"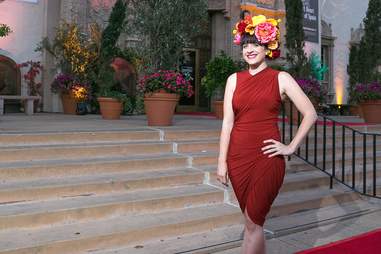 Courtesy of San Diego Museum of Art
Sarah Grossman, Manager of Special Events at the San Diego Museum of Art
How she got the job:
"Since a young age, I have always been and have been around artists. I went to school for studio art and loved every minute. However, I knew I never wanted to become a career 'starving' artist. I was born and raised in San Diego and I always really wanted to be a part of the San Diego art scene in some relevant way. I have always loved planning events and found it was a natural skill of mine -- and an art in itself. I wanted to help bridge the gap between the community and the wonderful art housed in our city. I found that events help the community experience the Museum's collection in a way that is fresh, relevant, accessible, and easily understood by everyone. My background in art helps me break down the exhibition content in a fun, palatable way."
What she does: "Planning events for The San Diego Museum of Art is a blast! There are new exhibitions and art experiences coming through the Museum doors all the time. I get to create social events that celebrate my passion for the arts every day -- what more could I ask for? It's always a fun challenge working with chefs and mixologists to create menus that are inspired by an exhibition or work of art. I love to create interactive elements that provide guests a unique, art-inspired ambience. Whether it's performance entertainment or event décor created in partnership with a contemporary artist, these elements provide guests an experience they can't find anywhere else. Nothing is more rewarding than creating a memory for someone and having our cultural institution be a part of that experience."
Sign up here for our daily San Diego email and be the first to get all the food/drink/fun in town.
Sara Norris is a freelance writer and photographer and is convinced that she actually has the coolest job in San Diego.