Living in San Diego is not cheap, and the never-ending search for Craigslist roommates who won't murder you in your sleep is part of the price some of us must pay to be renters in paradise. Anyone who has lived here long enough has at least one nightmare Craigslist roommate story to tell. Here are 11 common San Diego Craigslist roommates you can expect to find rummaging through your personal things, or perhaps beating the crap out of a piñata in your yard with their co-workers at 4am on a Tuesday (true story).
 
The Impossibly Good-Looking Surfer
He never shows up anywhere on time, but somehow manages to get out of bed at dawn every single morning to ride some waves. He doesn't own any close-toed shoes, and when he bothers to wear a shirt at all (rare!) it's never buttoned higher than his nipples. Thanks to him, the floors are gritty with sand and the apartment smells distinctly of wetsuit. When he's not in the water, he's shaping a new board at his bro's shop or watching Endless Summer on repeat. He somehow still uses the word "gnarly," but what he lacks in vocabulary he makes up for in abs. Will probably steal your girlfriend. On second thought, will definitely steal your girlfriend.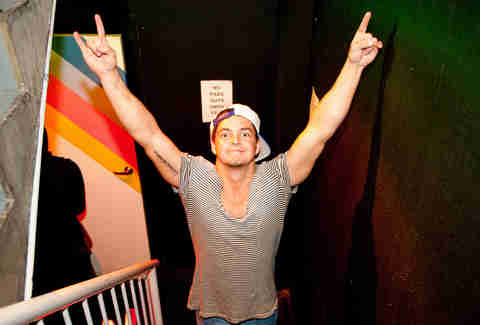 The Unapologetic Life of the Party
For him, it's not last call, it's the beginning of the afterparty. It doesn't matter that it's 3:30am (or that it's a Wednesday) this guy knows where to go to keep things going (usually your living room). He won't actually remember said gathering, but the empty bottles and cans and the stranger sleeping on your bathroom floor seem to suggest it was "another successful rager." At least the cops didn't show up this time. Or did they? Who can be sure?!
The Overachieving College Guy
The only time he removes his nose from a book is to make a little additional room for his seemingly endless supply of coffee. He spends enough time at the library that paying rent there might be a more sensible arrangement. Taco Tuesdays and beach anydays are completely foreign concepts to him. He has a five-year plan that involves selling a start-up and buying a yacht. You're still trying to figure out what to have for lunch. 
 
The Seasonal San Diegan
Summer is the best time of year to be in San Diego, which is why every June this guy rolls into town looking for a good time. He has one suitcase and no real responsibilities except for a temporary serving job where he makes just enough money in tips to pay rent and cover his astronomical bar tabs. The furniture in his room consists of a mattress on the floor, which somehow doesn't seem to be a problem for the randoms he brings home (maybe they find it rustic?). Come Labor Day he'll head back to... where was he from again? Michigan? Anyway, you'll be back on Craigslist looking for one of these other folks.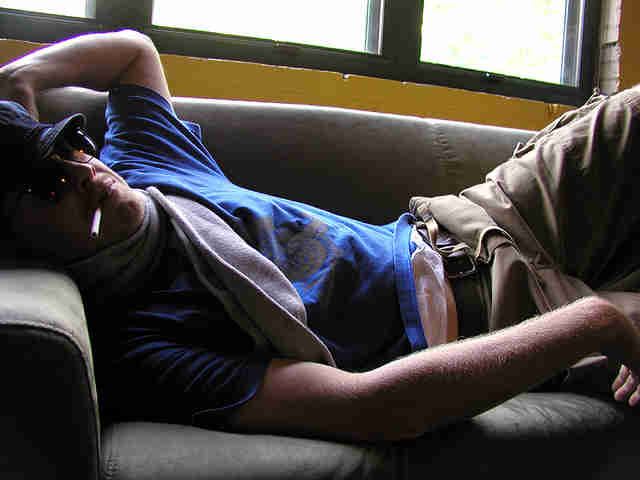 The Perpetually Unemployed Guy
He was employed when he moved in, but little did you know he changes jobs like most people change socks. He's done everything from construction to dishwashing, and always has some unbelievable story about why he got fired this time, none of which are in any way his fault. Between jobs he spends his time glued to the couch watching daytime TV, bumming your cigarettes, and stealing your leftovers. When it comes to paying rent, your friends have started taking bets on what excuse he'll come up with this month. Meanwhile you're covering the bills and struggling to keep the lights on, but don't worry, he says he'll definitely pay you back when he finds another job and oh by the way, he needs a ride to his interview. When you eventually have to kick him out he'll almost seem surprised you let him stay as long as he did. 
 
The Industry Guy
Since he keeps vampire hours you'll probably never see him unless you bump into each other at Turf Club late night or he stumbles into your room by mistake after having more than a few shift drinks. When he's not mixing up cocktails you can find him on a party bus or taking shots of fernet and talking about bitters at one of the countless industry events around town. Due to Weird Off competitions and many themed nights at the bar, he has accumulated more wigs and spandex than a pride parade, so at least his closet will come in handy when you need a last-minute Halloween costume. 
The Pretentious Hipster
You went through a grueling credit/background check and had to promise the landlord your first-born child but you finally scored a room in a coveted craftsman bungalow triplex in South Park. Now you live with this guy. Right now he's working at a craft coffee shop as a latte artist, but that's only until his Etsy business blows up. He's really into cuppings but you're too afraid to ask what that means. He's over his fixie so he ditched it for a unicycle which makes for a really shaky ride home after having seven espressos at work. He struggles to get dressed every morning because he's SO over everything, even himself, yet somehow he always leaves the house looking like a cross between Waldo, a lumberjack, and your grandfather. He's definitely going to Coachella this year so he can talk about how he's never going to Coachella again when he gets back.
 
The Marijuana Connoisseur
The Craigslist ad said "4/20 friendly," which was apparently code for "move in with me and everything you own will smell like it belongs to Willie Nelson" -- granted, you probably should've been prepared since the place in question was in OB. Thanks to "mild anxiety" and some mysterious "lower-back spasms" this literal card-carrying stoner enthusiastically forces you to take a whiff of every new strain he brings home from the dispensary. You play along sniffing and nodding politely even though it all smells exactly the same to you. His eyes are never open more than a millimeter or two, so you have no idea if he's sleep walking or if he's consciously consuming everything in the fridge despite you obsessively writing your name on all your food. He makes up for his frequent disinterest in conversation with an impressive collection of decorative bongs.
The Super-Spiritual Yogi
You don't know a down dog from a crouching tiger, but now your pad is adorned with tapestries, smells like patchouli, and the furniture has been completely rearranged in the name of something called feng shui. He means well, but this guy's concerns about your aura has you concerned that all the blood has rushed to his head since he spends more hours of the day standing on his hands than on his feet. His girlfriend's pits are hairier than yours and she cries every time you cook meat in the house. They're both on a cleanse right now, but he's having a vegan potluck/drum circle at your house next week. You can bring the deviled "eggs."
 
The Urban Farmer
Indoors your windowsills are full of herbs, a compost bin has appeared in your kitchen, and now your front yard is a vegetable garden, but hey, he's saving you a fortune at the farmers' market so you're not complaining. Although, his green thumb is about to get you both a black eye when the landlord sees that he tore out the expensive landscaping to make room for his lettuce patch.
The Wannabe Homebrewer
You were pretty stoked about living with a homebrewer but this guy's suspect set-up has turned your kitchen into a scene from Breaking Bad. The entire house smells like fermentation, especially since his last batch exploded like a science project volcano spraying homebrew in places you'll never get clean. He has strong opinions on Citra hops. He's constantly trying to give you beer (good!) that he needs to unload because none of his friends will drink it anymore and he needs more space for his next incredible idea (bad). 
Sign up here for our daily San Diego email and be the first to get all the food/drink/fun in town.
  
Sara Norris is a San Diego writer and photographer. Ask her about the piñata incident: @SaraKNorris.