stellalevi/e+/getty images
stellalevi/e+/getty images
For people on both sides of the border, Tijuana is Baja California's hottest place to eat, drink, and make increasingly bad decisions. If you're looking for a more relaxed beachside getaway, though, your destination lies a mere 30 minutes further south in the resort city of Rosarito. Once the destination for Hollywood stars, the town has since become a well-visited beach destination for Californians -- some look to catch a tan and some fresh lobster, while others search for new and exciting opportunities to party their faces off. Both are viable options here, as the town and its surrounding area abound with clubs, art galleries, restaurants, taco shops, and other hidden treasures.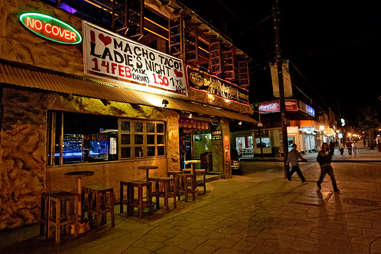 What to know before you go
If you've ever made the trip down to Tijuana, the same rules apply here. If you're driving, make sure you buy a Mexican insurance policy valid for every day your car's in-country, which you can do online before you leave. Uber is a good option for those walking across -- it's in various stages of being under siege, but is currently operating within the region. And yes, you need a passport, as you have since September 11, 2001.
Also note that California residents are only allowed to bring back one liter of alcohol per person, which is a little more than one bottle of wine. Oh, and don't buy drugs or pee in the street. Other than that, be respectful, say gracias, and enjoy both the tacky and beautiful aspects of life in Rosarito.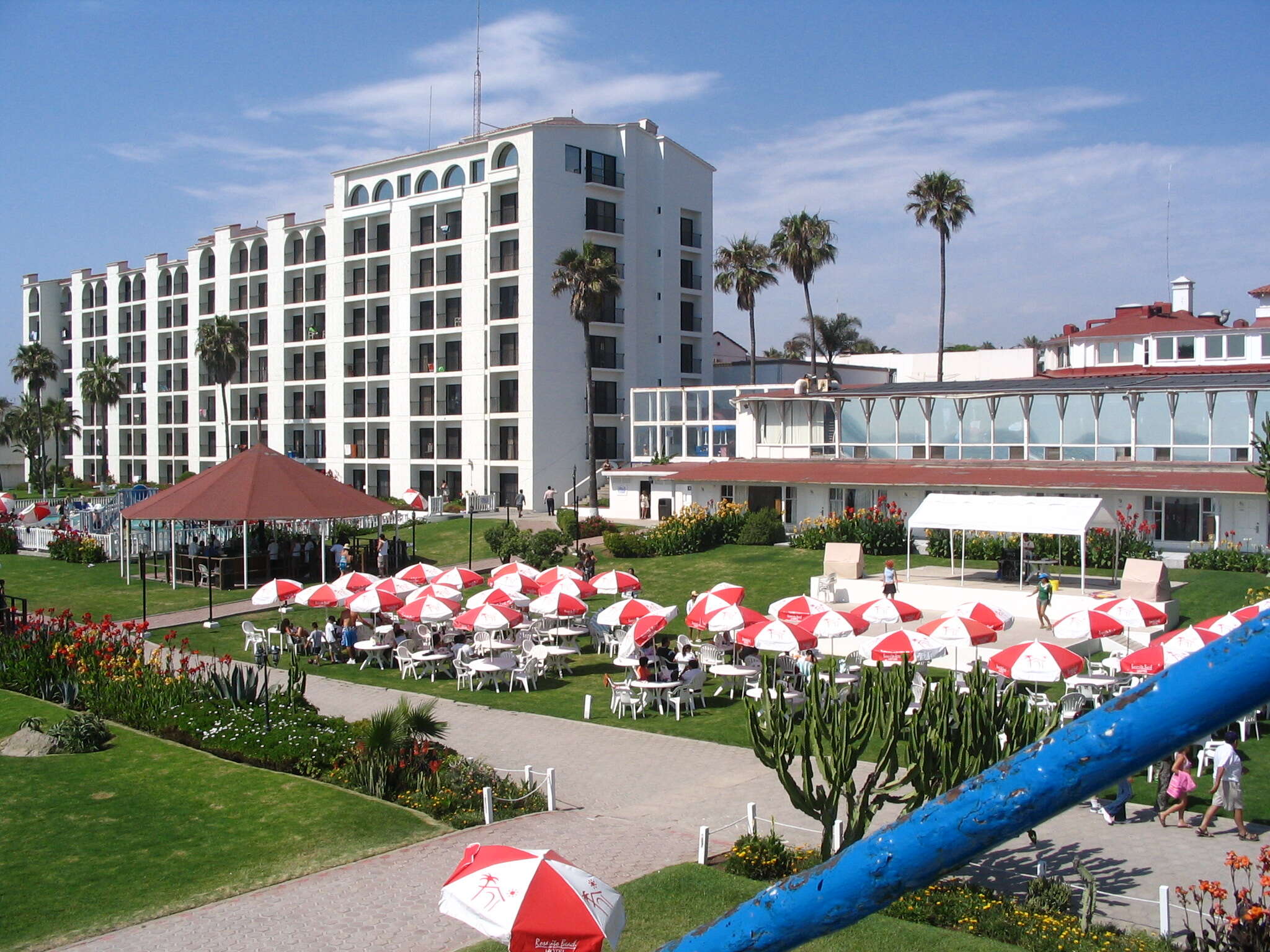 Experience some Old Hollywood glam
Once the prime destination for glitterati like Orson Welles, Frank Sinatra, and Marilyn Monroe, the iconic beachfront Rosarito Beach Hotel still stands today, operating as a fully-functioning hotel more accustomed to spring breakers than Old Hollywood personalities. Hang out by the pool, get too much sun, drink margaritas to your heart's content, and know that staying up late is necessary: the thumping clubs nearby pump music until at least 4am on the weekends.
Peek over the hill at a famous movie set
Bringing Rosarito's Hollywood past to the future is Baja Studios, which was built next to Popotla to film a large part of Titanic in 1996. Also filmed there were scenes from Tomorrow Never Dies, Fear the Walking Dead, Pearl Harbor, Kung Pow, Deep Blue Sea, and Master and Commander.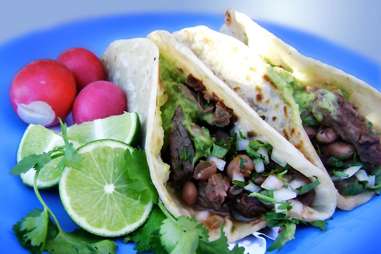 Sample the local taco stands, then go outside the box
Rosarito is filled with restaurants and taco stands -- some good, some not -- and the key is knowing which ones are worth your pesos. Hit up La Flor de Michoacan for its perfect carnitas, or seek out Mi Casa Supper Club for more globally inspired dishes in a chic atmosphere. For tacos, you're going to want to go to Tacos El Yaqui for its well-loved carne asada. Other killer street taco spots are El Sabroso Taco Shop and Tacos El Zurdo. Susanna's is a longtime staple of Rosarito with more European- and American-style plates, and Restaurante El Nido is an old-school spot that's been open since the '70s, which specializes in Mexican dishes.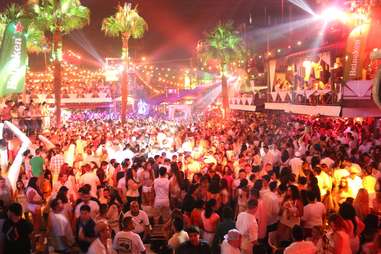 Get some drinks, then bungee jump inside a nightclub
While the rest of Baja California is catching praise for its on-fire wine and craft beer scene, Rosarito's imbibing culture is a little more, let's say... unrefined. It's still a blast, to be sure, but more of an unrefined blast. Papas & Beer is a club that exists mainly to serve partiers coming from the United States, especially those under 21, but can be a good spot to dance and throw back shots. Club Iggy's is another go-to party spot, packing an indoor swimming pool, a foam party room, a mechanical bull, eight bars, two go-go stages, five bars, and a bungee jump tower. Inside the club. Don't say we didn't warn you.
Continue drinking, but with a little more class this time
Claudius Vino is Rosarito's only winery, and a good way to access Baja's growing wine culture without having to venture further south to the Valle de Guadalupe. Owner Julio Bento has been making single-varietal wine here since 2010, which visitors can (and should) sample in the tasting room.
Recover with some souvenir shopping
Downtown Rosarito's Arts and Crafts Marketplace is positively flush with stalls and shops filled with all kinds of things. Shoppers can get pottery, clothes, various pharmaceuticals, ceramic skulls, Cuban cigars, debatably legitimate silver jewelry, leather, art, and any kind of tchotchke you never knew you always wanted, like that authentic Oakland Raiders Mexican poncho you've been eyeing.
Check out some local art galleries
All that debauchery and partying can leave one wanting for a little more -- you are in another country, after all. The border region, in general, is a magnet for both longstanding and up-and-coming artists, who flock to the beach for its laid-back lifestyle, quality tacos, lower cost of living, and easy access to both Tijuana and San Diego. Some notable galleries to visit include Ugi Gallery, which features floral paintings by artist Alvaro Morales; Polo's Gallery, which is next to his frame store and features various Baja artists; and Baja Art & Tango Studio, which features modern art from three local artists.
Rent an ATV and cruise down the beach
One of Baja's more famous pastimes is hitting the beach, and while this can take many forms, one of the more fun (and potentially lethal) methods is by renting an ATV. South of the pier and the Rosarito Beach Hotel is a large swath of sand where people can glide up and down the wide beach. Twenty minutes to the south of town, just outside the village of Primo Tapia, are large sand dunes towering over the ocean that pose both a larger threat and a much higher-octane experience for ATV riders.
Eat and shop at a beachside fishing village
Reality and fantasy collide 15 minutes away from downtown Rosarito at Popotla, a fishing village that exists solely as a fish market and beachfront dining wonderland. Vendors set up shop or drive onto the beach, where you can point, pay, and have them cook up spider crab, uni, chocolate clams, spiny lobster, blood clams, and much more from Baja's plentiful seafood bounty. Aside from no-frills plastic tables in the sand, there are also a number of restaurants on a small cliff above the beach, where diners can have a more formal sit-down meal with the same vibe.
Get away from the action by shacking up a little further down the coast
For Southern Californians, renting an apartment or house in the Las Gaviotas complex is a rite of passage. With sweeping oceanfront views and sprawling patios, families and groups of friends can post up for a beach or surf weekend without the crowds. Just up the coast highway is Las Rocas Resort and Spa, a nice-ish hotel where the price is right, the cliff-side views are magnificent, and there are margaritas and hot tubs aplenty.
Even better, both Las Gaviotas and Las Rocas butt up against K38, which is a world-famous surf spot named after its location on route 1D. Doubly better are the delicious street tacos served at K38 Taco Surf -- don't skip the adobada.
Sign up here for our daily San Diego email and be the first to get all the food/drink/fun in town.
Jackie Bryant is a food and travel writer based in San Diego who is best described as a human Roomba: eating and drinking everything she bumps into. Originally from New York, her favorite things about life in her adopted city are border-hopping, practicing yoga in exceptionally beautiful locations, becoming a beer snob, and living at the beach. Find her on Twitter and on Instagram.