Earth Day has been around for more than half a century. Yet, it seems as though we still think that Mother Nature will be endlessly forgiving of our selfishness and wastefulness of her natural resources. With the hands of the Doomsday Clock at a heart-stopping 100 seconds until midnight, it's well past time for us to consider making serious changes to our attitudes and behaviors around climate change, the environment, and living sustainability.
This year, perhaps fittingly, Earth Day spans a full three days, from April 20–22, with events taking place across San Diego and the entire world, providing actionable ways for all of us to take better care of our land, waters, air, wildlife and fellow humans.
In that spirit, we've collected a variety of volunteer opportunities that support San Diego's precious resources, ranging from beach cleanups to preventing food waste. If none of these seem like a good fit, sites like VolunteerMatch and HandsOn San Diego can help you find volunteer opportunities that are right for you. And if you aren't able to commit your time, each site has a "Donate" button, making it easier than ever to help fight climate change.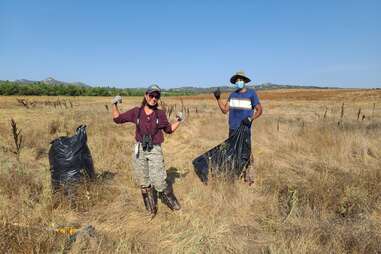 Protect San Diego's open spaces
One of San Diego's most pleasurable activities is hiking through unique and diverse environments like oak and eucalyptus woodlands, riparian and wetlands, and chaparral. The San Diego Habitat Conservancy is dedicated to the preservation and conservancy of almost 1,790 acres of various habitats in 27 open space preserves across San Diego County, including the Bridges & Santa Fe Creek Preserve, Emerald Pointe Preserve, Carlsbad Raceway Preserve, and Eureka Springs Preserve.
How to help: The organization utilizes volunteers to help their scientists and biologists with duties such as mapping and tracking, working with state and federal wildlife agencies, sign replacement, invasive species removal, and community outreach.
Help reduce food waste and insecurity
Here's a shocking statistic—more than one in seven San Diegans face food insecurity on a regular basis, and between 30-40% of food in the United States goes to waste. ProduceGood bridges the gap by connecting farmers and growers who have excess produce with those who need it through programs like CropSwap, a backyard and small farm harvesting program, and Market Share, where volunteers work with generous farmers at four San Diego farmers markets who donate unsold produce at the end of the day.
How to help: Volunteer opportunities range from picking fruit and vegetables to administrative and organizational activities and more.
Learn to fix stuff and reduce waste
Help Zero Waste San Diego spread their fix-and-save philosophy to reduce waste and combat our throw away attitude towards consumer goods. Their monthly hands-on clinics, which teach repair skills to those who want to fix their non-functional belongings such as appliances, electronics, computers, bicycles, toys, or clothing, have been put on hold, but volunteers are still needed for web design, social media, special event support and grant research and writing.
How to help: Sign up online if you would like to volunteer for behind-the-scenes and remote work.
Support safe water efforts
Without water, there is no life. Here in San Diego, our oceanfront as well as freshwater resources need constant monitoring and supervision to keep them safe and usable today and for future generations. San Diego Coastkeeper was originally established in 1995 (as San Diego Baykeeper) to oppose the dumping of waste into the San Diego Bay. Today, they are involved in everything from monthly monitoring of our watersheds to providing teachers, parents, and students with educational materials on the latest issues and information.
How to help: Help them with twice-a-month beach and neighborhood cleanups, educational outreach, fundraising, and internships.
Keep our beaches and waterways beautiful
I Love a Clean San Diego holds two major coastal cleanup days annually, plus cleanup events targeting not only coastal areas but local creek beds, canyons, and open space parks, a storm drain stenciling and education program, and a cigarette litter prevention program that has reduced cigarette butt litter 55% on average in targeted areas. Their 19th Annual Creek to Bay Cleanup takes place on Earth Weekend, April 24th. Like 2020, this year's event will organize neighborhood cleanups for safety and to prevent litter from making its way into waterways in the first place. Last year, volunteers self-reported collecting 15,682 total pounds of litter in one day. This year, the goal is to collect at least 30,000 pounds of trash from our streets, parks, canyons, and green spaces in 24 hours.
How to help: Get the FAQs here and register as an individual or group to help with the cleanup effort.
The Solana Center for Environmental Innovation aims to reduce landfill waste of all kinds by educating and providing resources for individuals, families and businesses who wish to adopt a more earth-friendly lifestyle. From e-waste dropoff centers to virtual classes on how to "close the loop between organic waste and healthy soil" by composting, worm farming, and rainwater collection, their outreach programs provide an organized approach to reducing waste for families and businesses alike. They even have a tool lending shed!
How to help: Volunteers are needed to help with school programs, community outreach booths, compost workshops, zero waste projects, docents, and a variety of hands-on and administrative projects.
Plant trees in San Diego's urban forest
Nothing is more relaxing than sitting under a canopy of trees on a sunny day, but did you know that a thriving urban tree canopy also helps to improve water quality, reduces stormwater runoff, reduces energy use in homes and businesses, alleviates air pollution, provides wildlife habitats, and increases property values, just for starters. Tree San Diego is dedicated to increasing the county's tree canopy (which was assessed at 13% in 2014) with the guiding principle of "the right trees, in the right places, with the right care". Their programs include Tree Advantage, which aims to increase the canopy in disadvantaged areas and Rejuvenation, a program that diverts dead trees from the landfill to products like lumber, furniture, musical instruments, bio-polymers, and wood charcoal/biochar (a soil amendment that reduces nutrient runoff and supports beneficial microbial growth).
How to help: Volunteers are needed for weekend tree watering, and internships are available. Sign up for their newsletter to learn of future opportunities and to get the latest news.
Mary Beth Abate is a San Diego-based freelance writer by way of Chicago and Los Angeles. Her hobbies include yoga, pickling and fermenting various vegetables and beverages, reading cookbooks and traveling around Mexico. Keep up with her experiments @MaryBeth_Abate.