Illegal SF Date Ideas That We Would Never, Ever Condone
While it's true that most everyone enjoys drinking cocktails and eating appetizers, it's also true that meeting at a bar is singlehandedly the most unoriginal date in the entire world… right after dinner and a movie… and coffee. Don't even get us started on coffee. Coffee is not a date. Ever. And because we've all been on these engagements a thousand times before and practically fell asleep on our plate of potato skins, try one of these 10 dates, all of which are a lot of fun and a little illegal, but not in a way that will get you sent to jail (hopefully).
The date: Slip into the Botanical Gardens at night.
How to pull it off despite our explicit disapproval: It's pretty easy to slide through the bars of the fence that surround the gardens, not that we would know from experience or anything. Once you're inside, you'll have access to 55 acres of landscaped gardens and 8,000 different plants. Just don't be a dick and pick anything. If you want to give your date flowers, have some delivered the next day.
Laws you'd be breaking: The good news is admission to the Botanical Gardens is free for SF residents, so you're not exactly ripping anyone off. The bad news is you are still trespassing and breaking and entering.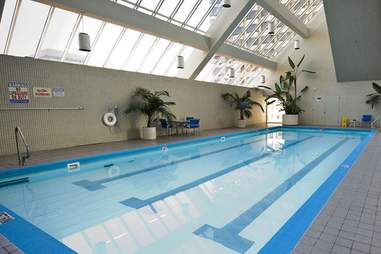 Anna Hiatt/Thrillist
The date: Sneak into a hotel pool and take a dip.
How to pull it off despite our repeated warnings: Depending on how much you want to impress your date (aka how swanky the hotel is), this one has varying degrees of difficulty. The Hotel Del Sol on Webster and Lombard is the easiest to get into (it is in the Marina after all), whereas Hotel Nikko hides its pool between two keycard-required doors. And while we'd never condone breaking the law, if you wanted to take a dip and not book a room, we might have a few ideas on exactly how to go about it.  
Laws you'd be breaking: Trespassing, breaking and entering. But if you get busted, you'll probably just get asked to leave. And NO DIVING. What's the matter with you!?
The date: Enjoy a bottle of wine (or three) at an Ocean Beach bonfire.
How to pull it off despite our obvious signs of disappointment in you: The bonfire part is actually totally legit (at least for now). The only part of this date that's illegal is the hooch you'll be drinking. There's absolutely no alcohol allowed on Ocean Beach and there's really no glass. Still, if you want to get away with this one, just put your adult beverage of choice in a water bottle and go about your business. And be sure to read this SF bonfire-411 before you go.
Laws you'd be breaking: 36 CFR 2.35, which states that Ocean Beach is closed to consumption of alcoholic beverages. The punishment if you're caught? A $100 ticket, plus a $25 processing fee.
The date: Go "green" at the Exploratorium.
How to pull it off even though you know we're not happy with this behavior: Sweets for your sweet! Chocolate truffles, gummy bears, brownies with walnuts, and butterscotch candies are just a few of the myriad of ways to ingest The Pot these days. And while the Exploratorium is fun even when dead sober, any museum that brags about how it's hands-on is basically begging you to pack some edibles for the journey. Bonus points if you reserve a time for the Tactile Dome.
Laws you'd be breaking: That all depends on if you have a medical marijuana card or not; the good news is no one will know and no one will ask. This is basically the most harmless illegal date to exist.
The date: Do the sex in public (your neighbors will thank you!).
How to pull it off despite our threats to call your parents: Why Netflix and chill when you can do it in public and freeze your ass off? Still, even though it's too cold in SF to go at it for too long if you're outside, there's something romantic & exciting about boning somewhere where you might get caught. Your best bet is Golden Gate Park and there's an even a website to direct you based on whether you want to do it "out in the open," "in the bushes," or at a place that's "easy to drive to."
Laws you'd be breaking: Indecent exposure and lewd conduct in public, which may just get you a misdemeanor punishable by up to six months in jail and/or a fine of $1,000, but COULD require registration as a sex offender. Yikes.
Evan Thompson/Thrillist
The date: Explore a 105-year-old abandoned train yard and roundhouse.
How to pull it off despite the obvious legal ramifications: The Bayshore Train Yard is "protected" by barbed wire fencing, but that doesn't mean you won't be able to find a way in if you just spend a few minutes looking (the fence has been cut in a few spots). Just read this first so you can wow your date with your knowledge about the history of the place. There's also a pretty cool abandoned tunnel about 500 yards south of the roundhouse you'll want to check out. This map should help you figure out how to get there.
Laws you'd be breaking: Trespassing, but if you've read this far, you really don't care about that.
The date: Drink Champagne at the Wave Organ while watching the sunset.
How to pull it off despite us begging you not to do this: OK, technically it doesn't have to be Champagne, but we've found that not everyone loves 40oz the way we do. Anyway, brown bag the bottle and bring some plastic cups and you'll probably be A-OK. Pro tip: go at high tide when the Wave Organ gets especially melodic.
Laws you'd be breaking: Just the open container law and no one really cares about that, right?
The date: Slide down the Seward St Slides.
How to pull it off even though we don't like this person you've become: Grab a piece of cardboard (there are usually some there already) and fool your date into thinking your child within only comes out on occasion, not that you're an actual child who isn't ready to grow up or commit or stop eating leftover burritos for breakfast. 
Laws you'd be breaking: If you go after sunset, don't bring a kid, bring alcohol. You'll be breaking a whole lot of laws, which seems to be your thing at this point. We don't even know you anymore.
The date: Sneak into a swanky party or event.
How to pull it off despite our repeated warnings of an intervention: From beer tastings to tech parties, there are always big events with lots of free food and booze going down in SF. Getting in will require a unique approach for each venue, but with a little ingenuity it shouldn't be too hard to figure out a way. One idea: find a side door or exit and slip in when someone comes out. ("Oh, thank God. I came out here to smoke a cigarette and the door locked behind me!") Often times if the crowd is big enough, you can even just walk right in. The key? Dress appropriately and act like you're supposed to be there.
Laws you'd be breaking: Eh, trespassing or whatever, but unless it's something big like a Giants game, you'll probably just get kicked out if you get caught, which will make a great story to tell the kids someday.
The date: A game of catch
How to pull it off despite our… actually, we don't care if you do this: Find a cutie who enjoys playing catch and then go do it in the street.
Laws you'd be breaking: This is only for the legit bad boys out there since Ordinance No. 805 says, "It shall be unlawful for any person to play at or participate in any game of ball on any public street or highway." The punishment? It could be $500 or six months in jail. Sometimes, you gotta live life on the edge, and some laws were just meant to be broken.
Sign up here for our daily San Francisco email and be the first to get all the food/drink/fun SF has to offer.
 
Daisy Barringer is an SF-based writer who broke a lot of laws in SF when she was a teenager. Now that she's a grown-up, she won't even switch seats at a football game. Follow her on Twitter @daisy.