You love the West Coast's most iconic road trips, and you love a good under-the-radar California road trip. Thing is, your wallet doesn't, which is why we put together this: a look at 11 fun-ass Golden State roadies that you can do on a budget, complete with cheap places to stay (that aren't gross motels), cheap places to eat and drink (that aren't... gross motels), and cheap stuff you actually want to do that isn't always hiking (but, uh, fair warning: sometimes is).
Big Sur, CA
Distance from SF: 145 miles; 2.75-hour drive
Sure you can stay at the Post Ranch Inn for $800 a night or rent a super-fancy cabin for $170, but visiting one of California's most beautiful spots doesn't actually have to cost you your whole month's rent.
How to do it on the cheap:
- Stay: In a tent. Bottchers Gap is first come, first served, and there are only 12 sites, but it's worth it because those 12 sites? They're only $15 a night and have amazing views of the Ventana Wilderness. Not into camping? Check out the Ripplewood Resort where cabins start at $110 a night.
- Drink: You're going to want to cook your food at your campground for maximum savings, but that doesn't mean you can't take a load off and enjoy a beer at the Big Sur River Inn, where you can sit on a chair IN THE RIVER.
- Do: Definitely go hiking blah blah blah, but for a real treat, take a very late-night dip at the Esalen hot springs from 1 to 3am. Reservations are taken the day of and the two hours of bliss will cost ya $30.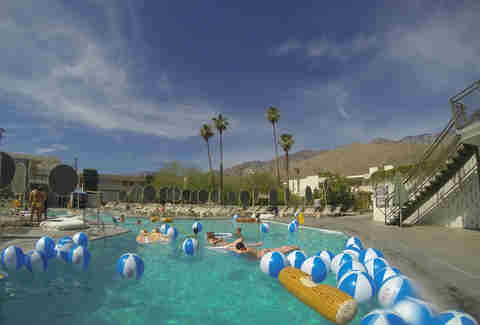 Palm Springs, CA
Distance from SF: 487 miles; 7.5-hour drive (or 1.5-hour flight)
Yes, this is California's playground for the rich, but there's no reason you can't enjoy the desert resort city known for its golf courses and spas (especially now that you've got this AND our guide to having the best weekend there ever).
How to do it on the cheap:
- Stay: Los Arboles Hotel. The Petite Express room inside the desert boutique has a full-sized bed, flat-screen TV, and shower and averages around $89 a night. Plus, there's a heated pool, a sun deck, a jacuzzi tub with mountain views, poolside dining, and it's walking distance to the strip, which is basically a must.
- Drink: The Amigo Room inside the Ace Hotel has $6 tallboys, which makes it a pretty solid option as is, but throw in the fact that you can get into its open-'til-2am jacuzzi for free at night and you've got an even pretty solider option. And don't worry if you forget trunks, plenty of people will be in their underwear...
- Do: Play night golf at The Lights at Indio Municipal Golf Course -- it's the only desert course that's lit up once the sun goes down, with tee times going up 'til 8pm on normal days and through midnight (or later!) for special events. $20 gets you your green fee AND a cart all year long, and it drops down to $15 during the summer.
Calistoga, CA
Distance from SF: 74 miles; 1.5-hour drive
It's basically impossible to do Napa or Healdsburg on a budget, but who cares when you can go to Calistoga, a charming town with an Old West vibe.
How to do it on the cheap:
- Stay: If you go Sunday-Thursday, a room at the Calistoga Inn is $119-$129 and that includes a continental breakfast. Sure you'll have to share the bath down the hall, but there's a brewery on site, which definitely makes any inconveniences totally palatable.
- Eat: You can get three beef ribs plus garlic toast and two sides for $12 at Buster's Original Southern BBQ and that's all you need to know about that.
- Do: There are plenty of redwood forests to see in Northern California, but not plenty of petrified redwood forests with 3 million year old redwoods that turned to stone when a local volcano erupted. Calistoga happens to have one which you can check out for just $10 (and docent tours are free).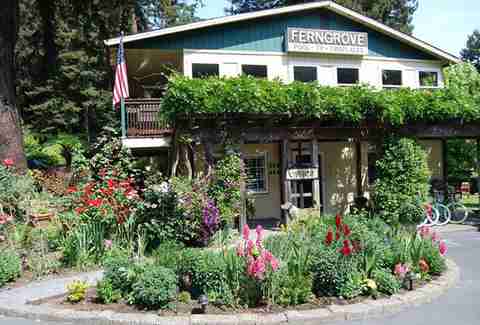 Guerneville, CA
Distance from SF: 75 miles; 1.5-hour drive
Located between the Russian River and the surrounding hills, Guerneville is a funky, laid-back town that's perfect for someone who's on a budget/is obsessed with Pliny the Elder.
How to do it on the cheap:
- Stay: Fern Grove Cottages is nestled amongst towering redwoods and surrounded by gardens. A basic studio with a queen bed, continental breakfast, and complimentary wine-tasting passport is between $109 and $119 a night. Plus, it has a saline swimming pool and free bikes for you to use.
- Eat: You can get a burger and fries for six bucks at Flavors Unlimited. Just save room for the ice cream.
- Do: Visit the Korbel Champagne Cellars for a free 50-minute tour of the Champagne cellars and museum that ends with tastings.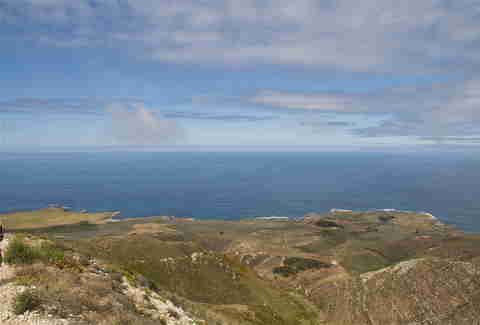 San Luis Obispo, CA
Distance from SF: 230 miles; 3.5-hour drive
SLO, as they call it, is every reason to love the California coast all in one town. The ocean, the mountains, plus plenty of good wine and beer.
How to do it on the cheap:
- Stay: Apple Farm is a wine country inn-meets-luxury hotel; rooms for $109 a night will get you a queen bed AND a gas fireplace.
- Eat: The Apple Farm Restaurant has $9 lunch specials Monday-Friday, but if you're feeling "spendy" $13 will get you a breakfast so hearty you're not even going to want lunch.
- Do: If you're there during baseball season, take in a SLO Blues baseball game where beers are just a dollar whenever the home team scores. You can also do the Valencia Peak hike, which offers stunning views of the ocean, a great workout, and no $1 beer deals.
Paso Robles, CA
Distance from SF: 205 miles; three-hour drive
Go to Paso Robles for the charm, the over 200 wineries, and all of these super-secret secrets.
How to do it on the cheap:
- Stay: There are plenty of budget motels in Paso Robles, but if you want something that isn't... a budget motel, the Paso Robles Inn is a good bet since rooms start at around $120 a night. There's a heated outdoor pool, a jacuzzi, a garden area with "babbling brooks" (!!!), and gorgeous views. It even has pet-friendly rooms if you want to bring your pup along.
- Drink: Enjoy a FIFTY-CENT specialty blend dark-roast coffee on the patio at Haymarket.
- Do: Kick back at the BarrelHouse Brewing Company and sample some very drinkable beers, tons of free games in the magical yard (including human beer pong!), and maybe some live music.
Santa Cruz, CA
Distance from SF: 73 miles; 1.2-hour drive
Santa Cruz is the Northern California surfer's paradise. But even if you don't surf, there's plenty to eat, drink, and do.
How to do it on the cheap:
- Stay: Santa Cruz has some sweet boutique hotels, but why throw away your cash when you can stay at Casablanca on the Beach starting at $119/night. Still too pricey? Check out the plentiful campgrounds nearby.
- Drink: Jury Room has cans of Bud for two bucks, plus free pool and darts. Not for the faint of heart. If that's a little too divey for you, Hula's Island Grill has Tiki drinks for $6 from 2-6pm, Wednesday through Sunday.
- Do: You already know what we're going to say. Go to the boardwalk where the only thing you have to pay for is the rides.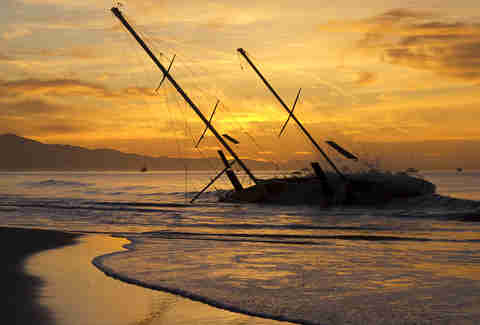 Santa Barbara, CA
Distance from SF: 325 miles; five-hour drive
Apparently Santa Barbara's nickname is "The American Riviera," which is probably all you need to know about why you should visit.
How to do it on the cheap:
- Stay: It's very easy to spend upwards of $600 a night for a hotel in Santa Barbara. Don't do that. Instead, stay at The Wayfarer, a hotel and hostel near the Funk Zone with free breakfast and a heated pool. A dorm bed in a same-sex-only shared room starts at $49 while a private room can be as low as $125/night.
- Eat: Get a hot dog and a pint of beer for $5.50 at The Brewhouse during the daily 4-6pm happy hour, or hit Captain Fatty's -- a tap room behind the Santa Barbara CHP with $2 4oz tasters.
- Do: Visit the Santa Barbara Winery where $10 will get you six tastings (and you get to keep the glass!).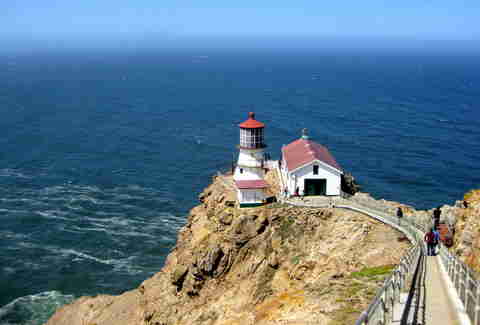 Point Reyes, CA
Distance from SF: 34 miles; 1.2-hour drive
This part of West Marin is not only strikingly beautiful, there's also plenty to do. Whether you're into hiking, kayaking, or just doing a lot of eating, you'll be glad you visited.
How to do it on the cheap:
- Stay: If you're the outdoorsy type, Point Reyes has some great camping (that books up far in advance). But if you require a bed, check out the Cottages at Point Reyes Seashore. Cottages start at $129 a night and include private patios or decks, mini kitchens, and on-site activities like tennis, horseshoes, swimming, and hot tubbing.
- Eat: Visit the Hog Island Oyster Co. where a $5/person picnic fee gets you a table with a grill, oyster-shucking tools, lemons, and hot sauce. All you need to do is buy the charcoal ($7/bag) and the bag of oysters. BYOB.
- Do: Sorry to be obvious, but you've got to visit the lighthouse. It's free and the 300 steps down and back up are great exercise/Instagram-friendly.
La Jolla, CA
Distance from SF: 493 miles; seven-hour drive (or 1.5-hour flight)
La Jolla is basically sunny 365 days a year, has gorgeous beaches, and dramatic coastlines.
How to do it on the cheap:
- Stay: La Jolla Village Lodge is trying to pretend it's a boutique hotel, but it's really more of a nice motel that's just three blocks from the beach. Rooms start at $100.
- Drink: There's basically always some kind of drink special going on at Jose's Courtroom Mexican Cantina. Get one of those and drink it on the bustling patio.
- Do: Pay $5 to check out Sunny Jim's Cave, one of the few sea caves that's accessible by land via a tunnel that was hand-dug by Chinese laborers in 1902-1903.
Half Moon Bay, CA
Distance from SF: 30 miles; 40-minute drive
This laid-back town is perfect for people who enjoy being active. It can get foggy in the summer, but it's a gorgeous spot to visit year-round.
How to do it on the cheap:
- Stay: The Zaballa House is a B&B located on Main St with lots of antiques and a 5-7pm wine and cheese reception every evening. Rooms start at $129.
- Eat: Daddy-O's is a classic American roadside diner... that's housed in a 111-year-old caboose. Fill up for under 10 bucks.
- Do: Half Moon Bay has gorgeous beaches. There's also Harley Farms, which is just a short drive and a must for anyone who loves goats. (So... everyone.) Take a tour or just buy some cheese and hang out with the 200 alpine goats that live there.
Sign up here for our daily San Francisco email and be the first to get all the food/drink/fun SF has to offer.
Daisy Barringer is a freelance writer from SF who loves nothing more than that first beer after a long car ride. And by long car ride, she means anything over 15 minutes. Follow her on Twitter: @daisy.