Pretty much all anyone in San Francisco does these days is complain about housing costs, $15 cocktails, and $20 hamburgers, so we felt like it was time to remind everyone that there's plenty of fun to be had on the cheap. All of the stuff on this list costs $10 or less... and you're not allowed to do any of it while talking about how much rent you pay.
Recommended Video
Lovers Are Making the Pilgrimage to Kiss In This Hidden Alleyway
1. Do yoga in a church
Nob Hill
Price: Free to $10
Practicing yoga is a lot more relaxing when you're not paying $30 for a class. Yoga on the Labyrinth goes down(ward dog) in Grace Cathedral and is donation-based ($10-20 recommended).

2. Drink wine in a park
Multiple locations
Price: The cost of a cheap bottle of wine
As long as it's not in a glass container (or a keg), you can legally drink wine and beer in Golden Gate Park, and lots of places in the Golden Gate National Recreation Area (like China Beach, Fort Funston, Fort Mason, Lands End, and Crissy Field).

3. Test your knowledge of meaningless facts and drink beer
Inner Sunset
Price: $3 to $5
Grab a seat in a booth at the Blackthorn Tavern on Monday nights, where bottles of beer are just $3 to $5 and you can win prizes (like MORE drinks) if you're smart enough.

4. Take a sourdough bread tour
Fisherman's Wharf
Price: $3 to $5
Turns out sourdough bread (NOT Rice-A-Roni) is San Francisco's best treat. Learn about the history of Boudin bread and see the bakery in action with a self-guided tour ($3) or a docent-guided tour ($5) through the Boudin Bakery at Fisherman's Wharf.

5. Play video games & drink beer
Duboce Triangle
Price: $10 or less
Brewcade has tons of classic arcade games, almost all of which you can play for a quarter or two. Plus, they offer 25 craft beers on draught that start at $6. Head there during happy hour (Monday-Friday, 4-7pm) when Anchor California Lager cans are $3 and you can take a buck off of everything else.
6. Escape to Japan
Golden Gate Park
Price: Free to $6
Or the Japanese Tea Garden anyway. Arched drum bridges, pagodas, stepping stone paths, and koi ponds: this serene garden is the perfect place to get away from it all. Set your alarm: admission is free before 10am on Mondays, Wednesdays, and Fridays and $6 for residents all other times.

7. Catch a midnight flick
Lower Pac Heights
Price: $10
Every Saturday and Sunday, the Clay Theatre plays "midnight movies," like Fargo, The Rocky Horror Picture Show, and Blade Runner for just $10. So it's like going back in time, except the movie ticket is still more expensive than it was the movie first played.

8. Ride the ferry
San Francisco to Alameda/Oakland
Price: $10
Ride the ferry even though you're not commuting. Take selfies! Snap pics of the Bay Bridge lights! Instagram the SF skyline. And do it all for $4.80 one-way if you have a Clipper Card. There's even beer and wine for sale, though that will put you over your allotted ten bucks, so maybe BYO... even though you're probably not supposed to.

9. Find other people's discarded treasures
Treasure Island
Price: $3
It's only $3 to get in the Treasure Island Flea Market; what you do with your remaining $7 is totally up to you.

10. Do some holy rolling
Western Addition
Price: $10
You'll need your own skates (or five extra bucks to rent them), but it's just $10 to skate at Church of 8 Wheels, a rink that occupies the former Sacred Heart parish and is open only to adults (thank goodness) on Friday and Saturday nights.
11. Ride a carousel round and round
Golden Gate Park
Price: $2
For two bucks, you can take a spin on the on the carousel that was built in 1914 in the Koret Children's Quarter.

12. Play dominos and sip on bourbon
Marina
Price: $6
Every Wednesday, The Dorian hosts Bourbon & Bones, where a high-caliber bourbon is poured neat or on the rocks for just $6... and they give you a set of dominos to play while you imbibe.

13. See vision in a whole new way
Fisherman's Wharf
Price: Free
The Museum of Vision is where you go to see 19th-century optometry instruments and artwork... which will make you extra happy about the invention of contact lenses and LASIK. Like your actual optometrist, appointments are required.

14. Chow down on dim sum
Inner Richmond
Price: $5 to $10
Hit up any of the dim sum spots on Clement St, like Good Luck Dim Sum, and snack on tasty delights for way under $10.

15. Discover a (kinda) hidden sculpture
Golden Gate Park
Price: Free
Inside the Osher Sculpture Garden (admission is free) at the de Young is the Three Gems, a "skyspace" tucked into a grassy mound. Take a seat on the bench and view the sky from the oculus on top.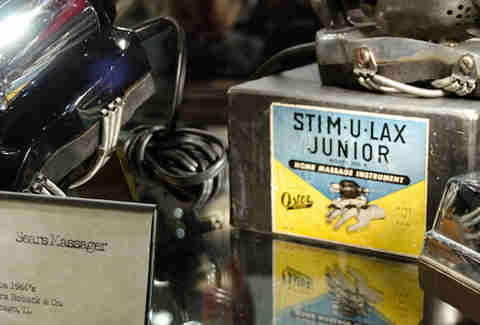 16. Find out the buzz about antique vibrators
Nob Hill
Price: Free
Every third Sunday at 3pm, there's a free tour of the Antique Vibrator Museum, featuring vibrators from the late 1800s up to the 1970s.

17. Learn all about cable cars
Nob Hill
Price: Free
From grips to tracks to detailed models and historic photographs, the Cable Car Museum basically has everything you've ever wanted to know (and probably more) about the only national landmark that moves. And it's free.

18. Eat wings, drink beer, and watch football
Castro
Price: $10 and under
Every Monday night, Hi Tops on Market St has 25-cent wings, which makes it the perfect spot to watch Monday Night Football. Or spend any Monday, really.

19. Learn how to juggle
Across from Kezar Stadium
Price: Free
The Juggling Club at Circus Center is open to anyone who wants to learn how to juggle scarves, balls, feathers, clubs, and more. Classes are every Sunday from 5 to 8pm. There's also a free Circus Skills Jam on Friday nights where you can experiment with the tightwire, clowning, and more.

20. Play antique video games
Fisherman's Wharf
Price: 1 cent to $1
The Musée Mécanique has over 300 mechanically operated musical instruments and antique arcade games, including player pianos and bizarre mechanical characters like "Laffing Sal." Most games cost a quarter or fifty cents, but there are games for as cheap as a penny if you look hard enough.
21. Explore an octagon house
Cow Hollow
Price: Free, but donations are appreciated
There are just two octagon houses left standing in SF, and you can visit the one in Cow Hollow from 12pm to 3pm on the second Sunday and Second and fourth Thursday of each month except January. There's no entry fee, but donations are "appreciated," which means you need to throw down five bucks.

22. Lick a couple of ice cream cones
Mission
Price: $9
For just under $10, you can get two single cones (one to two) flavors of Bi-Rite Creamery's famous small batch ice cream. Flying solo? A sundae is $8.50 and will eliminate all of the pain of eating ice cream alone.

23. Go wine tasting
Treasure Island
Price: $10
Every Saturday and Sunday from 1 to 5pm, Treasure Island Wines opens its tasting room where you get six to eight tastes for 10 bucks (which is even refunded if you by a bottle).

24. Tour a chocolate factory
Mission
Price: $5
Get a look into bean-to-bar chocolate making at Dandelion Chocolate. The $5 fee includes a hot chocolate gift card, which makes it a pretty sweet deal.

25. Get cultured
All over SF
Price: Free
If you're an SF resident, then you can go to a bunch of different museums for free on certain days of the month.

Sign up here for our daily San Francisco email and be the first to get all the food/drink/fun SF has to offer.
Daisy Barringer is an SF-based writer, which means pretty much all she can afford is free. Tell her your best free things to do on Twitter @daisy.