Warning: we're about to suggest some pretty crazy things and the idea of building apartments in a public park likely will piss some people off and cause them to experience Internet Outrage, which is a real disease that affects millions. It's all good, though; we don't necessarily think we should actually destroy all of the parks in lieu of high rises. We just wanted to take a moment to think outside of the box about a problem no one can stop discussing: the housing shortage in San Francisco.
Since we're better known for picking good burgers than we are for solving world issues, we made sure to run our proposals by an expert in the form of Kristy Wang, the community planning policy director for SPUR, a non-profit that promotes good planning and government in the Bay Area. And uh, SPOILER ALERT: there was one idea she actually liked! Still, she does remind us that none of our ideas are necessarily even needed at this point in time. "It's not that there's a shortage of land to build on in San Francisco right now," she says. "It's that there's a shortage of money to build." Politics, man. Politics.
Proposal 1: Build a man-made island off of Ocean Beach
The proposal: Sure, it sounds crazy, but artificial islands go all the way back to ancient Egypt and are a great way to expand housing options. You're probably thinking, "But how would you BUILD an island in the OCEAN?" and so were we, but luckily we found this article that gives us all of the answers! Viable options for the Pacific Ocean might include living on a gigantic ocean liner that's as big as a city or building sea towers that are rooted to the ocean floor and rise high into the sky. It should probably be car free, but a bridge could take people back and forth on foot, bike, Segway, or golf cart.
The community planning policy director's take: "I think it's good to think outside the box... " BUT, "This one would be a big cultural challenge because the coastline is something people value for both aesthetic and environmental reasons."
 
Proposal 2: Fill in streets with houses
The proposal: Do we really need to be able to drive a car down every single street? Think about it: we give SO much space to just the idea of a car in San Francisco. Why not find the widest streets with the least amount of off-street parking, shut them down to traffic, build housing right down the middle, and then add cobblestones and benches and plants? Activist Steve Dombek actually had this idea before we did and created a really thoughtful rendering of how it might all shake out if done on McAllister. And in his version, there's still room for cars! It could really be done with many streets, but Townsend and Guerrero seem like good candidates.
The community planning policy director's take: "We've done the reverse in terms of creating expressways and taking down people's homes, and it does seem like there are some streets in San Francisco that have more capacity than they need in terms of cars and traffic and the infrastructure is already there," BUT... "This is another political one. Still, I don't know if there are any huge reasons why this couldn't happen."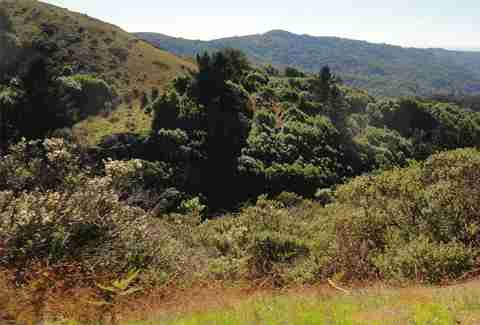 Proposal 3: Build on one of those "extra" hills
The proposal: Yes, we love Twin Peaks and Mount Davidson, but be honest: when's the last time you went to either? Would you rather know Twin Peaks is there in case you feel like getting high somewhere with a view or have your rent not exceed $15,000 a month?
The community planning policy director's take: "Part of living in this city is that we don't live in wall-to-wall asphalt and concrete. Plus, people want to live in San Francisco to have those views and those places. It's also really expensive to build on hills, and there's no existing infrastructure, so it's not a good bang for your buck."
Proposal 4: Build on the outskirts of John McLaren Park
The proposal: John McLaren Park is 317 acres, making it the second-biggest park in SF. And if you go there, it always seems almost completely deserted. There have to be parts that are barely used where we could build some much-needed housing, right? There's a whole stretch of land by Geneva Ave to the east of Crocker Amazon Playground that seems like it might make a nice place to live.
The community planning policy director's take: "I was just there! Still, while McLaren Park is not an iconic part of San Francisco, and I will not argue there aren't very many people there, it's important to have parks and places outdoors for people to walk and hike and take a break from their unnatural settings. It's also really important to keep those natural resources. We need a place for storm water to be absorbed and native plants to grow. Plus, it's in a lower-income part of the city, and we really shouldn't take away their resources."
 
Proposal 5: Build housing into the hills
The proposal: We're not saying we want people living in basements and bomb shelters like in Beijing, but is there a reason we can't create earth shelters and underground housing? An architecture firm in Mexico City drew up plans for a 300-meter-deep inverted pyramid that would house 5,000 people. And in Adelaide, South Australia, 80% of the population lives in subterranean homes carved from rock. Instead of massively changing the landscape on the outside, why not change it on the inside?
The community planning policy director's take: "That sounds difficult, if only because of the infrastructure. How will the people get access to sewers and power? Are you building roads or are they hiking to their home? Plus, there are building requirements around light and air. Earth sheltering might make sense in a lot of places but not in SF."
Sign up here for our daily San Francisco email and be the first to get all the food/drink/fun SF has to offer.
Daisy Barringer is an SF-based writer who kinda thinks living in a sea tower would be fun. Her Saint Bernard, Monkey, disagrees. Follow them both on Twitter: @daisy.