Eventually you're going to turn 30 (or, Jesus Christ, you're already 30... gross). Either way, there's really only one way to tell if you did your 20s right in San Francisco, and that way is reading through this list and being able to check off a respectable number of things.
1. Secure a rent-controlled apartment
And then realize you may have to grow old with five Craigslist roommates.

2. Live in someone's converted living room
Also acceptable: converted dining room. Also ALSO acceptable: converted screen-printing room.
Recommended Video
Winter Starbucks Beverages Around The World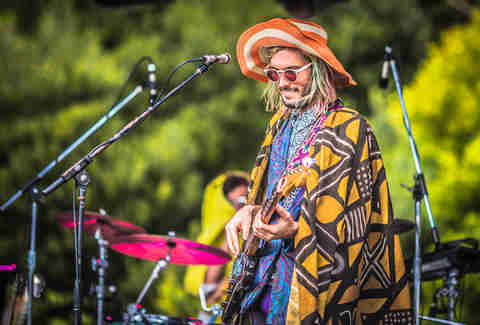 3. Go to all three days of Outside Lands
If you attempt this after 30, know that you'll probably need Icy Hot, orthopedic shoes, and all the Advil.
6. Get all your furniture from the street
7. Put the couch back on the street when you realize it smells like pee
8. Dance on the platform upstairs at Fiddler's Green
Leave early to get In-N-Out.

9. Hook up on a roof
10. Wear a Giants T-shirt with a cheeky slogan
"Don't touch my Posey" gets less cute the older you are.
11. Sample ALL the special treats in Dolores Park
Just maybe not in the same day.

12. Eat a bacon-wrapped hot dog on Mission St at 2am
Walk a block; get another one. Don't regret it in the morning.

13. Drink a 40 at brunch
Because you're classy AF.

14. Drink wine from a bag on your way to Napa
Because you're classy AF.
15. Get super sweaty at Beauty Bar
Ditto Delirium, Double Dutch, Edinburgh Castle, and Comet Club.

16. Hookup in a bar bathroom
Just not any of the ones listed above. Even 20-somethings have their ick limits.

17. Pull an all-nighter with your startup
Kind of even like it.

18. Caption your Instagrams non-ironically "Work Hard. Play Hard."
And then, seriously, STOP saying that.

19. Start a blog
Will also accept earnest, themed Instagram/Twitter accounts.

20. Dance to the '90s cover band at Maggie McGarry's
21. At 1am, no matter where you are in the city, make sure you get to East Side West's dance floor
Pro tip: there's a semi-secret back entrance usually reserved for girls.

22. Dine at El Farolito at 2am
Bonus points if you just came from East Side West's dance floor.

23. Dance until 4am at DNA's Booty SF
24. Try, in vain, to find an after-hours spot
End up having a private dance party in your living room/bedroom.

25. Only go to Oakland for shows at the Fox
Even though there's so, so much more to it.

26. Take a cab back from Oakland because you missed BART
Midnight came so fast!
There's a reason they're called "Bad Decision" bars.

28. Dance 'til bar close on a Monday night at Madrone's Motown Monday
29. Get off Muni in order to throw up
Still make it to work on time and crush it.

30. Make out at the Make Out Room
31. Sneak into a hotel pool
32. Get on every dating app
Even the one that was invented 15 minutes ago.

33. Come up with an app idea!
It's a dating app, isn't it?

34. Wonder if you're actually dating the person you've been hanging out with for the last six months
Spoiler alert: you're probably not.

35. Go to ALL the fests
Union St, North Beach... they're all kinda the same. Except Folsom St. That's very, very different.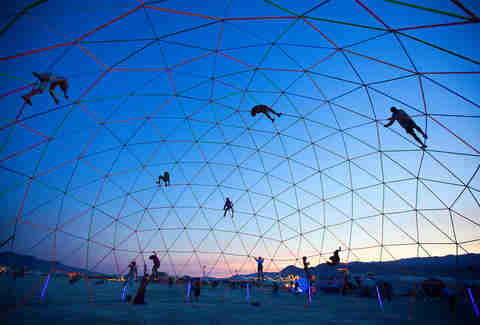 36. Go to Burning Man
37. Get kicked out of Zeitgeist
... whether you deserved it or not.

38. Play beer pong at Bar None
39. Slide down the slide at Slide
40. Sneak into a splashy tech party
Practice your elevator speech for your dating app idea.

41. Fall asleep on Caltrain, Muni, or BART
Wake up in San Jose, Ocean Beach, or Pittsburg/Bay Point.
42. Steel a Moscow mule mug or a Lagunitas Mason jar
When you get older, you realize you could just buy these things.

43. Don't bring a jacket out, even though you KNOW the fog will roll in
Fashion over comfort.

44. Date a Cal water polo player
Obviously.

45. Start drinking at 6am
Bonus points if it's at Clooney's.

46. Attempt to date/hook up with a bartender
Lose your favorite bar in the inevitable fall out.

47. Eat a grilled cheese made from a hot plate at Thieves Tavern
Chase with a beer and a shot. Call it "dinner."

48. Let bottomless brunch turn into a late-night dance party
49. At 2am, realize you haven't left Chestnut St in 14 hours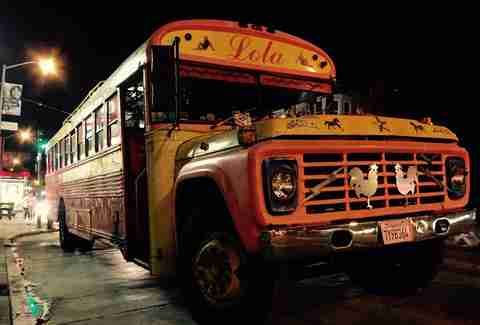 49. Celebrate something (anything) on a themed party bus
Especially if it's one of these.

50. Spin a drink/shot wheel
51. Go to the Gold Club on your lunch break with your co-workers
Nothing like midday strippers and fried chicken to unite a team. This isn't a HR violation whatsoever.

52. Take shots of Fireball
You'll probably need to do this before 25, when you have the highest tolerance for disgusting things.

53. Go to just one more bar

Sign up here for our daily San Francisco email and be the first to get all the food/drink/fun SF has to offer.
Amy Copperman is a regular contributor to Thrillist who can check off 42 of these... she's not tellin' which. Help her tick off the remaining 11 on Twitter: @acoppergirl.