Let's face it, your dog is cooler than most of your friends. The East Bay is overflowing with dog-friendly places to brunch, drink, hike, eat, and explore with your pup. From majestic views to delightfully divey places to nurse a cold beer, these spots deserve your doggy patronage. So show the little beast some love and let 'em in on the fun.
2701 Isabel St, Richmond
Stefon would be proud, this place has everything. Your pup can run free, unbound by spirit-crushing leash laws, at this 23-acre park. Walk the San Francisco Bay Trail and snap Insta-worthy shots of Marin and the Golden Gate Bridge along the water's edge. After your mutt has had its fill, relax with coffee and snacks at the Sit & Stay cafe, while Mudpuppy's grooms your dirty-ass dog. No muddy paws in your car!
The Cool-Kid Joint: Mad Oak
135 12th St, Lake Merritt, Oakland
Mad Oak is where you want to be all the time -- its roof patio, open-air warehouse space, and reclaimed-wood-covered bar make it the perfect hangout for four-legged friends and humans alike. Tell Fido to stay while you sip on mind-melting, local and national microbrews or craft cocktails. To top it all off, there are super-friendly bartenders, a pop-up kitchen serving fresh food each night, and a photo booth for you and your dog to mug it up for your holiday cards.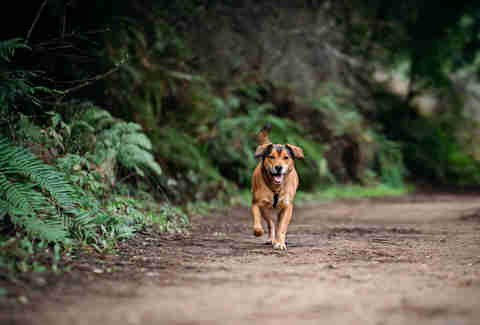 THE NO-BRAINER SPOT: EAST BAY REGIONAL PARKS
The East Bay Regional Park District rules and is the largest in the country. Containing 65 parks, 120,536 acres, and 1,250 miles of established trails, you and your dog could spend days exploring. Pups are welcome almost everywhere in the park system as long as they're leashed. If you're in Oakland, hit up Redwood Regional Park or head further south to Lake Chabot to enjoy a hike and a picnic.
The Deep East Caffeine Spot: Coffee Shop
50 Lafayette Circle, Lafayette
This coffee shop on the other side of the Caldecott is near perfection and their huge, sunny patio is very pet-friendly. Bring your dog along to help you actually do well at trivia night while you drink spiked coffee and chow down on local, organic food. Or cruise Facebook on the cafe's fast and free Wi-Fi while your dog gets his damn work done online -- y'all have bills to pay and chew toys to buy.
THE SWIM-WITH-YOUR-MUTT SPOT: LAKE ANZA
Lake Anza Rd, Tilden Park, Berkeley
Round up your (dog) crew for an afternoon lake romp in Tilden Park. The perimeter Lake Anza Trail is a mellow hike (and by hike we mean a less than 1.5 mile walk) and offers a gorgeous break from city life, as well as frequent beachy swim stops for the dogs. Scope the water safety online before you go, for bacteria that could be harmful to doggies.
THE INDULGE-YOUR-DOG SPOT: PACO COLLARS
2905 Shattuck Ave, Berkeley
Ana Poe's Berkeley shop specializes in artisan dog collars (seriously). If you doubted that high-end collars could last, Paco's has been rocking a storefront for 15 years (across from the famous supermarket Berkeley Bowl, naturally) and offers the coolest, fanciest, kickass-est collars around. Think hand-tooled leather and craftsmanship, as well as tough-looking buckles and even rhinestones if you're so inclined. Your rescue pup deserves the love.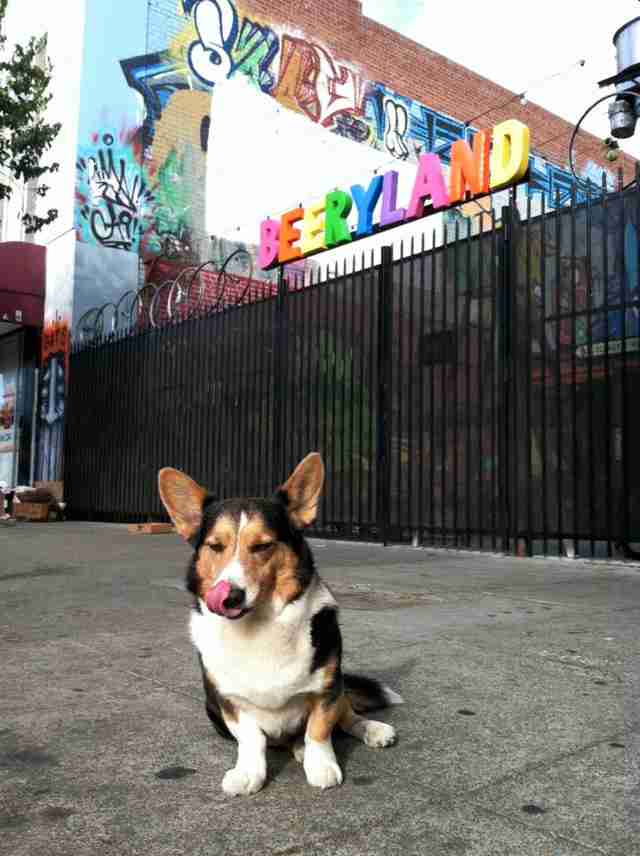 2318 Telegraph Ave, Northgate-Waverly, Oakland
Come here if you love beer, sunny patios, kickin' with your dog, and eating ridiculous burgers. This First Friday hotspot has a ton of outdoor space with sturdy wood picnic benches and badass street art lighting up the brick walls. Vegetarians have solid food options, but carnivores should eat the Smokehouse Burger -- a half bacon, half beef patty topped with pulled pork and BBQ sauce. On a diet? Add the mac & cheese for good measure. Just don't let the damn dog steal it.
The Drink-in-the-Culture Spot: 3 Steves Winery
5700 Greenville Rd, Livermore
If you're trying to seal the deal on a third date, pack the pups and a picnic, then head east for 3 Steves Winery in Livermore. The 3 Steves Winery rocked the 2016 SF Chronicle Awards in several wine categories, has a chilled-out tasting room that won't shun your schnauzer, and sweet views of Livermore's rolling green hills. Solidify your smooth operator moves by hitting the free movie night, held on the third Friday of the month through September. Not too shabby, eh?
7000 Del Valle Rd, Livermore
Ten miles south of 3 Steves Winery is the rolling beauty of Del Valle. Featuring a beautiful lake -- which allows doggy swimming everywhere but East and West Beaches when bacteria levels aren't too high -- the green hills of the park are a sweet way to work up your grape appetite before a visit to a local winery. Dogs are welcome with a $2 entrance fee, and you might catch sight of wildlife like pheasants, tarantulas, or elusive bobcats.
The Comfort-Food Spot: Homeroom
400 40th St, North Oakland
Oversized bowls of grownup mac & cheese, a sidewalk patio with excellent people watching, and dog treats available for your (doggy) date. The Gilroy Garlic is their heavy hitter, a simple but rich gouda-based mac, or go pro by adding in artichokes, sausage, and jalapeños. If you grab a seat outside, you can watch your mutt watch you enjoying cheesy goodness.
1000 Embarcadero, Jack London Square, Oakland
Born of an Oakland local husband and wife team, this water-side biergarten will bring your dog's German beer-drinking fantasies to life (didn't think he had any? Guess again). You can even feed your dog one of Brotzeit's 10 house sausages. With the view of the estuary, your dog at your feet, and a smorgasbord of beers on tap, life will feel pretty fine. There's even dockside parking if you came by boat with your dog as first mate.
2099 Grand St, Grand Marina, Alameda
Great coffee, dog-friendly vibes, and a light menu of locally sourced scrambles, croissant sandos, and crepes feed your morning soul at this tiny waterfront walk-up joint. You'll feel like a hardy sailor, watching the morning mist over the marina with a Bicycle coffee in hand and dog at your side. Except instead of scurvy-worthy sailor's fare, you can opt for house-made gluten-free pastries. Mosley's is tucked way back from the street, so keep walking around toward the water to find the six stools overlooking the bay.
Grand Lake, Oakland
If you're not so keen on nature, hit up the Heart and Dagger Saloon after ambling around Lake Merritt -- which has 3.4 heart-shaped miles of shoreline perfect for dogs (and humans too, we guess). There's a dog-friendly patio with plenty of shade -- and, of course, plenty of beers for you too -- so you can say you both racked up some outdoors time.
2080 4th St, West Berkeley
It's a scientific fact that we study more efficiently with our dog nearby (for real though). Catahoula knows it, too, and they welcome your best friend and your books. So drink a dreamy Mexican mocha, eat a mochi muffin, and live the good life while studying up. The original Richmond (12472 San Pablo Ave) location hosts community events, bands, and has kickass local touches like a wood table built from an 1800s bandsaw and planks from the old Cal stadium bleacher seats. Oh, and so you know, a Catahoula is a dog breed originating from deep Louisiana.