The Best Beaches in San Francisco
When the fog clears, you can't beat these views.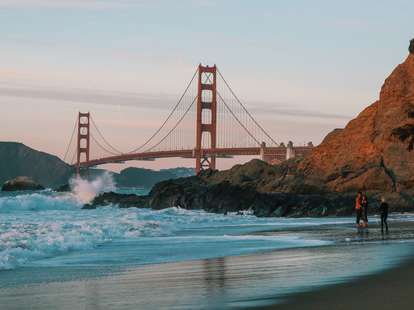 When people think of San Francisco, the word "beach" rarely comes to mind, but we actually have some of the most beautiful beaches in the world. (Are we biased? Yes. Does that make it untrue? Absolutely not.) That beauty is mostly a result of the views, specifically the ones of the Golden Gate bridge that connects the Pacific Ocean and the Bay.
And while our beaches aren't the kind that people dream of when they think of California, we'll take glacial water, staggering cliffs, abundant wildlife, and stunning views over crowds of sunbathers and surfer bros any day, even if it does require donning a puffy jacket 99% of the time.
If you prefer your beach day without a winter jacket, your best bet is to do is the exact opposite of what most of the world does and go in any of the months that aren't summer months, especially if those months are September or October when sunshine and shoreline come together and you can actually take off your shoes to feel the sand beneath your toes.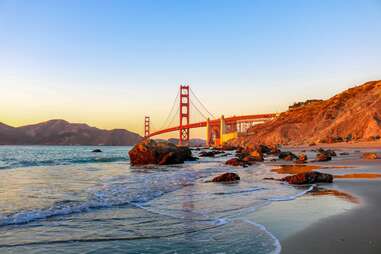 Presidio
Marshall's Beach, the most secluded beach on this list, is like a mini Baker Beach but without the crowds. (The nudists, on the other hand, are just as prevalent, if not more so.) The beach has views you'll never get sick of—perhaps the best of the Golden Gate Bridge from outside the Gate—and is hidden amongst steep cliffs, which is one of the reasons it's so popular for people who want to literally let it all hang out. If you prefer to avoid frostbite, it's also a great spot for bird watching, probably because dogs aren't allowed.
What to know: Keep in mind, the reason this is SF's most secluded beach is because it's also the hardest to access. Not that it's actually that difficult, but you do have to get there by foot on the Batteries to Bluffs Trail (about 10 to 15 minutes depending on which direction you come from). One thing to keep in mind: the beach is pretty narrow and can be almost completely submerged during high tide, so check the tide times before you go.
Lakeshore
If we were a dog, then Fort Funston would be our favorite beach in SF by far. That's because this former harbor defense installation is the most off-leash dog-friendly beach in the city. There are always pups of all breeds and sizes running on the beach, playing fetch, and generally living their best lives. The beach has literally (but not at all metaphorically) gone to the dogs. Humans go there to hang-glide (the cliffs are 200 feet), check out the WWII ruin Battery Davis, hike through the dunes, appreciate native plants, and pet every single good boy and girl that asks.
What to know: Fort Funston has lots of trails to explore, including the very steep one down to the beach that's a breeze to get down, but a small form of torture to climb up. The surf and undertow can be extremely dangerous, so steer clear if you're not a strong swimmer and keep a close eye on any children.
Treasure Island
Everyone talks about how foggy San Francisco is, but one aspect of our weather that doesn't get as much airtime is the wind. During the summer, the ocean is still super cold, but the inland areas get really hot, and, fun fact: the cool air moves inland because high pressure (cold air) always flows to low pressure (warm air). This is what brings our beloved fog ashore, as well as that gusting wind. Wondering why the wind gets even more ferocious in the afternoon? That's because it gets even warmer inland as the day progresses, but the ocean temp doesn't change.
Now that our science lesson is over, we can get to our point, which is: because fog and wind travel through gaps, during summer months, the best beaches to visit are the ones that are protected. Which, as you may have guessed from the "cove" part of their name, is a category into which Clipper Cove definitely falls.
What to know: You'll still want to go earlier in the day since much of the beach ends up in the shade in the afternoon, but that actually works out well because as the shadows start to creep across the sand, that's your sign that it's time to go to Mersea, a cool shipping container-style restaurant, for fish tacos and a margarita.
Seacliff
On a warm weekend, Baker Beach is going to be crowded and parking is going to be impossible, which is why those in the know, which is now you, go to China Beach, a tiny sheltered cove between Lands End and Baker Beach. While the views are almost as amazing as Baker Beach, China Beach is a lot smaller, which means if it's above 75 degrees and sunny, you'll still want to get there early to snag a good spot. When the sun isn't shining, China Beach is still warmer than most other beaches, a major perk of the whole "sheltered cove" thing. At low tide, check out the tide pools or walk to Baker Beach to see starfish, anemones, and mussels clinging to the cliffside. (Just don't linger too long unless you want to be cut off by the rising tide and forced to take the long way back—about 15 minutes walking through a residential neighborhood.)
Besides being sheltered, other perks of China Beach are a picnic area with grills and a monument to the Chinese fisherman who used the cove as a campsite during and after the Gold Rush.
What to know: The beach is part of the Golden Gate National Recreation Area (GGNRA), which means that you can drink beer and wine, as long as it's not in glass containers. Dogs, on the other hand, are not permitted.
Lands End
A relatively short walk along the Lands End Trail will bring you to the staircase that leads down to this tiny, rocky beach with views of the foundation of the Mile Rocks Lighthouse that was mostly demolished in 1966. Even if you're just stopping for a break on your hike, it's worth it to take a minute to visit this tranquil spot, grab a seat on a log, and watch the Pacific crash against the boulders and spray up into the air. Even better if you do it at sunset with a can of wine in hand.
What to know: The trail to get to this beach is about one mile from the visitor center and the 243-staircase is unsigned so it's best to bring a map with you.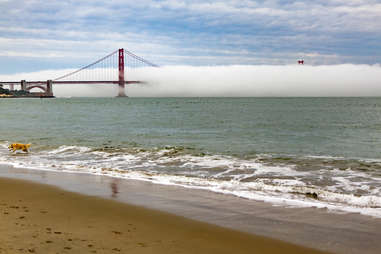 Marina/Presidio
What was once a US Army airfield is now a true San Francisco treasure. If you're new to SF, you may not be aware that Crissy Field wasn't always a 100-acre recreational wonderland; in fact, it was literally toxic thanks to the dumping of hazardous materials by the aforementioned Army. But let's let the past be the past and just be thankful that the National Park Service and Golden Gate National Parks Conservancy teamed up to bring what they described as "a derelict concrete wasteland" back to its original glory and then some. Their hard work and dedication transformed it into one of the prettiest places to visit in the city, thanks to dunes, a tidal lagoon, excellent bird watching, kiteboarders and windsurfers, and all of SF's greatest hits views, including Golden Gate Bridge, Alcatraz, Angel Island, the Downtown skyline, and the Marin Headlands.
Set up a picnic and grill hotdogs and hamburgers, grab a sandwich at the Warming Hut, or explore Fort Point (an impressive piece of "Third System" architecture that sits directly below the Golden Gate Bridge and is not technically part of Crissy Field, but is on the same promenade). The most popular spot for a true beach experience is East Beach, which is where you'll watch kite surfers fly through the air, and can even wade in the water since this is Bay water not take-your-breath-away (literally) frigid Pacific Ocean water.
If you get tired of relaxing on the sand, there's also bird watching at Crissy Marsh, more beach (and lawn) at the West Bluffs (this is also the best place to picnic/grill), the waterfront promenade where you can walk, jog, or bike, as well as tons of other spots where you can just kick back with your dog, a beer, and that sandwich from Marina Subs you were smart enough to pick up on your way.
What to know: Parking can be found in beachfront lots west of the Marina gate. If the wind and fog become too much, you can escape in the aptly named Warming Hut with a mug of hot chocolate. Fishing and crabbing without a license is permitted at Torpedo Wharf at the west end of Crissy Field.
Presidio/Inner Richmond
Mountain Lake Beach is one of SF's last surviving lakes and is totally under-the-radar. The 1,700-year-old freshwater lake and surrounding area were recently restored, which means native species are slowly coming back, and the animals are living their best lives. (If you even dabble in ornithology, you'll want to bring your binoculars.) This is definitely more of a "pack a picnic and enjoy a quiet afternoon" type of spot than a "gather a bunch of friends for a party" type of spot. If you're in the need for a little moment of serenity, you're almost guaranteed to find it here.
What to know: The lake can be reached via the Juan Bautista de Anza National Historic Trail​, or visitors can bus, walk, or bike in from the Inner Richmond.
Presidio
Thanks to "this is why we live here" outside-the-Gate views of the Golden Gate Bridge and the Marin Headlands, Baker Beach is frequented by locals and tourists, as well as brides and grooms wanting to get that perfect wedding photo. Also: naked people. At least on the north end where clothing is optional, a thing more people than you'd expect take advantage of considering how cold it usually is.
The view (of the bridge, not the naked people!) isn't the only thing that makes this mile-long beach the most popular in SF. It's also dog-friendly and has a picnic area with grills tucked away in a Cypress Grove right off of the parking lot. Nearby, there's also an interesting piece of history: a Battery Chamberlin, which holds the last "disappearing gun" of its type on the West Coast.
As far as the weather goes, it's hit or miss. On sunny days, it can definitely be warm enough to lay out in a bathing suit, and on foggy and windy days, you'll want to wear whatever it is you wear in the snow. Regardless of the weather, you definitely don't want to go into the water because the currents and rip tide are no joke.
What to know: Dogs are only permitted off-leash north of Lobos Creek and must be leashed to the south of it. Head to the beach early to get decent parking and a grill at the picnic area.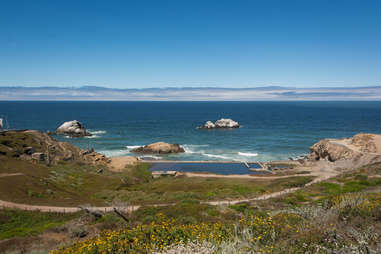 Sunset and Richmond
You'll occasionally see people dropping in at Fort Point, but when it comes to consistent and quality surf spots in SF, OB easily takes the prize. (And not just because there really aren't many others, although also that.) The 3.5-mile-long beach spans from the zoo on the south to the Cliff House (R.I.P.) on the north—and is also SF's widest beach by far, so even on the hottest day of the year, it's still easy to find a spot to chill.
Ocean Beach is also popular because of its 16 fire rings where you can build fires from 6 am to 9:30 pm from March 1 to October 31. They get snatched up quickly on the weekends, but if you get there by 6 pm during the week, there are usually a couple available. If you want to see something totally novel, go when the tide is very, very low, walk to Ortega Street, and try to see the ribs of the hull of "King Philip" sticking out of the sand just offshore. It's one of 20 ships that wrecked on the beach between 1850 and 1926. It's a rare occurrence (only happens every couple of years, if that), but it's very cool when you catch it.
What to know: Like almost all of SF's beaches, you should not go in the water due to a strong shore break and monster rip currents (seriously, Ocean Beach is one of California's deadliest beaches due to drownings), but you can let your dog play off-leash from stairwell 1 (Fulton Street) to stairwell 21 (across from Beach Chalet). Just make sure he's on a leash between Lincoln and Sloat because tickets are a common occurrence for beach-goers who break the rules.
Sign up here for our daily San Francisco email and be the first to get all the food/drink/fun SF has to offer.
Daisy Barringer is an SF-based writer who, as a teenager, fell asleep hidden in the dunes of Baker Beach on a Thanksgiving family outing. Don't worry; the turkey didn't burn. Her family couldn't find her, so they went home to make sure dinner wasn't ruined (before sending someone back to fetch her). Follow her on Instagram @daisysf for more "fun" stories like this.