Now that weed is open to recreational use in SF -- meaning no medical recommendation needed -- you're probably wondering where to go to LEGALLY cop some dank flowers (or oils or vapes or edibles or... you get the point). Well, we've got ya covered. From farm-to-bowl boutiques and sleek pharmacy experiences to high-tech speakeasy-like lounges, these seven dispensaries epitomize the recreational cannabis scene in San Francisco and will make sure you leave a very satisfied customer.
Recommended Video
Turn Your Old Fruit Into Booze With This New Gadget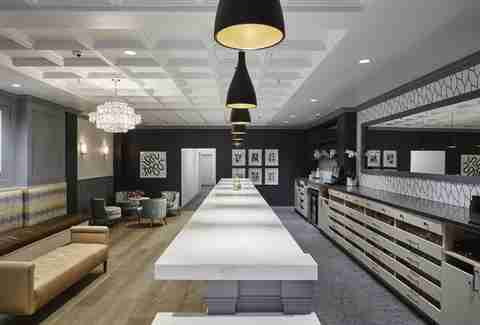 Marina
The three Apothecariums sprinkled throughout the city represent the high-end future of cannabis. Each one recalls the lobby of a stylish, boutique hotel or extremely fancy dermatology office. The Castro location even won Architectural Digest's award for best cannabis space in the country. If you're looking for 1-1 consultations with a knowledgeable budtender in a location that makes you feel like stoner royalty, this is your jam. Not only do they offer impeccable service, but the organization is committed to community engagement -- it hosts education events for healthcare professionals and medical patients and has donated more than $350,000 to local nonprofits since 2011. Grams start at $14 and eighths at $25 for a "mixed melange," and you can get a pre-roll for $7. Head there on Thursday to get 20% off select vape pens, to boot. Order online for pickup or delivery.
SoMa and Haight
Swap bud for tech, and this sleek space could easily be an Apple store. You'll get the same care you would from the Genius Bar, and you can be sure that each product has been through rigorous testing for purity and strength. Peruse the extensive menu from a big screen behind the counter if you know what you're after, or rely on the patient and knowledgeable staff to walk you through the offerings and explain the difference between the strains. Products range from home-grown flowers to the famous Dolores Park truffles, once hawked by San Francisco's most beloved pot dealer who's recently taken his operation legal. That's right, Sparc has scored the coveted Truffle Man chocolates that now come in a fancy art deco box -- a potent sign of the times. While you can't smoke on sight, you can take advantage of the vape lounge, and becoming a member gets you access to game nights and special cannabis events. Delivery service and online ordering available.
SoMa
Modeled after the Amsterdam coffee shops and recalling San Francisco's prohibition past, this bar-like dispensary is doing its part to bring a little old SF glamor to the cannabis scene, while offering state-of-the-art smoking, dabbing, and vaping tools. While the exposed brick, art deco wood paneling, and red textured walls certainly lend a speakeasy vibe, there are give-or-take a billion rules -- and if you're there with the happy hour crowd, the staff won't have time to tell you any of them. Here's the deal: Once you've registered at the front, waited in line, signed up for its rewards program on iPads, and ordered your bud from the counter (try an infused sparkling water to complete the bar vibe), head to the back lounge where you'll need to check in with another host. Trade a driver's license for a pager-type thing and borrow any smoking accessories you need before heading into the haze. Here plush purple leather booths, chandeliers, and four big screen TVs await. No pictures. With a group? The money spot is the front couch space by the window where you can kick your feet up. Just when you're getting really stoney and comfortable, your pager will start aggressively beeping at you, which means your time's up in this magical, stylish weed haven -- not that anyone told you that. If that feels like a paranoia-inducing buzzkill, it's cuz it is. But it's not all bad! Once you're dumped back on the street in your new altered state, you'll realize Mission Street between Fourth and Fifth is its own kind of choose-your-adventure experience, which if you're anything like me will take you on a French fry hunt through Westfield Mall while you contemplate buying a tube top and eventually find yourself changing in a bar bathroom.
Soma
Bright, clean, and mellow with a few stools where you can hang out and partake, Bloom Room is your friendly down-to-earth neighborhood shop. The budtenders have time to offer a little more personal care and attention here and the chill vibe is a little more stoner-friendly… meaning if you're new to cannabis, you can count on guidance and suggestions. While most joints run from $12-$32, you can sometimes score a $5 joint of shake, which is a blend of strains -- consider it the Tecate deal of weed. Join the collective and get access to community events, product samplings and demos, and even free professional massages.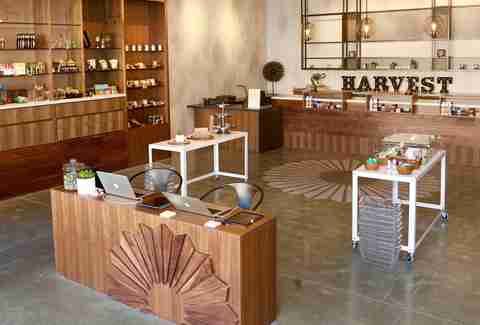 Inner Richmond and Mission
Harvest is the Whole Foods of weed shopping, proclaiming a "farm to feeling" experience with all-natural products that are independently lab tested. They even give you a hand basket while you shop, and unlike most dispensaries the products are not behind glass or a bar so you can browse like you're in a fancy health foods store -- and with every type of organic edible, tincture, ointment, lotion, and rub you can imagine, that's basically what this is. Join the collective and get access to the back lounge, a sleek Wi-Fi and outlet-equipped space where you can smoke, vape, or dab on leather chairs.
Lower Nob Hill
Located on the corner of Polk and Post with a relatively late closing time (10pm), this petite, discreet storefront is prime for wild nights bar crawling through Polk Gulch -- and the lines recently mean people have definitely caught on. Like many other newly recreational dispensaries, this established collective (they've been offering medical cannabis for 10 years!) is still navigating the new era of heavy regulation, so lately the experience has been less consistently awesome. Sometimes they accept credit cards, sometimes they don't (there's an ATM on site, though). Sometimes the line stretches down, sometimes you can walk right in. And pricing has been in flux. These days pre-rolls go for around $15, but you can score a house cone for under $10 (pre-tax). What really makes this place shine though is its massive menu (which they keep updated online if you're looking for more efficient service) and the knowledgeable, friendly staff. We love a budtender that's patient enough to hear what you're looking for and can offer recommendations while guiding you to the best deals and values. They also deliver.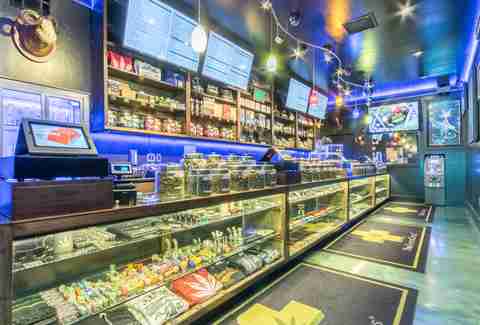 Excelsior
Hit more than a couple of SF's dispensaries, and you'll get the distinct sense that businesses in the era of regulation are desperate to shed weed's misunderstood reputation with their crisp, white interiors and painstaking professionalism. That's understandable -- and likely necessary -- but if you're looking for a more relaxed scene head to The Green Cross, which while no less professional, has a small-business vibe some of the posher dispensaries lack. The blacklight, neon, and psychedelic art are a little nod to marijuana's youthful stoner side and sets this spot apart from the pack. Pre-rolls run for $15 and the online menu noted eighths starting around $30, pre-tax. Cash only.
Sign up here for our daily San Francisco email and be the first to get all the food/drink/fun SF has to offer.