San Francisco is a free outdoor art gallery with more than a thousand works of public street art -- but nearly half of these are concentrated in the Mission District. Where can you check out street art that's not in the Mission, and where do non-Mission neighborhoods get their street art cred? Let's take a break from complaining about Mission District hipsters and check out the best street art installed in neighborhoods that us non-millionaires can realistically still afford.
Tenderloin
Unforgettably haunting when seen in person, this mural by Spanish artist Aryz is four stories high and gazes down upon the corner of Eddy and Polk streets. The sepia tones and rural vibe of Rotten Apples give a fresh perspective to the Tenderloin neighborhood, and many of us are suckers for the little floating burlesque top hat/chapeau.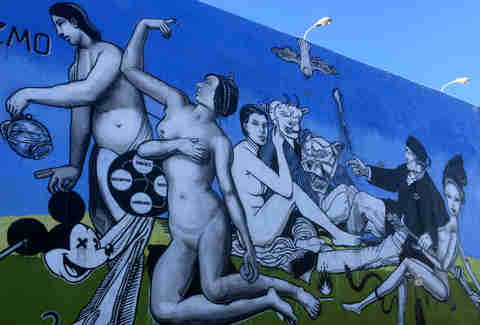 Tenderloin
Yes, that Mitchell Brothers O'Farrell Street Theater. The Mitchell Brothers' theater has long been one of San Francisco's tackiest building exteriors, with its sexist marquee and unforgivably bad whale mural on the western side of the building. But the place got an upgrade this summer, complete with a Guernica mask, naked Barbie doll, and the severed head of Mickey Mouse.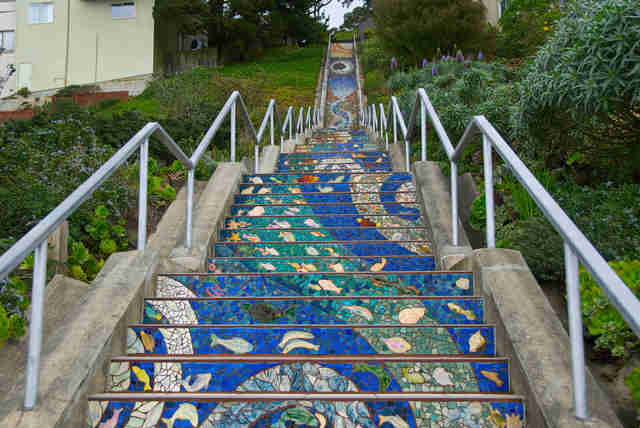 Sunset
You cannot properly take in the 16th Avenue Tiled Steps Project by looking at a photograph, as its 163 steps of mosaic magic create a "sea to stars" scene when viewed from a distance. Up close, you can check out the handcrafted tiles and ceramics that make up this Sunset staircase, and many of the project donors' names are etched into the tiles. Try to find the tile with the phrase "Eat My Shorts" etched in.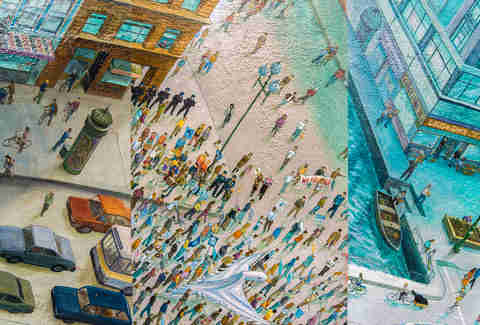 Duboce Triangle
Technically, the Market Street Railway mural is not even on Market Street. But Mona Caron's epic historical mural is just 200ft away, at the intersections of Church and 15th streets. Providing a delightful walk through the decades of San Francisco history, the mural can also be viewed online via an interactive tour.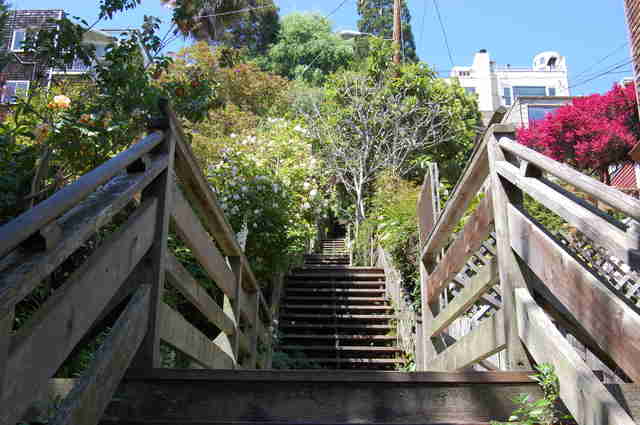 Telegraph Hill
The Filbert steps might be better known as the "stairs to Coit Tower," except that they're not really "known" at all. This little-known gem of a neighborhood is also a dazzling arcade of hidden statues, sculptures, and art. Climb the steps for panoramic Bay views, incredible flowers, Art Deco architecture, and occasional brushes with the famed parrots of Telegraph Hill.
Balboa Park
This is a real, genuine Diego Rivera mural, as evidenced by the presence of his lovely wife Frida Kahlo. But there's a whole lot more to this gigantic, 10-panel fresco that depicts the San Francisco art scene in the 1930s. Take a look during daily limited hours at City College of San Francisco.
Duboce Triangle
Many a Critical Mass has ridden by this 6,000sqft representation of the San Francisco bike path known as "The Wiggle." This panoramic piece was painted by Mona Caron, who was recently profiled by Public Radio International, and its "back of the Safeway" canvas lets you gaze upon a painting of the N-Judah while actually riding the N-Judah.
Western Addition
Tourists have been amused and confounded for years by this chime-and-detritus-coated spire near Alamo Square Park, which turns out to be the actual yard of artist Ron Henggeler. The sculpture is composed almost entirely of discarded items, including structural components of the freeway destroyed in the 1989 Loma Prieta earthquake.
Tenderloin
Most of the art at the White Walls gallery is inside on its — you guessed it — white walls. But the Beauty in Tragedy  mural -- inspired by the "Alas, poor Yorick" scene from Shakespeare's Hamlet -- adorns the outside front of the gallery, and deserves special mention, since White Walls has been a driving force in the Tenderloin mural renaissance.
Various
Since this street art is literally on the street, we'd be remiss to not mention the works of Eclair Bandersnatch. You never know where you'll find these striking sidewalk stencils, though it helps if you're looking in the Upper Haight. Many of these glitter-bombed stencils have recently turned political, infusing themes of Edward Snowden, Chelsea Manning, and the Black Lives Matter movement.
Sign up here for our daily San Francisco email and be the first to get all the food/drink/fun SF has to offer.