San Francisco is known for -- among an array of many other things -- its liberal politics, so it's always a bit shocking when people who aren't Republicans talk trash about the City by the Bay. Still, we allow it, because like the old adage goes: keep your friends close and your enemies closer. Particularly, all of these "celebs" who never learned that if you don't have something nice to say, you should just shut your big famous facehole.
Ty Segall
Why he hates San Francisco: This garage rocker told Pitchfork he was moving to LA for a breath of fresh air because SF "has filled up with phone-scrolling, blank-faced wanderers." He also said he prefers "a taco to a vintage glasses store any day." Now that he's in LA, he brags that he can afford a place with a garage and an in-garage studio. Cool, Ty. You sellout.
Why he's a complete idiot: 1. Moving to LA for fresh air is not even a thing that's possible. 2. WHERE WOULD SOMEONE EVEN GO TO FIND TACOS IN SAN FRANCISCO? And 3. You don't actually have to have a garage to play garage rock, Ty. All those blank-faced wanders are scrolling, alright… right past your album on Spotify to listen to King Tuff.
Pablo Sandoval
Why he hates San Francisco: Panda was one of the most beloved players on the San Francisco Giants, but after he was traded to the Red Sox, he told Bleacher Report leaving the Giants was "Not hard at all." Not satisfied at leaving it there, he said he left money on the table in SF adding, "It is not about money. It is about how you treat the player." Awwww, someone's a big ol' sad Panda.
Why he's a complete idiot: Aubrey Huff said it best: "If you can't get along with guys like Posey, Bumgarner, Cain, Affeldt, just to name a few, then maybe it's time to look in the mirror!" Also, everyone knows Pablo just loved the idea of going to Boston because he wanted to shove excessive amounts of food in his face without being asked to get on the treadmill every once in awhile.
Merle Haggard
Why he hates San Francisco: Truth be told, we love Merle Haggard, but we do take issue with one thing in particular: that when he wrote "Okie from Muskogee," and these lyrics, he totally meant it.
We don't make a party out of lovin'
We like holdin' hands and pitchin' woo
We don't let our hair grow long and shaggy
Like the hippies out in San Francisco do.
Sometimes Merle says the song was written as satire, but he's also admitted he thought hippies "were unqualified to judge America, and I thought they were lookin' down their noses at something that I cherished very much, and it pissed me off."
Why he's a complete idiot: We're not going to talk too badly about ol' Merle since he did attempt to redeem himself with "Return to San Francisco," and also because he's Merle Haggard, but he'd be a whole lot cooler if he'd just admit those were his politics at the time and that we all make mistakes. I'm sure it's something we can work out over a bottle of moonshine. Whaddaya say, Merle?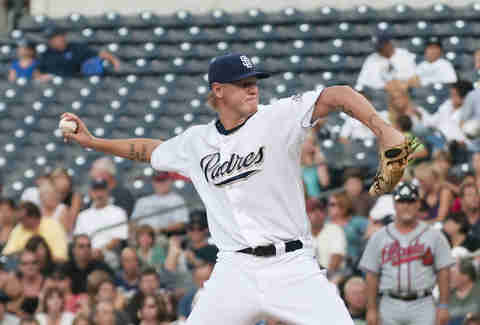 Mat Latos
Why he hates San Francisco: When Latos was pitching for the Padres in 2010, he probably thought they were going to win the NL West. But then the Giants came from behind and eliminated San Diego, and Latos has been an SF hater ever since. He's even gone so far as to sign baseballs with "I hate SF." In 2012 when he was pitching for the Reds, he said that was old news telling reporters, "I've moved on. People have moved on. The Giants have moved on. Now we'll see if the media moves on." Only problem? On that same day, he gave the Reds broadcasters a ball that said "I hate the Giants." Passive aggressive much?
Why he's a complete idiot: Sore losers are The Worst and, frankly, no one in SF cared what Latos said since we won the World Series in 2010 (and 2012 & '14). Plus, this is a dude who talks smack about every single team after he leaves it, which just goes to show he's an immature birdbrain with zero class. Also, it's spelled "Matt." With two "t"s.
Danielle Steel
Why she hates San Francisco: Danielle Steel still owns the biggest mansion in SF, but fled for Paris in 2011 telling the Wall Street Journal, "San Francisco is a great city to raise children, but I was very happy to leave it. There's no style, nobody dresses up -- you can't be chic there. It's all shorts and hiking books and Tevas -- it's as if everyone is dressed to go on a camping trip." Later, when The Chronicle said the shrubs surrounding her Pacific Heights home were "comically off-putting," Steel said, "Sometimes I think San Francisco hates successful people. No matter what I do, people say nasty stuff." Before then actually admitting she agrees the shrubs are too high.
Why she's a complete idiot: Danielle Steel is no stranger to leaving things behind, like oh, I don't know, multiple vows of love. Maybe if she focused a little less on shoes and a little more anything other than shoes, she'd see past the high shrubs that surround her heart.
David Chang
Why he hates San Francisco: At the New York Wine & Food Festival in 2009, the Momofuku founder said, "Fuckin' every restaurant in San Francisco is just serving figs on a plate. Do something with your food." His SF book signing event was promptly canceled after which he said, "I'm never gonna open a place in San Francisco." Oh no, poor us! We can't eat your chicken sandwich that's a flagrant Chick-fil-A ripoff? How will we recover from this wretched gloom?
Why he's a complete idiot: Guess which city was just named The Best Food City in the Country? It's SF, David. IT'S SF. But yeah, have fun cooking in NOT the best food city.
John Oliver
Why he hates San Francisco: When John Oliver hosted the 2013 Crunchies, he laid into the tech geeks in attendance. "You already have all the money in the world. Why do you need awards after that? It is absolutely ridiculous. You're no longer the underdogs, it's very important that you realize that. You're not the scrappy people that people get behind. It used to be that people who worked in the tech industry were emotional shut-ins who you could root for. Now those days are gone. You're pissing off an entire city."
Why he's a complete idiot: Uh, he's John Oliver. He's not an idiot; he's a genius. And in this case, totally spot on. YEAH. YOU HEAR THAT, NERDS?
Sign up here for our daily San Francisco email and be the first to get all the food/drink/fun SF has to offer.
Daisy Barringer is an SF-based writer who feels the same way about her city that she does about her brothers. She can talk shit about them, but don't you even think about doing the same. Follow her on Twitter @daisy.