Behind almost every single thing you love about this city is someone who gets paid to make it happen. After all, those cable cars don't drive themselves, those penguins at the Academy of Sciences don't feed themselves, and the Golden Gate Bridge certainly doesn't stay that majestic all on its own. Yeah, they may not get free catered lunches or rides to work on Wi-Fi enabled shuttle buses, but these seven people have it made. And while we're a little jealous of what they do, more than anything we're thankful they help make this city the treasure that it is.
Beach Blanket Babylon cast member: Shawna Ferris McNulty
If there's one show everyone in San Francisco should see, it's Beach Blanket Babylon. The world's longest-running musical revue has been charming audiences with its hilarious songs, outrageous costumes, and gigantic hats since 1974. When you go, keep an eye out for Shawna Ferris McNulty, who's played the lead role of Snow White as she travels around the world in search of her Prince Charming for 10 years (and is also a full-time understudy ready to play any of the parts at the drop of the hat).
Shawna has been going to see Beach Blanket Babylon since she was a kid, and one of the reasons she loves her job so much is because it is such a significant part of San Francisco culture.
"[Beach Blanket Babylon is] unlike anything on stage anywhere else," Shawna said. "It's an institution worth seeing. I know lot of people don't necessarily like musicals, but it's this zany show that spoofs pop culture and politics and there's truly something in it for everyone."
The show is known for its totally over-the-top customs and enormous wigs and hats, which Shawna said is one of her favorite parts about the job. Shawna wears headgear for so many different characters, including Kim Kardashian, whose costume... breaks the theater.
"We do it all. We make you groan. We make you laugh. We dazzle you with hats and costumes and musical numbers," she said.
And about those famous hats? Shawna said they're one of everyone's favorite things about the show, but she's not allowed to disclose how they work. "But it's very fun. I can say I think the San Francisco hat at the end weighs 300 pounds, but we literally have to sign something, so I can't say more than that!"
Cable car gripman and four-time Cable Car Bell Ringing Champion: Leonard Oats
The cable car conductor might be the more well-known member of the two-person trolley crew, but the grip operator should get some serious love. The "gripman" is the driver who stands at the front of the car and is responsible for propelling and stopping the cable car while also ringing the bell that warns other vehicles and pedestrians it's coming. Leonard Oats has been a cable car gripman for 17 years and works the Mason line, which is a shorter ride between North Beach and Nob Hill.
Being a gripman is not easy -- he must control the cable car's momentum by varying how tightly the grip (basically a huge pair of pliers) attached to the car grasps the running cable under the tracks.
"It's a hard job; it's very physical, but also mental. You have to know what to do and you have to do it fast without even thinking," said Leonard, adding that there's a 95% failure rate during the first three days of training. There are times the job can be nerve-wracking, like when it rains and the brakes don't respond as well as they do when it's dry, and dealing with traffic (particularly on hills) is a constant ordeal. One mistake can damage the cable beyond repair -- a $100,000 blunder that also shuts the line down overnight.
Not only is Leonard great at his job, but he's also a four-time Cable Car Bell Ringing Champion. While other ringers use one hand, Leonard's trick is a two-handed bell ring. But it's not just about this technique. "It's about tune, rhythm, originality... you have to have something a little different to be outstanding."
But he's not just ringing that bell for the fun of it. "We don't have a horn on the cable car," Leonard said. "There's no turn signal, no lights, no mirrors. I'm ringing that bell to get everyone's attention to say, 'I'm coming. I'm here.'"
Leonard also loves his job and the people he meets. "They're happy to ride the cable car. Happy to see you. Happy to tell you where they're from. It's interesting to learn about different cultures. I haven't been all around the world, but I've met people from all corners of it."
Penguin caretaker (and matchmaker) at the Academy of Sciences: Vikki McCloskey
Without a doubt, one of everyone's favorite exhibits at the California Academy of Sciences in Golden Gate Park is the African penguins. Vikki McCloskey, assistant curator of Steinhart Aquarium at the California Academy of Sciences, oversees those little guys -- as well as the swamp area, and all of the animals and plants in the rainforest.
While making sure the animals in the aquarium are happy and healthy may seem like a glamorous job, Vikki is quick to point out that a large portion of her job is cleaning and feeding. In the mornings, after the penguins wake up and go swimming, Vikki and her team check the nest boxes to see if any of the penguins have laid eggs or are sitting on any eggs. But, she noted, "African penguins nest in their poop, which means there's also a lot of scrubbing out the nest boxes and scrubbing poop off of rocks."
Still, she gets to hold penguins every day while doing nail and beak trims, and that's got to be amazing right? Well yes, but, "a lot of people don't realize African penguins have the sharpest beaks of any birds on the planet -- they're so sharp that sometimes you won't even realize you've been sliced until you see the blood." Oh, and it doesn't stop there. "Their bones are heavy because they're aquatic birds," Vikki explained. "Which means their wings can break your wrist bone with one hard smack." Yeah, Vikki's not just smart, she's brave.
Vikki also develops behavioral enrichment programs for the animals. "All of the penguins are in a training program," she said. "They step on a scale for fish in the morning and we work with them so we can take their wing bands on and off without getting bitten."
Claude, the albino alligator has also been trained to station at a certain spot in his exhibit. "He doesn't see very well," Vikki said, "so he responds to our vocal commands; he's required to come to his home station and put his snoot up to the cement island in order to get fed. He's the most dangerous animal in that exhibit, so we want to make sure we have him on a very strong recall in case something happens in the tank."
Vikki also works with conservation projects that help highly endangered African penguins. Two years ago, Vikki went to South Africa to do rehab with African penguins at the Southern African Foundation of Conservation of Coastal Birds. Due to over-fishing in that area, the parents aren't able to find enough food to feed their chicks -- Vikki was part of the team that enabled over 530 chicks to be successfully re-released into the wild.
Vikki also enjoys playing matchmaker. "We don't collect birds out of the wild and we want to make sure we have a captive population for hundreds of years, so every year we sit in a classroom with a population biologist who looks at all of the genetics of every captive African penguin and match-make."
Right now at the Academy of Sciences, there are six adult pairs, a male chick, and an adult female who lost her mate. But thanks to Vikki, the single lady will be getting a new mate next spring.
If you want to see the penguins and perhaps catch of glimpse of Vikki during feeding time, check out the live penguin cam.
Ironworker on the Golden Gate Bridge: Phillip Chaney
The ironworkers on the Golden Gate Bridge are called "sky cowboys." Their job is to replace corroding steel and rivets with high-strength steel bolts, and build scaffolding and weatherproof containment for the painters so they can get to all of the precarious places on the bridge. Phil Chaney, the Ironworker Superintendent, oversees all of it.
"Repainting is probably the most important thing that happens as far as maintenance on the Golden Gate Bridge," Phil explained. "The scaffolding and containment my ironworkers build for the painters gives them a weatherproof area so they can sandblast and repaint the steel year-round without letting the fog or rain hinder their production."
This means you'll often find Phil and his team hanging on the underside of the bridge hard at work, but Phil doesn't mind the heights or the climate.
"The Golden Gate Bridge has its own microclimate," he added. "It can be 90 degrees in Marin, but it might be 50 degrees at the bridge and socked in fog. And the fog coming up off of the ocean has a high salt content, which can make the bridge rot. They've done studies and the Golden Gate Bridge is in one of the second worst environments in the world for a structural steel bridge. The other one is in China."
There's nothing quite like the view Phil gets when the fog lifts; the Blue Angels fly right above his head during Fleet Week, and he has also spotted a huge pod of grey whales. "The marine and wildlife under and around the bridge is plentiful. We've got red tail hawks, raptor birds, herds of deer, bobcats," he said. "It's really cool to watch the birds of prey soar around the toll plaza and dive down and get a poor little mouse or snake. We're really fortunate to have such a robust and protected environment on both ends of the bridge."
And while Phil is watching the wildlife, the tourists are watching him. "We have upwards of ten to fifteen thousand tourists visiting the bridge every day during peak season. So we get to hear a lot of 'ooohs' and 'ahhhs' when they see us doing crazy stuff."
But even though it's fun to see the wildlife and impress the tourists, that's not what Phil loves most about his job. "The coolest thing is that I'm taking care of such an iconic structure and am part of a maintenance program that is making sure the Golden Gate Bridge never has to be replaced." He battles wind, fog, sea air, and heights, all to make sure the most photographed bridge in the world stays that way forever.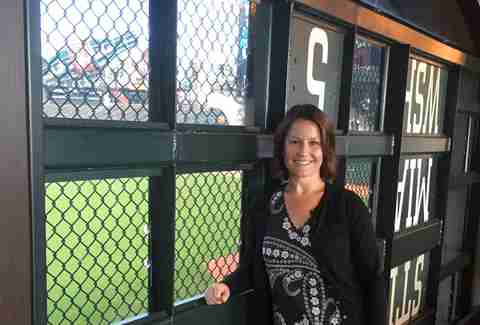 Manager of AT&T Park's secret members-only club: Ryann Greenberg
Considering the fact that pretty much everyone who lives in San Francisco is a Giants fan, it's a little strange more people don't know about Gotham Club, the San Francisco Giants' members-only club that has hidden spots throughout the ballpark, including a private clubhouse that's located inside the out-of-town scoreboard, and a secret game room with bowling lanes and billiard tables.
Members of the Gotham Club have their own private game day ballpark entrance (and can get in before the public), access to the on-field Bullpen to watch batting practice, entry to all of the private clubs (which are full of memorabilia), and get to attend exclusive events like on-field dinners and baseball road trips. And as Manager of the Gotham Club, it's Ryann Greenberg's job to oversee all of it.
"The club is designed to celebrate the history of the franchise, while also providing an experience that is unlike anything else in the ballpark in terms of hospitality," Ryann said.
While you'll have to pay to join the exclusive club if you're a regular person, anyone who has ever played for the New York Gothams, New York Giants, or the San Francisco Giants is automatically a member. Which means Ryann gets to meet and work with a lot of alumni. One of the most rewarding things about her job is "watching the alumni's eyes light up when they see we've created a whole club dedicated to their history. And while our members love seeing the alumni, it's just as satisfying for the alumni to see how much they're still loved."
Though Ryann can't divulge too much about the alumni she works with, she does say that one of the most gracious and excited members of the Gotham Club is Dave Dravecky, who pitched for the Giants from 1987 until cancer in his pitching arm ended his career in 1989. "He's a wonderful person who gives so much back to our team and every time I see him at the club, he's so excited to be there. As a baseball fan growing up, meeting him was one of those moments I called my dad about so I could say, 'Guess who I met today?'"
Ryann is also responsible for putting together unique experiences for the members, like going on the road to see the Giants. On one of the recent road trips, she arranged for members to get a tour of Fenway -- including the Green Monster (the giant left field wall). "That was an overwhelming moment for everyone because the Green Monster isn't open to the general public and people only get to go inside of it a handful of times a year."
Ryann loves that she has the creative freedom to come up with experiences like that to really wow the members. The Gotham Club may be the only club of its kind and is "blazing that trail."  
Alcatraz expert and program greator: Nicki Phelps
Nicki Phelps is technically the vice president of visitor services and programs for the Golden Gate National Parks Conservancy, but she explains her job like this: "I tell the park stories. And I feed the park visitors." That's because Nicki is responsible for providing visitors with programs services and experiences in the Golden Gate National Recreation Area, and also runs the food and beverage program in Crissy Field.
Nicki is very proud of what she calls the "healthy parks/healthy food" initiative, but the fact that she's a historian by training and has been working in the park since 1974 makes her unequivocally one of the best people to share all of the tales about what makes the GGNRA so special with visitors. One of the most important stories Nicki tells is the story of Alcatraz and is passionate about the island's audio tour.
"The thing that sets the Alcatraz audio cell house tour apart from traditional audio tours is that it's comprised solely of the memories of the correctional officers and the inmates," she said. "There are no professional voices on the tour; there's only authentic memory. And what makes that interesting is that depending on who you are, you tell the same story differently. We trust the visitors to be able to find the truth of the matter, which really is that truth is subjective."
Nicki said she and her team are always trying to innovate and make improvements -- which just so happens to be how Nicki stumbled upon what one of the best moments of her life.
Her team was getting ready to do a major overhaul of the Alcatraz interpretive experience that required changing all of the signage, video flow, re-editing the audio tour, and escalating the historic furniture plan, which included furnishing the Clothing Issue room. When the team was painting cabinetry, a shiv fell out of an old shelf.
"A screwdriver handle that had been taped on one end and filed down to a very sharp point and had been made to fit up in the curl of the shelving unit. I was so excited. Why did someone feel threatened in Clothing Issue? What was going on there?," Nicki wondered. "As guardians of Alcatraz, we think we know everything, but then Alcatraz gives us a little surprise and we realize, there's so much more here we don't know about. It was a moment I'll never forget. History reveals itself to us. We don't reveal history."
Of course, finding improvised jailhouse weapons isn't the only thing Nicki loves about her job; she loves meeting people and engaging in their Alcatraz experience. "[Alcatraz] involves you from the moment you get there. You're on an island in the middle of the bay. The views couldn't be more spectacular. It has it's own life -- it's own flora and fauna, it's own compact 200 year history. We take a little secret delight in knowing people are going to get more out of it than they think they are."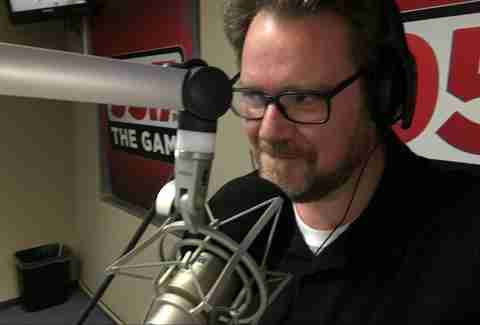 Sports talk show host: Damon Bruce
If you're at all into Bay Area sports, then you've heard Damon Bruce, host of The Damon Bruce Show on 95.7 The Game. Or maybe you've heard him doing the pre-game for the Golden State Warriors. If not, you should make it a point to check him out, as he's one of the most listened to and most entertaining sports talk show guys around.
But what makes his job so cool? "I have access to every single team in the Bay Area, which I certainly take advantage of," Damon said. "It puts me in the club houses, the locker rooms, the post-game press conferences, and allows me to ask direct questions to the people I cover. I get to work in sports and that is truly the toy department of life."
People tune into The Damon Bruce to have fun, complain about what's going wrong, and talk about what's going right. "And with this really being the Bay Area sports gold rush right now with all of the Giants success, with the Raiders coming up, with the Golden State Warriors being the No. 1 story in sports across the board, it's amazing where we are right now, so I'm very lucky to be here at this time."
Considering Damon has covered the 49ers in the Super Bowl, covered the Warriors in the NBA Finals, and covered the Giants in the World Series, you might be surprised, however, to hear what he considered the coolest sporting event he's ever attended.
"A guy who was a listener of my show is one of the guys who coordinates the Mavericks big wave surfing competition. He invited me to sit in the photography boat at the crest of that wave for about six hours was the most unique perspective I've ever had for a sporting event," Damon said. "It opened my eyes to what an unbelievable, dangerous, exhilarating, Zen-like, peaceful thing big wave surfing is. It can kill you. It changed my perspective about sports. And, if not for my job and a listener who was cool enough to invite me, I never would have had access to that."
But that best part of Damon's job is that he hardly considers it a job at all. "It's something I do as much for myself as for any listener. It's the fastest four hours of my entire day and I do it because I absolutely love it. If I won the Powerball tomorrow, I'd still be at work the next day. I have no idea where my personal time ends and my work time begins... and if you're always working, you're never working."
Sign up here for our daily San Francisco email and be the first to get all the food/drink/fun SF has to offer.