Everything You Need to Know About Navigating Oakland's First Fridays
Each month, Oakland First Fridays takes over five blocks of Telegraph Ave, transforming them into a pedestrian-only melange of live music, vendors, food trucks, and some seriously good people watching -- it's an experience well worth checking out whether you consider yourself especially "artsy" or not. Oakland Art Murmur, which started this whole shebang, hosts the First Friday Art Walk, encouraging galleries to stay open late for your (possibly boozy) cultural consumption. So get off the Xbox, and get on the streets -- we've got the step-by-step guide for how to do it with style.

Transport the smart way
Parking around here is a beast. Be smart and take BART to the 19th St Station. Feeling lazy? Don't worry, it's a brief walk to the action -- and we've planned, ahem, stops for refreshment along the way. If for some inexplicable reason you just love to hunt for parking, avoid non-city lots -- you don't want to give your dough to some dude at a rogue lot, only to realize later that your car is blocked in until all the other suckers come back, too (not that we're talking from experience or anything).

Kick off with a beverage
Walking north from BART, head to Telegraph and W. Grand, where the festivities get started. There'll be music, vendors, and plenty of party people -- but before you get swept up, stop at The Legionnaire Saloon, where you can play pinball, have a pint, rock the old school jukebox, and get yourself ready to journey on. If you're sad to leave, don't worry: you can always pop in later for the no-cover dance party held until the wee hours on First Fridays.
Get started on the art walk
Conveniently enough, Chandra Cerrito Contemporary art space is located right around the corner from Legionnaire on 23rd. Take the opportunity to scope out their current exhibit and breathe in how badass Oakland's art scene is.
Get your street party on
Now ping-pong across Telegraph to the 23rd St Performance Area and take in the street performers. This is a public show-off area, so if you're in the mood, you can bring your hula-hoop or dijurido and flaunt your skills (or lack thereof).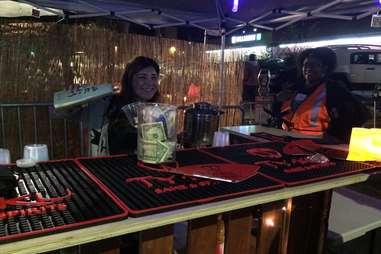 Cure your thirst
You've been working hard taking in all this culture. It's time to cross Telegraph again for a pit stop at the Telegraph Beer Garden. This is the perfect spot to rendezvous with your crew if you've been on a solo mission to see all the street stalls. Grab a picnic table amid the 20- and 30-somethings sporting beards, cut-offs, and Converse, refresh, and move on.

Take in a performance
Zig-zag back across Telegraph to the 24th St Stage, one of two official performance stages at the street fair. Expect the unexpected. From a local rock outfit to a visiting Cambodian circus troupe, there's always something exciting going on.

Slip down the side streets for surprise shows
As you stroll north, peek right down 24th and scope out local cool-kid movie theater, The New Parkway. They'll often host bands for First Friday, not to mention offering fresh popcorn and adult bevs inside. Post-popcorn, hook a right on 25th, and pop into a block chock-full of participating Art Murmur galleries. If you want to know what's where ahead of time, check out this super-useful gallery map.
Consider becoming famous
After your art immersion on 25th, jump back into the street fair fray by crossing Telegraph to the 25th St Stage. Check out the acts and realize that you, too, can perform for the people of Oakland. If you're an unsung hip-hop hero or band nerd, you should totally apply.

Take a break for food trucks
You've probably worked up an appetite at this point, and fortunately, the final one and a half blocks of the fair are dedicated to an awesome range of snacks: BBQ, tacos, tamales, wings, po-boys, Indian food, pies... almost anything your little heart desires. The fair's only alcohol vendor -- a sake garden where you can sip concoctions like Sake Coladas in style -- allows you to booze it up while you get your snack on, too.

Pick up a piece to take home
Make your way back down to the festival and find a painting or print that will cure your apartment's walls of their current case of severe bland-itis. Plus you'll be supporting local artists in the process -- win/win.

Stop by this 100x100ft installation projected onto a wall at Grand and Valley anytime between 7-10pm. It'll leave you starry-eyed -- and remind you how damn cool this town is.

Keep the party going
Think going home is for babies? Head straight to Make Westing, which is right down the street from the iconic Fox Theater. You can order swanky nibbles (like roasted bone marrow with duck fat garlic), sip fancy cocktails, and challenge cute strangers to a game on their indoor bocce ball courts. It's a fun scene -- and an easy spot to chat up without being a creeper.

THE QUICK & DIRTY
What:Oakland First Friday
When: First Friday of each month
Time: 5:00pm to 9:00pm (9:30pm in summer)
Where: Telegraph Ave between W Grand and 27th St
Festival Vendor Map:Here
Art Walk Gallery Map:Here
Taking BART:19th St Station Transport Info
Parking: Go for City-owned lots and garages
Sign up here for our daily San Francisco email and be the first to get all the food/drink/fun SF has to offer.
Annie Crawford is an Oakland-based writer who loves an arty street party. Follow the fun @ReinaAnnie.