How to Experience Japan in San Francisco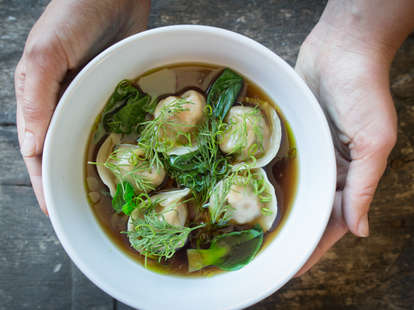 Courtesy of Onsen
Courtesy of Onsen
The Bay Area is a good place to be for a Japanophile -- San Francisco has long had a large Japanese-American community (as well as a Japantown) and close ties to the island nation. There are plenty of ways to get your fix for the land of the rising sun without ever having to board a plane, from indulging in your favorite Japanese sweets to samurai sword spotting at museums. Learn and explore, while filling your belly and relaxing your muscles, at these eight, local Japanese cultural highlights.
Visit a sake brewery
Bayview
While Japanese whiskies and craft beers are having a moment right now, sake is the country's oldest and most treasured local booze. There are more than 2,000 sake breweries all over Japan serving fresh rice brews that are better than most of the pasteurized options that have typically been sold in the US.
Sequoia Sake is San Francisco's first artisan sake maker and one of the few small-batch sake brewers in the US. Founders Jake Myrick and Noriko Kamei were inspired by the high-quality sakes they enjoyed while living in Japan, and started the brewery with childhood friend Warren Pfahl when they moved back to the Bay Area. Visit the brewery on Saturdays and get a tour of the operation, sample delicious sakes, and learn about brewing from some true sake nerds.
Soak in a Japanese bath house
Tenderloin
The Japanese islands are volcanically active and there are veins of geothermally heated water right below the surface. The country has thousands of natural hot spring bath houses, called onsen. Stressed out city folk retreat to rural hot spring towns to stay in a traditional Japanese hotel, and soak in the hotel's communal baths. Locally, you can visit the appropriately named, Onsen , a Japan-inspired bath house and restaurant built in an old automotive garage in the Tenderloin. Like the Japanese spas, it is single-sex (swimsuit optional) on alternating days, and co-ed (swimsuits required) on weekends. The soaking room has an eight-person hot soaking pool, dry sauna, steam room, and cold plunge shower area. The spa also offers optional spa treatments and a restaurant with delicious seasonal food, tea service, and a selection of sake and Japanese craft beers.
Don't miss the bathhouse restroom which displays a massive collection of elaborately decorated tsuko tegata, wooden amulets that were used as passports during the Edo era. Today, they are sold as souvenir-worthy admission passes to many of Japan's hot springs baths.
Experience a traditional Japanese tea ceremony
Outer Richmond and North Beach
The practice of drinking matcha, powdered green tea in Japan, came from Zen Buddhist monks who used the caffeinated beverage to stay awake during marathon meditation sessions. In the 16th-century, famous tea masters developed an elaborate meditative ritual for the seated preparation and serving of whisked matcha tea, called chanoyu (or The Way of Tea). The ritual developed into one of Japan's highest forms of art that requires decades of study to master.
In San Francisco, there are hundreds of students practicing this traditional Japanese art, in Zen schools and in private classes taught by tea scholars. You can experience a traditional tea ceremony at regular events hosted by the Urasenke Foundation, one of the US branch offices of the famous tea school based in Kyoto. For a more informal look, you can also drop in on the weekly classes taught by Kimika Takechi and Larry Tiscornia, a married couple and private instructors who teach traditional tea ceremony in their home in the Outer Richmond.
Wander a Japanese garden
Golden Gate Park
Artfully manicured Japanese gardens go back to the seventh century when gardens were designed as meditative places with design elements from Buddhist, Shinto, and Tao traditions. There are thousands of these elegantly landscaped gardens around the country.
The Japanese Tea Garden in Golden Gate Park is the oldest public Japanese garden in the US, originally designed as a "Japanese Village" exhibit for the 1894 San Francisco World's Fair. The authentic garden features an arched wooden bridge, pagodas, stone lanterns, stepping stone paths, native Japanese plants, koi ponds, and a zen garden. Like Japan's famous gardens, this one was planted with seasonal color in mind -- cherry blossoms that bloom in March and April and Japanese maples that turn red in the fall.
Explore Edo-era works of Japanese art
The Edo Period (1603 to 1868) was a relatively peaceful period of Japan's history and a time when the arts flourished. Many of the things that we think of as Japanese (painting, ceramics, woodblock prints, kabuki theater, culinary traditions, and the tea ceremony) all grew to be a big part of the culture during this era.
In the present day, you can visit the Asian Art Museum to see a large collection of Japanese works from the Edo era and other pieces dating back to 3000 BCE. The collection includes traditional arts like painting and ceramics, as well as items of daily life like extravagant samurai armor, swords, pipes, and tobacco holders. The collection even includes a complete Japanese tea house that was built in Kyoto, shipped to San Francisco, and assembled by Japanese carpenters. The museum hosts several annual Japanese ceremonies and festivals including New Year's bell-ringing ceremony (where visitors get the chance to take a swing at the 2,100lb 16th-century Japanese temple bell) and a mochi making party, a sweet New Year's tradition.
Shop for gift-worthy Japanese sweets
Union Square
Japan has an important gift-giving tradition called omiyage. Every time you go on a trip, you have to buy friends, coworkers, and family members beautifully wrapped and often edible gifts as a sign of respect. Japanese train stations and department store basement food halls offer endless options for locally made seasonal sweets, rice crackers, and teas wrapped for gift-giving.
Minamoto Kitchoan, the San Francisco branch of the Japanese confections boutique based in Okayama, feels just like a Japanese department store, with well-dressed shopkeepers and elegantly wrapped sweets.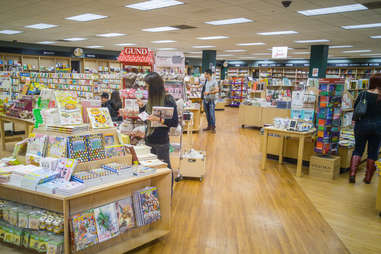 Browse anime and Japanese pop culture
Japantown
Kinokuniya Bookstore is a one-stop shop for both English and Japanese-language books, comics, and magazines as well as quirky Japanese gifts, like figurines of cats dressed as sushi rolls. Kinokuniya is the largest bookstore chain in Japan and the Japantown store is the oldest Japanese bookstore in US. The top floor is the main bookstore and the ground floor is 100% manga and anime. Word to the wise: Don't take pictures; Japanese shopkeepers aren't keen on you capturing photos of their customers and unique, artistic displays.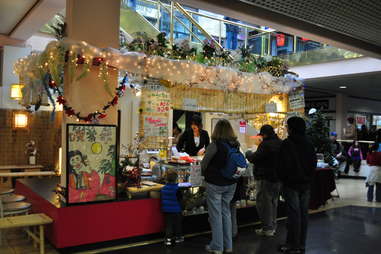 Explore the shops and food stalls in Japantown
Japantown
San Francisco's Japantown is the largest of the three remaining historic Japantowns in the United States. The neighborhood was established after the Great 1906 Earthquake and Fire displaced many Japanese Americans from their homes in Chinatown, and boomed until 1942, when President Franklin D. Roosevelt's issued Executive Order 9066 which forced all people of Japanese descent, including Japanese American citizens of the United States, to be sent to internment camps. The community never really recovered.
Still, the shops and restaurants of the district resemble Japanese business districts and concrete block malls resemble the 1960s-built shopping centers that are a staple of life in modern Japan. The iconic Peace Pagoda is a five-tiered concrete stupa that was a gift from San Francisco's sister city, Osaka, Japan. Many shops feature little statues of Tanuki, a chubby Japanese raccoon dog -- shopkeepers consider him lucky for business, so you'll often see him greeting visitors at the entrance to stores.
To learn more about the neighborhood, you can do a docent-led tour of Japantown with an emphasis on the history and culture of the Japanese American community in San Francisco; Edible Excursions offers a food-themed tour of the neighborhoods.
Sign up here for our daily San Francisco email and be the first to get all the food/drink/fun SF has to offer.