Valentine's Day is a total sham. A "holiday" where you're expected to splurge on fancy, overpriced meals, dumb cards, candy, and flowers? That is not a holiday. That is a veiled effort at unnecessary consumerism. But OK, skepticism aside, all of this doesn't mean you have to skip celebrating this day of love. There's plenty to do that will show your unwavering affection and admiration, and it doesn't have to cost upwards of $200.
Recommended Video
Ghost Kitchen: How This NYC Restaurant Is Responding to Coronavirus
Picnic in Golden Gate Park (or Dolores or... )
Dolores Park (& other locations)
Stop at Bi-Rite for some wine and charcuterie, then head to one of San Francisco's many gorgeous, picnic-friendly parks. The Botanical Garden in Golden Gate makes the perfect romantic backdrop to canoodling in the grass (bonus: free flowers), or if you're more into people-watching, Dolores Park is your best bet -- especially if you're a fan of edible treats.
 
North Beach
North Beach has a never-ending amount of Valentine-worthy restaurants, but skip the garlic breath in favor of a walk up to Coit Tower. You'll be greeted with phenomenal 360-degree views of the city (it costs to get to the top, but the views are still great from the base of the tower), breathtaking murals (you can pop inside to check these out for free), and a perfect spot to admire the sunset.
 
The Mission
All that roller skating, hiking, and "chilling" sure works up an appetite. Head into Bender's Bar & Grill from 2pm-7pm for a free BBQ on the back patio. Sure, you'll have to shell out some cash for a drink or two, but a free burger is more than worth it.
 
Fisherman's Wharf
So technically it costs to play the games, but we're talking chump change here. It's free to get in, and then you'll only shell out a few bucks worth of quarters to play with the vintage coin-operated arcade machines and mechanical musical instruments.
 
Enjoy a private rooftop terrace
Downtown (& other locations)
You probably didn't know that San Francisco is full of privately owned public rooftops. We also bet you didn't know that the city's 1985 Downtown plan requires one square foot of public space per 50sqft of hotel or office space, so there are quite a few of these locations hiding around town. These well-groomed, impeccably maintained rooftops are the perfect spot to catch sweeping views of the city and pull out a budget-friendly picnic.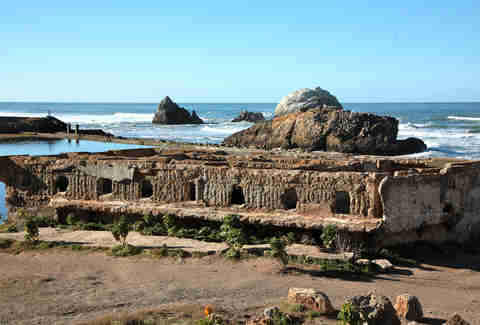 Sea Cliff
Nothing says romance like a sunset hike. Make your way down to Lands End trail, which is just tame enough that you won't be gasping for breath. At the bottom, you can check out the Sutro Bath ruins amidst a picturesque ocean view.
 
Have a bonfire on Ocean Beach
Ocean Beach
First things first: BUNDLE UP. It's San Francisco, after all, and the beach is not the place for bikinis and skinny dipping. However, if you come prepared (perhaps with a flask for extra warmth), you can have a romantic evening in front of a roaring fire with the sound of the ocean waves in the background. Just make sure you know all the rules for having a beach bonfire before you head out -- 'cause nothing kills the mood like getting arrested (or forgetting your flask).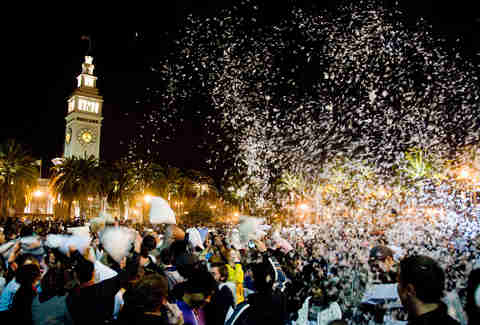 The Embarcadero
It should come as no surprise that whimsical residents traipse down to Justin Herman Plaza every Valentine's Day armed with feather pillows and beat the crap out of one another. Even if you don't have a date to spend the day with, maybe you'll lock eyes with a fellow fighter and figure out a different kind of pillow wrestling. (Hint: it's the sex kind).
 
The Castro
Channel your inner nine-year-old and plan a date that'll remind you of the true pleasures of life. Bring a piece of cardboard and spend all day careening down the cement slides tucked away in the Castro. Pro tip: the park closes at sunset, so go on the early side.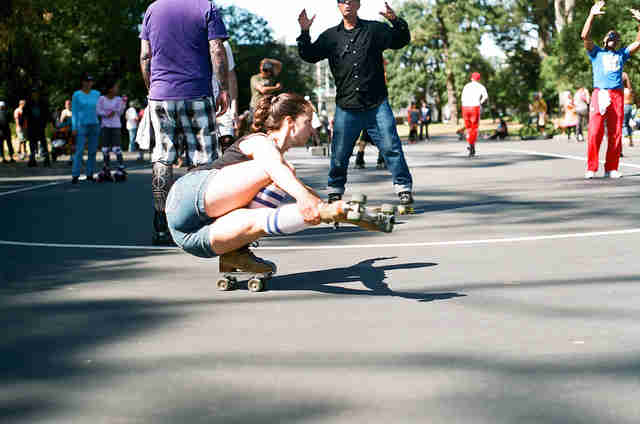 Inner Richmond
Throw on those roller skates, grab your boo, and head to Golden Gate Park (6th Ave and Kennedy Drive, to be exact), where every Sunday at noon you'll find skaters boogie-ing to funky disco beats.
 
Netflix & Chill
Your Neighborhood
Need I say more? Whether it's a Tuesday night or Valentine's Day, Netflix & Chill is always there for when you need it. Make some popcorn, dim the lights, throw on a movie, and then give them that "look" after you're only 20 minutes into the first episode of Fargo.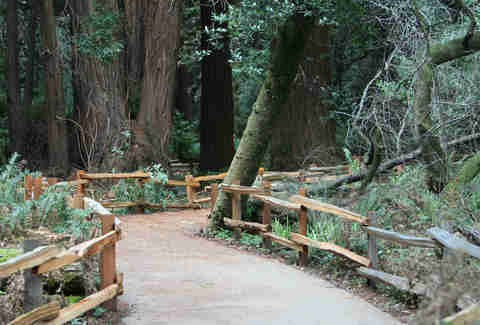 Go on a hike
The Presidio (& other locations)
Whether you choose to do an urban hike to Twin Peaks, get dirty in Muir Woods, or stay local and enjoy the greenery in The Presidio, our city has myriad ways to get your heart rate up in the great outdoors. Seriously, if you're date would rather eat a prix-fixe meal than go on a intimate hike... it might be time to re-evaluate your relationship.
 
Nob Hill
Come on, who doesn't want to learn about old-school vibrators? No one. You'll be shocked at the interesting history (they were invented in 1869 to treat hysteria) and maybe even a little excited to go home for another free activity. (We're talking about sex).
 
Inner Sunset
Walking up stairs might not sound like the most romantic date, but hear us out. The steps, located in the Inner Sunset (at Moraga and 16th, to be exact), are a public art piece. The 163 mosaic-tiled stairs were created by more than 220 neighbors who sponsored the hand-made tiles that depict birds, fish, and local scenery. Once you climb to the top of the stairs, take in the western views over the Sunset District and polish off that flask you definitely did not forget.
 
NoPa (& other locations)
Valentine's Day lands on a Sunday this year, which means you have your choice of several San Francisco farmers markets. We like the Divisadero market because you can grab a few things to munch on in Alamo Square. Sure, it costs money to buy the produce, BUT the free samples are the real draw here.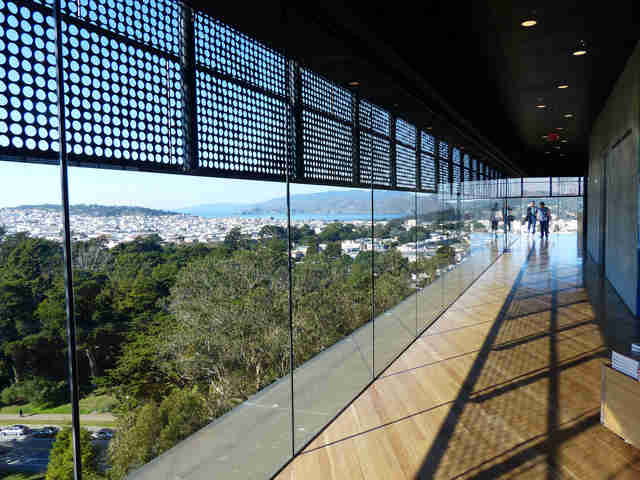 Head up to the observation deck at the De Young
Golden Gate Park
Skip the lines and the $10 price tag at the De Young and head upstairs to the The Hamon Observation Tower. The spectacular glass-walled space 144ft above ground boasts 360-degree panoramic views of downtown San Francisco, Golden Gate Park, the Bay, and the Marin headlands, and you can enjoy a nice little walk around Golden Gate Park while you're there.
 
Bernal Heights
Again, buying things is gonna cost you, but it's still fun (and free) to admire the vintage collectibles that are on display here every Sunday.
 
Learn something new on a walking tour
All over the city
No reservation is needed for these free tours of San Francisco. Choose a topic that focuses on anything and everything, from neighborhoods and underground tunnels, to history and Barbary Coast bars. Then bond over your newfound knowledge of underground tunnels and Barbary Coast bars.
Fisherman's Wharf
For some unknown reason, sea lions began gathering at Pier 39 after the 1989 earthquake, and they never left. It's not a day-long activity, but if you've got an hour to spare, head down there, tell your date you speak sea lion, and then bark obnoxiously until someone finds it funny.
 
Russian Hill (& other neighborhoods)
Why should viewing good art cost you anything? Conduct your own urban art crawl and check out the Diego Rivera murals around town. Fun fact: these were the first murals painted by the artist outside of Mexico. You'll find them at the Pacific Stock Exchange, the SF Art Institute on Chestnut St, and the SF City College Diego Rivera Theater. While you're at it, check out Clarion Alley, the Precita Eyes Murals, and the Rincon Center Murals.
 
Listen to free live music
All over the city
There are plenty of places to listen to all sorts of free jams in the city. You can find an afternoon bluegrass session at The Lucky Horseshoe in Bernal Heights (you can also bring your banjo and join in), eclectic tunes at Club Deluxe, Original Famous Twang Sundays at Thee Parkside, Balkan Evening Dance at Revolution Cafe, or live blues at The Saloon (it's also one of the city's oldest bars). Pro tip: do not do your hilarious sea lion impression at any of these places.
Sign up here for our daily San Francisco email and be the first to get all the food/drink/fun SF has to offer.
Eloise Porter is a Thrillist contributor and is currently taking Valentine applications. Follow her on Twitter @eloisepporter and send yours her way.