Why Alameda Should Be Your Next Weekend Day Trip
Paige K. Parsons/Moment/Getty
Paige K. Parsons/Moment/Getty
If you mention "The Island" to most Bay Area locals, they might think you're talking about Alcatraz and not the island just off Oakland. The City of Alameda (which is also in Alameda County) was once a sleepy town home to a Navy base and the Del Monte cannery. Today, it's bustling with bars, restaurants, shopping, and, of course, the beach. Take a break from the grind and head over to Alameda -- there's a lot to dig about The Island's vibe.
You can lounge at a warmer beach
It's no secret that Northern California beaches can be cold (Ocean Beach, we're looking at you). Crown Memorial State Beach is the way to enjoy some more traditional beach weather, or cool off during a heat wave -- not to mention a much closer alternative to warmer beaches near Santa Cruz. Beyond lounging, you can grill, swim, windsurf, fish, and bike around this beach/park. Take your kids to the Crab Cove Visitor Center to learn about marine life, enjoy free concerts at the Cove during the summer, or check out the annual sand castle/sculpture contest.
Geek out over retro games
When was the last time you played Mike Tyson's Punch Out? (Have you ever played Mike Tyson's Punch Out?) High Scores Arcade on Park St Downtown offers '80s arcade games for the old-school gamer. When you've made a high score, head down the street for a few rounds of indoor miniature golf at Subpar. Over at the Pacific Pinball Museum, $20 gets you all-access to pinball machines from the 1930s and 1940s, as well as a pinball history lesson.
There's seriously good golfing
If you want to play more grown-up games, take a swing at the Chuck Corica Golf Complex (located on Bay Farm, the smaller island attached to Alameda's main body). Enjoy the beauty and quiet of Bay Farm from one of the club's two 18-hole courses or its nine-hole, par-three course. Don't worry if you've never tried golf -- the Complex has lessons for beginners.
Alameda's all about that vintage life
Alameda keeps the past alive with antique stores, but its major vintage attraction is the monthly Alameda Point Antiques Faire. It's the largest in Northern California, with more than 800 vendors setting up shop on the former Navy base on the first Sunday of every month. You can find everything from vintage clothing to knick-knacks and furniture here -- as well as some seriously weird stuff. (Do you need a vintage headless mannequin or old beer bottles? Look no further.) Wear comfortable shoes and get ready to snap some serious photos -- this fair has a gorgeous view of the Bay Bridge.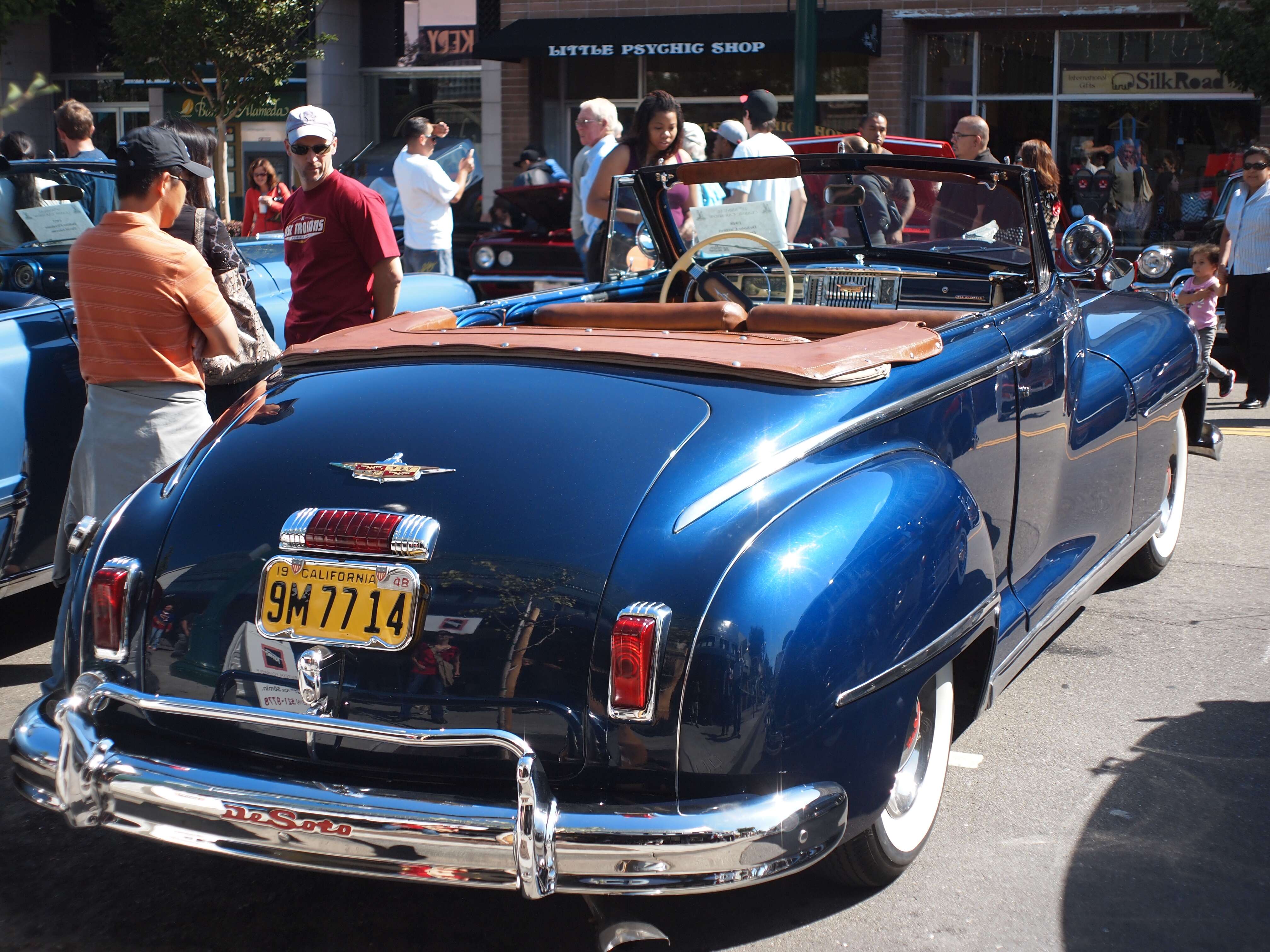 Cruise classic cars
The Alameda Classic Car Show has had vintage vehicles lining Park St for 23 years and features 400 classic cars. Get a glimpse of all kinds of rides -- from World War II military vehicles to tricked out low riders -- while listening to DJs and shopping locally (a stroll down Park will give you everything from a place to buy shoes to old Irish bars).
You can dance in the streets
Corn dogs, mojitos, funnel cakes, and live music -- you must add a street fair to your Alameda staycation. The Island hosts two major annual fairs on Park St. The Spring Festival usually happens around Mother's Day weekend and the Art & Wine Festival is held sometime in July. Both are pretty similar along the lines of artsy vendors and live bands, but the major difference is that the Art and Wine Festival has more alcohol booths (hooray!).
There's cuisine from around the world
Alameda has a lot to choose from when you're craving food from around the world, and it's mostly concentrated in a couple areas. Try Habanas Cuban Cuisine for a taste of something Latin (their bread pudding is a yummy surprise), or La Penca Azul and Island Taqueria if you're in the mood for Mexican food. Sidestreet Pho offers reasonably priced Vietnamese, and just around the corner, Monkey King Pub and Grub serves baskets of fried chicken and garlic noodles. You can also get a taste of German food (and live music!) at Speisekammer, or grab rave-worthy short ribs at Café Jolie on Webster.
In-N-Out. 'Nuff said.
If all those international options aren't your speed and all you want is a Double-Double from In-N-Out, we don't judge. A new outpost of the fast-food staple (finally) opened last year, right by the Webster St Tube. Save yourself the drive to Daly City, Fisherman's Wharf, or East Oakland and grab some animal fries here.
The Island has no shortage of bars
What's island living without a good drink? Alameda has places for you to sip or chug, depending on your drinking mood. Lucky 13 (which has a sister bar in SF) and The HobNob along the main drag of Park St are local favorites for a stiff drink and laid-back atmosphere.
Alameda has hella history
Remember that Alameda once had a Naval base? You learn about The Island's military history at the Naval Air Museum, where exhibits cover Pacific aviation before World War II through to the base's closing in 1997. The nearby USS Hornet Sea, Air & Space Museum offers tours of the carrier and you ride the fight jet simulator. For $100 per person, you and a group of friends can see what life was like as a carrier crewman and spend the night on the carrier.
You can sip spirits and watch the sunset
There are a handful of places to drink on the former Naval base, which also provides a gorgeous view of the Bay and the San Francisco skyline. Rock Wall Winery is where you want to be for a classy atmosphere (and they host occasional day parties). When the spirits are calling, nearby St. George Spirits hosts tours and tastings of whiskey, rum, absinthe, and more. Family-run Faction Brewing is yet another option in the area and though they don't offer tours, the tasting room has more than 20 beers.
Alameda has the best collection of Victorians in the area
San Francisco is no stranger to gorgeous Victorian-style homes (Painted Ladies, anyone?), but this is a case where the East Bay does it better with one Victorian for every 25 people on the Island. Alameda is littered with brightly colored, ornately decorated mansions and quaint bungalows from the turn of the last century that add to the city's small-town feel. If you've seen enough of the grand ol' houses, there's also a ton of craftsman homes and historic buildings that predate WWII -- the city estimates that there are more than 10,000 buildings that were constructed before 1930.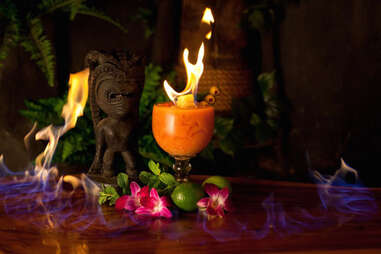 There's a Forbidden Island inside the Island
Maybe you want to turn up at the end of your staycation -- that's allowed at the Forbidden Island Tiki Lounge. Away from Downtown Alameda, this local paradise has live music, DJs, hula hoop go-go dancers on the first Saturday of the month, movie nights on Tuesdays, bar food, and good (read: strong and fruity) drinks. If you see dollar bills hanging from the ceiling, that's not the alcohol going to your head -- it's part of the décor, as are blowfish turned into lamps and a number of old surf movies on the TV screen. Order their Chamborlada, a blend of piña colada and black raspberry liqueur in a goblet. Forbidden Island even cures the Monday blues with happy hour prices all night long.
Sign up here for our daily San Francisco email and be the first to get all the food/drink/fun SF has to offer.