The Hottest Burlesque Shows in San Francisco & the Bay Area
Gabriel Hurley/Tourettes Without Regrets
Ah, burlesque: the mostly socially acceptable way for sexy strangers to make you laugh... and feel a little funny in your pants simultaneously. In San Francisco, we're blessed: almost any night of the week, you can watch beautiful women (and some men and non-gender-conforming folks, too) strip, tease, and tantalize at one of the city's many burlesque events. While finding inventive ways to flaunt T&A is certainly a cornerstone of the art form, burlesque is its own breed of performance art, and one that hits more notes than simply "sexy." Sometimes nerdy, sometimes super out there, and often absolutely hilarious, the babes in the Bay do it right, putting on shows that hit all the marks while pushing boundaries. Whether you want to see classic striptease, celebrate body positivity, or just dig some tassel twirling, we've got you covered. Or uncovered... except for pasties. Here are the best spots to hoot and holler your appreciation in San Francisco and the Bay Area.
<em>Oakland</em><br />
Tourettes might be known for its fire spinning, pierced suspension, dirty haikus, and rap battles, but you'd be a fool not to come for the burlesque as well. Many Tourettes nights are themed -- we've seen burlesque inspired by <em>Hellraiser</em>'s Pinhead and cannibal housewife acts (yup) -- you're basically guaranteed to see some mind-bending, subversive burlesque from sexy and rebellious ladies. Get in line early for this popular show on the first Thursday of every month at the Metro Operahouse.
This long-running show in SoMa (performing every second Friday at DNA Lounge and every Monday at <a href="https://www.dnalounge.com/booking/&quot; target="_blank">Above DNA</a>) mixes comedy, classic striptease, and circus arts... and also has some of the the highest production value acts in the city. Friday night revues are themed -- think haunted house-themed burlesque -- and feature performers from across the country performing with a live band. Hubba is also home to <a href="https://www.dnalounge.com/calendar/2016/06-10.html&quot; target="_blank">Burlesque Nation</a>, an annual invitational&nbsp;of the best in burlesque from across the country and around the world.
<em>Mission</em><br />
One of the entry points to the Bay Area burlesque scene is Bombshell Betty's burlesque school and seminars, where folks can learn to titillate... and even tassel twirl. Bombshell Betty and her Burlesqueteers take the upstairs stage at the Elbo Room to show off their developing skills on the second Tuesday of each month.
<em>Oakland</em><br />
This monthly show happens every third Friday at Club BNB, and never fails to bring a genuinely sizzling lineup of burlesque, drag, circus, comedy, and other performances. Hosted by poet and dirty haiku legend Wonder Dave, Seduction features performers across the gender spectrum and caps the night with a queer dance party after the show.
Multiple locations
Red Hots promises that you'll never see the same show twice, even though you can find one of their shows somewhere in San Francisco three times a week. Its international, rotating cast includes burlesque, drag performers, comedians, and sideshow acts from performers of every gender, size, and race. Check out their Burlesque Brunch every Sunday at PianoFight, Wednesday nights at BEATBOX, or Saturday nights at the Cat Club for rock 'n' roll dancers (which of course they refer to as a "Rack and Roll BurlyQ."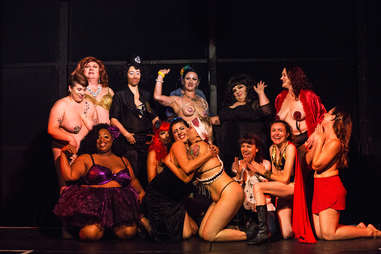 Location varies
Who says you can't get deep and sexy at the same time? The brainchild of Bay Area burlesque bombshells Laika Fox and Andi Stardust, this "emotional rollercoaster" of realness, joy, and struggle tells personal stories about bodies through performance art. While performers often explore themes of body image in their performance, Body Political takes a deep dive into the ways bodies are controlled, denied, and marginalized by social and political institutions. This show only happens twice a year, so sign up for the mailing list to find out when you can catch it next.
Eli's Mile High Club (address and info), The Townhouse (address and info)
With two shows in the area, Womanopoly has the East Bay on lock. The brainchild of burlesque performers Elyse Elaine and Sgt. Die Wies, the burlesque variety show is at times slow, raw, and intimate, and at others, glamorous, and super fierce.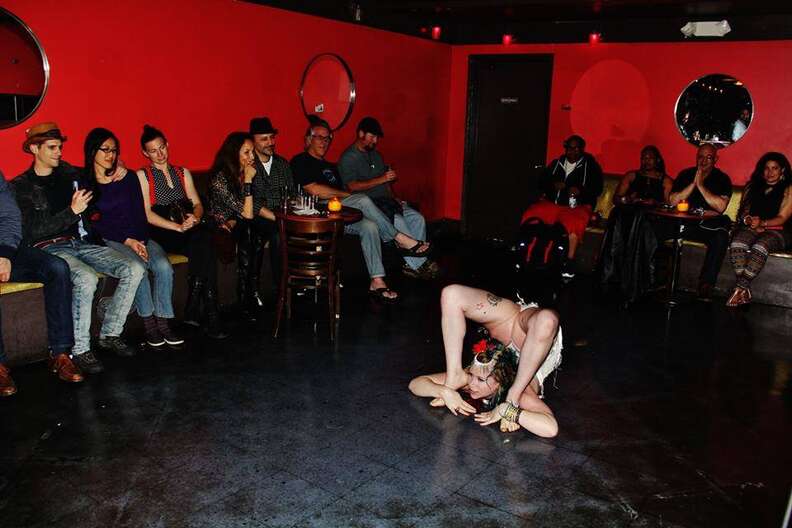 <em>Mission</em><br />
Just in time for the weekend and steps away from 16th St BART is a free (as in, you don't have to pay money!) cabaret at Skylark Bar. Host Hunny Bunny presents a lineup of comedians and contortionists, in addition to some of the area's best burlesque performers. The show starts at 8pm... and is a surefire way to have something to talk about with your drinking companions afterward. &nbsp;
EXIT Theatre (address and info)
Tenderloin
Every spring, DIVAfest returns to the Exit Theatre for a themed burlesque event that's performed like a play. Past shows have riffed on Alice in Wonderland and the history of performance art, with rotating set pieces and casts. This year's event (get tickets ASAP!) is The Big Hot Mess, written and performed by Catherine Debon.
Multiple locations
Sinister Twist takes you back in time to the neon haze of an ultra-sleazy Las Vegas, playing seductive rock 'n' roll, exotica and bump 'n' grind beats. The four-piece acts as the instrumental backing band to a seriously smokin' burlesque show from some of the Bay's biggest names. Unlike other shows, Sinister Twist doesn't have a set home, but you're likely to catch them in the Mission at Bender's or Elbo Room.
<em>Oakland</em><br />
Step back in time and celebrate "the golden years of classic Hollywood glamour and Las Vegas showgirl sparkle" with Fishnet Follies. Produced by Mynx d'Meanor, the Fishnet Follies revue is features student performers doing mostly traditional-style burlesque -- think large, feathered fans and straight-up stripteases. Head to The Legionnaire Saloon on the first Thursday of every month to take in all that they offer, including features solo performers as well as troupes.
<em>North Beach</em><br />
Named after a part of the city famous for its wild past, Barbary Coast Burlesque is one of the oldest shows in San Francisco. Led by local legend Bunny Pistol, BCB leans on the raucous history of the Barbary Coast and features top performers with a sophisticated bent. Previously homed at Yoshi's, BCB is now at Doc's Lab on the first Saturday of the month.<br />
<br />
<em><a class="vortex-open" data-campaign="2846" href="https://signup.thrillist.com/&quot; target="_blank">Sign up here</a> for our daily San Francisco email and be the first to get all the food/drink/fun SF has to offer.</em>
Jessica Lipsky is a San Francisco-based writer who is hollering from the back row. Probably with a whiskey in hand. Follow her on Twitter @JessicaLipsky.