Get Off Your Blanket & Onto the Water: Here's How to Really Enjoy the Bay
It's been so warm lately that you're probably heading straight for the beach this weekend, hoping to feel the sun on your face for a brief moment before the fog rolls back in. But rather than unrolling your picnic blanket onto the sand like every other San Franciscan, try actually venturing out onto that water that you've just been admiring from the shore all these years. We are, after all, the City by the Bay... we might as well get out on the water. Here are a few ways to enjoy the Bay besides looking at it.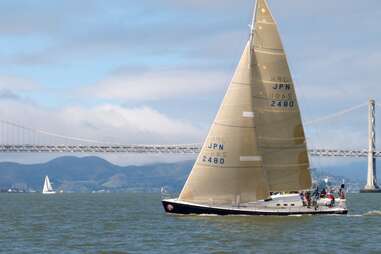 Pretend you're fancy and go sailing
The most classic of boating options, sailing conjures up images of tony wealthy East Coasters vacationing off Cape Cod. But there's a reason the America's Cup was in San Francisco in 2013: sailing on the Bay is unique and exciting. You never know exactly what's going to happen, besides the fact that you will definitely add some wind-blown color to your look. To learn this ancient art yourself, take a sailing class with the Marin Sailing School or the San Francisco Sailing School (an offshoot of the San Francisco Sailing Company). Or, if you'd rather not ruin the mystery by learning stuff, simply charter a sailboat and enjoy the ride.
Explore the local flora and fauna via kayak
You've probably seen the brave kayakers under the Golden Gate Bridge and thought about how epic that would be, but you've never quite mustered up the courage. Now's the time. Sign up for a Sea Trek tour under the bridge or even paddle out to Angel Island. They promise that no experience is necessary, but if that makes you nervous take a class first. There are so many different kayak offerings: paddle a moonlight kayak tour, take a trip to Muir Beach, or visit the Elkhorn Slough wildlife up close. You don't even have to do an organized outing, if people aren't your thing. Just rent a kayak and paddle on your own around Tomales Bay, along the city shoreline by AT&T Park, or down in Half Moon Bay.

Learn how to row (and get super fit in the process)
Yeah, if kayaking and sailing seem intimidating, then rowing might feel downright terrifying. It really doesn't have to be scary, though: nobody's expecting you to start out like an Olympian. Both the Dolphin Club and the South End Rowing Club have been home to local rowers (... OK, and some Olympians) since they were founded in the late 1800s. While you have to be a member to use the fleet of boats or the facilities at Aquatic Park, there are public events and clinics for newbies to try out the old-school row boats. You can even start out rowing at Lake Merced in the city, or try your skills on Corte Madera Creek with Marin Rowing.
Give SUP a shot
Stand-up paddleboarding (or, if you want to sound in the know, SUP) has been booming in popularity the last few years, and for good reason. You look really cool standing up on a board, casually paddling along the water, and here's the kicker: it's actually not difficult... especially if you don't care about going fast. You may want to start off your SUP life in the calmer waters of somewhere like Richardson Bay, or in the hands of a shop like 101 Surf Sports in San Rafael. They host lessons on Sundays, group paddle training sessions weekly, and races nearly every weekend in the summer -- which often come with wacky costumes (bonus!). If you get really into it, buy the $120 unlimited 30-day paddler pass. Or if you're up for an extra challenge, try SUP Yoga.
Pretend you're in SoCal and learn how to surf
OK, it's colder up here, and kind of hard. But you can take a beginner surfing class down in Pacifica to get started, or ride the gentler waves out in Bolinas before you tackle Ocean Beach and Fort Point. If you want something even faster and trickier, try windsurfing (or the increasingly popular kite-surfing). California Windsurfing, off the Foster City Lagoon, is a low-key way to get started. We're not going to lie to you: unlike SUP, surfing and all its variations are really hard to learn... even the basics. So, you know, make sure you know what you're doing before hitting any massive waves.

Rent a wetsuit and take the plunge
Yeah, yeah, you've probably splashed around in the water... but truly swimming out in the Bay is a different beast entirely. While some intrepid swimmers take the plunge in just their swimsuits, the water is too cold for most of us -- the water's typically in the high 50s. However, there's a way to add a layer of protection against the elements: grab a wetsuit. If you're not into committing to owning one, you can grab a rental at Sports Basement. Jump in at Aquatic Park, and you're bound to see other swimmers, or join a group session -- Water World Swim hosts them. Start out in protected coves before venturing farther into the deep. You'll want guide boats or an organized event if you plan to head into open water; you don't want to get stuck out there with a shipping boat bearing down on you. Both the Dolphin Club and the South End Rowing Club have facilities at the east end of Aquatic Park, and regular club swimming events. For a $10 day fee, you'll even get access to the Dolphin Club's lockers and showers for after your swim (worth it).

Throw down on a booze cruise
If all of these things feel just a little too, uh, active, then there's always another way to get out on the water. Take a booze cruise around the Bay and out under the Golden Gate. Try a wine-tasting Bay cruise or rent out a whole boat with your friends. Ruby Sailing costs $400/hour for up to 28 friends, and Just Dreaming has a $36/hour (per person) open bar option. Just hold on to your glass when the waves start to roll.
Sign up here for our daily San Francisco email and be the first to get all the food/drink/fun SF has to offer.
Kelly O'Mara has written about vegan delis, cancer-sniffing dogs, and Olympic athletes. Follow her to learn more about triathlon and the Bay Area than you ever wanted to know @kellydomara