How to Make the Most Out of Super Bowl 50 in San Francisco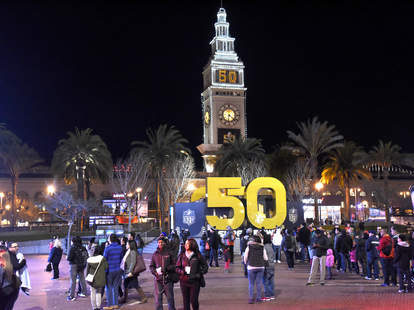 Tim Mosenfelder/Getty Images
If there's one thing San Franciscans love, it's finding things to be outraged about. Which is actually why everyone should be thanking Super Bowl 50 for coming into our town and disrupting our lives. Suddenly, we have so much to whine about. The traffic! The cops in riot gear! The ugly Super Bowl 50 statues all around town! Public transportation being disrupted! Tourists who don't know how to behave! Corporate greed and Ed Lee! Yeah, this Super Bowl 50 stuff really sucks, right?
 
Well, kinda. There's still some cool stuff to eat, drink, and enjoy. Don't worry; we won't tell anyone if you actually make the best of the situation. And if you're seriously just so over it, scroll down to the bottom where you can find a few escape plans.
 
Happy Footballing!
It turns out Super Bowl City is not that great, but the NFL Experience at the Moscone Center, on the other hand, is definitely worth the price of the $35 ticket. There are interactive games, lots of NFL history displays, and players and coaches cruising around giving away autographs. It goes from 3pm to 10pm all week, 10am to 10pm on Saturday, and 10am to 2pm on Sunday.
Yeah, you read that right. Gott's Roadside in the Ferry Building is hosting a pop-up puppy café starting featuring adoptable rescues from local shelters. It's not actually the real-life puppy bowl, but it is sponsored by Animal Planet and who cares because puppies.
The good (or bad depending on how you look at it) news is that OneRepublic is not the British boy band One Direction. Also they'll be at City Stage (Justin Herman Plaza) at Super Bowl City playing at 8:30pm. There will be a fireworks show, too.
Just when you thought you had that "Happy" song out of your life, Pharrell Williams and his hat decided to play at Pier 70 to celebrate the Super Bowl. Post-show set by DJ Khaled. The entertainment starts at 10pm.
The bunnies are taking over AT&T Park from 10pm to 2am for a party that's (ostensibly) to celebrate the magazine's redesign, but is really about playmates, celebrities, and lots of drinks. It's invite only unless you want to go VIP, which you do. Contact playboysb@itkexp.com for the deets.
On Super Bowl eve, you can head to the Design Center to hear Avicii, Elle King, and Travis Scott while drinking Heineken and Belvedere. Like all of the good parties, this one isn't open to the public, unless you're willing to throw down for VIP tickets which you can do here.
Alicia Keys and Goapele are the final free concert of the week at The City Stage at Super Bowl City. It starts at 7pm.
Maxim Magazine is taking over Treasure Island. A$AP Rocky is the headliner and there will be appearances by Lil Wayne and DJ sets by William Lifestyle, Devin Lucien & Balthazar Getty.
Where to eat and drink
Pretty much every bar is doing some special cocktail for Super Bowl 50, so we'll spare you the details on that, but there's definitely some cool food and drink stuff going on that you may want to check out.
 
RN74 "On the Fifty" Pop-Up
SoMa
For one week only, 49ers fan chef Michael Mina is turning RN74 into a pop-up called "On the Fifty." The space is footballed out with décor and autographed memorabilia that you can purchase. The menu has a football theme, of course, and there will be special Panthers and Broncos-themed dishes. Plus, it's a "charitable dining experience" which means a part of the proceeds go NFL Foundation charities. And while we can't promise anything, we heard NFL players from past and present will be stopping in for lunch and dinner, so there's a good chance you'll spot someone you usually only see on the field. (Reservations highly encouraged, FYI.)
 
Dirty Habit Patio Tailgate
SoMa
On February 3rd, Dirty Habit's hosting a Super Bowl-themed tailgate on its outdoor patio. There will be tailgate-inspired foods, but with an elevated twist (of course). Dishes include a duck corn dog, chicken wings with sweet soy and chili vinaigrette, and the DH burger. There will also be craft brews and signature cocktails available, including "The Catch," a gin concoction that pays homage to a time when the 49ers were actually good. The tailgate goes from 5 to 8pm. No tickets or anything like that necessary.
 
Three-and-Out Beer Flight at Parallel 37
Chinatown
It's never good to go three-and-out, unless it means you're getting a flight of three California craft brews in 4oz pours for $12. There's also a signature cocktail (we told you) called "The 50" (Get it? Because it's Super Bowl 50). Both are available in the lounge and at the bar from 5pm to 9:30 pm on February 5th through 7th.
 
Taste of the NFL
Daly City
This is probably one of the few Super Bowl-sanctioned events you can maybe afford to do and if you really go for it, you can make it worth your money. The Cow Palace will have 35 food stations run by all-star chefs who represent different NFL cities. And not only will they be handing out yummy bites, there's a wine pairing that goes with each. Plus, NFL players will be there to pose for selfies and Third Eye Blind's performing. Still, it's $700, so you'd better starve yourself for a week so you can really go to town.
 
The Players Super Bowl Tailgate
Santa Clara
This is your chance to party with Guy Fieri, Erin Andrews, and a bunch of current NFL players. But if you're going to make the $700 ticket worth it, you'll need to show up right when it opens at 10:30am and get to work on the whole hog throwdown, nacho bar, mac daddy mac and cheese bar, super steak sandwich station, meatball madness, and so much more. It goes until 3:30pm and is right down the street from Levi's Stadium.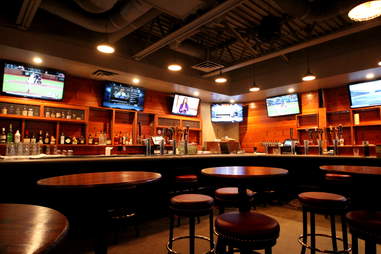 Joe Starkey/Thrillist
Where to watch
There's nothing like kicking it at home where you have complete control of the couch, remote, and food. But if you feel like watching elsewhere, here are a few spots that should be fun.
 
San Francisco Athletic Club (address and info)
Lower Pacific Heights
This Lower Pac Heights spot has 27 TVs, bathtubs of beer (if you reserve a booth), and is teaming up with Rocky the Leprechaun for the day to turn itself into an unofficial Denver bar. You'll probably want to stay far, far away if you're rooting for Carolina.
 
Greens Sports Bar (address and info)
Russian Hill
We're not sure how or why it happened, but Greens has become an unofficial home for Panthers fans in SF. With over 20 TVs, there's not a bad seat in the house and since they sell buckets of beer, you don't have to worry about constantly flagging down a server.
 
Levi's Stadium (address and info)
Santa Clara
If you can get a ticket, nowhere will be more fun to watch the game than at the stadium where it's being played. That is, as long as you can deal with all of the corporate bullshit that comes along with it. Still, it's happening just miles (45 to be exact) from SF, so if you've got a few grand to spare, now's a good time to cross "go to the Super Bowl" off your bucket list.
Where to go if you just want to GTFO
Can't hang with the crowds and tourists? Hate football? Then this might be a good opportunity for you to bust out of SF altogether. Maybe head up to Tahoe for some sweet turns, do one of these nine under-the-radar road trips, go to Carmel for wine tasting or a spa weekend, play golf at Wente Vineyards, drink all of the cabernet in Napa, or just crawl into bed, pull the covers over your head, and know that come Monday, everything will be back to normal and you'll have to find something new to bitch about.
 
Sign up here for our daily Thrillist email, and get your fix of the best in food/drink/fun.
Daisy Barringer is an SF-based writer who went to Super Bowl XLVII in New Orleans. This year, she'll be watching from the comfort of the couch... in Tahoe. Follow her on Twitter @daisy.