How to Support the AAPI Community in the Bay Area
Ten Bay Area community leaders share their favorite AAPI-led nonprofits, retail stores, and restaurants from Oakland to San Jose to San Francisco.
First beginning as a week-long celebration in 1979, May was designated by the US government as Asian American and Pacific Islander (AAPI) Heritage Month in 1990. May was chosen because the first Japanese immigrants arrived in the US on May 7, 1843, and to commemorate May 10, 1869, when the transcontinental railroad was completed. The majority of the railroad workers were Chinese immigrants who were largely erased from the history and photos from that time.
Today, there are an estimated 22 million Asian Americans living in the US, with Chinese, Indians, Filipinos, Vietnamese, Koreans, and Japanese representing the largest groups. There are 1.6 million Pacific Islander Americans living in the US, including Native Hawaiians, Chamorro, Samoans, and other Indigenous groups from Polynesia, Melanesia, and Micronesia.
The San Francisco Bay Area is home to a large and historically significant Asian American and Pacific Islander populations, from the early Chinese immigrants who arrived in San Francisco to the Vietnamese and Southeast Asian refugees who fled wars in their home countries. San Francisco is also home to the oldest Chinatown in North America and a Japantown that's more than a century old. Following NYC and LA, San Francisco and San Jose boast some of the largest Asian American and Pacific Islander populations of any metro area in the US. This presence and influence can be seen in our local food, arts, entertainment, politics, and more.
We reached out to ten AAPI leaders, chefs, and artists in the Bay Area, who were eager to dish on their favorite AAPI-led nonprofits, retail stores, restaurants, and more, from San Francisco to Berkeley to San Jose and beyond. Make sure you support these worthwhile businesses and organizations not just during AAPI Heritage Month, but all year-round.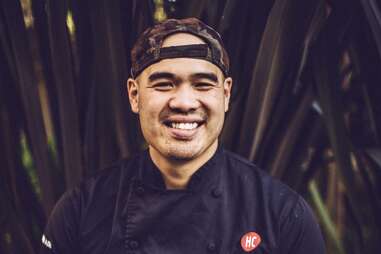 "This is not just a restaurant to me. I met the mother-daughter duo through Minh Tsai of Hodo Soy. I had my first meal with him and Denise, the owner, there and we've been friends ever since. Their amazing food has provided identity and community for me and to this very day, I am so proud to say we are homies.
My wife and I became regulars at Tay Ho. We actually had our first date there. Their food is mind-blowingly good, especially their Banh Cuon. They only make it for lunch. And her mom makes every banh cuon to the minute in the spirit of Vietnamese hawker centers. The freshness of the Banh Cuon translates into being silky and incredibly delicate. It almost melts in your mouth."
I currently serve as a Board Member for the Oakland Asian Cultural Center in Oakland's Chinatown. They served as a safe space for me in my youth. I was there via AYPAL and AYSC in their after school programs. And I passionately offer my resources and efforts to help reassure that OACC is sustained for future generations to come.
Shawn Camacho and chef Shawn Naputi, co-owners of Prubechu in San Francisco:
Le Dix Sept is one of our favorite bakeries/pastry shops in SF. It's owned and operated by Michelle Hernandez, who we've had the pleasure of working with during our pop-up days and for several special events around SF. Michelle is of Mexican-Chamorro descent so we had an instant connection with her and her story. We were super excited when we found out that we would be neighbors as she has since opened a shop just around the corner from Prubechu. Everything at her pastry shop is outstanding, from the coffee to her amazing confectionary treats. Her shop has given that stretch of 18th street some life and vibrancy."
"Center for Asian American Media (CAAM) has supported Prubechu since its early days and we really love their mission and what they do. They support and amplify Pacific Islander voices which means everything to us. They reached out to us early in our journey to write an article on Prubechu and Chamorro food. At the time, no one had shown any interest in our story and we were very grateful that they had wanted to feature us and our culture. They are still supporting Pacific Islander voices and stories via their partnership with Pacific Islanders in Communication, or PIC. They're wrapping up their 40th year of CAAMFest. One of the shorts in their virtual (and in-theater) film festival is called Kantan Hererro — a story of a Chamorro blacksmith named Sean Lizama who is preserving the art taught to him by his father. It's for these reasons that we really have a strong support for CAAM and the people that work there."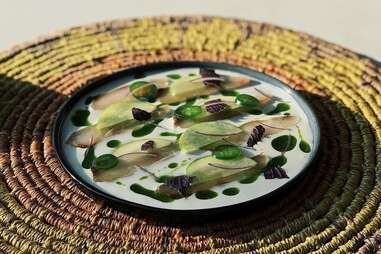 From Fabien Santos, restaurateur and owner-operator of Merkado in San Francisco:
"Of course I'm going to say The Lumpia Company! Chef Alex Rotodo is doing a great job expanding the concept beyond simple Lumpia and bringing this Filipino dish to the forefront of different communities. The Lumpia Company operates out of a takeout window in Oakland and a concession at Oracle Park, as well as The Lumpia Company food truck, usually parked at Merkado when not on the road. Dishes by The Lumpia Company are also offered on Merkado's Bar Bites menu and in 2022, The Lumpia Company will start offering service from Merkado's Cantina space."
"For full service, I will say ABACÁ is killing it. On my first visit, and knowing that Filipino food can be regionally very different, I kept an open-mind about the presentation and flavor profile of the menu. The chicken and veggie skewers were my favorite, and I really enjoyed the chef's take on Chicken Palabok and Seafood Pancit. I also recommend their brunch! Try and get there early, as their Chicken and Pandan Waffles tend to sell out."
"I'm currently working with San Francisco Project by Project (PbP) for their Community Restaurant Week. Myself, along with Alex Rotodo from The Lumpia Company, have been searching for an organization that would be a good fit for our collaborative events, and with which we could build a relationship. Our goal was to find a nonprofit that was celebrating diversity, but also working with the community to better understand the culture. When PbP reached out to us, we both knew it was the right partnership—we can tell our collaborative stories through the passion of our businesses, with great food to boot! We hope to continue to work with PbP on future events."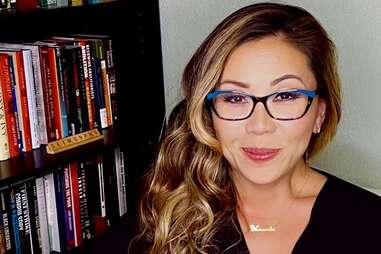 "One of the best places to shop is Laney Flea Market. I love that it's $1 to enter every Sunday at the Laney College parking lot in Oakland. There are hundreds of vendors. It's where I get my detergent, vintage jeans, and purses. It's also where I get my mango ice cream, mangonada, and tacos. It's a nostalgic place for me. I love it because it reminds me of who I grew up with and what Oakland means to me."
"I deeply appreciate the work of Asian Women's Shelter (AWS). They were founded in 1988 to support survivors of domestic violence, especially women from immigrant and refugee communities. Their work centers women, children, LGBTQ+/BNG, and youth.They are one of the only organizations that serves survivors of all genders, ages, races, nationalities, language communities, abilities, income levels, and more. They work to eliminate domestic violence and to promote the social, economic, and political self-determination of women and all survivors of violence and oppression."
"Long Life Vegi House in Berkeley is my favorite vegetarian Chinese restaurant. They have such incredible food and I've been going there since I was little. The Mu-Shu with pancakes is a favorite and so is their black bean green beans with imitation chicken. Their sizzling rice soup is always what I crave when I'm sick, too."
"Mauna Kea Education and Awareness (MKEA) is a grassroots organization that is fiscally sponsored by the nonprofit Seventh Generation. Their mission is to educate and raise the awareness of communities in Hawai'i and beyond, on the spiritual, historical, cultural, environmental, and political significance of Mauna Kea and all sacred places, and provide cultural learning opportunities to everyone from Keiki to Kūpuna, residents, visitors, and others concerned about Indigenous rights and responsibilities, in order to create a platform for protection of sacred places and for social justice and positive change. It was founded by Pua Case, one of the leaders of the movement to protect Mauna Kea and protagonist and collaborator in my documentary, Standing Above the Clouds."
"Bandung Books is special to me because I used to live right down the street from where it's located next to Eastside Arts Alliance, and when I'd go there, it was for more than just checking out their books, music, film, and art selections. They host community events like film screenings and readings, offer space for community to work, and strive to nurture and grow the political consciousness of our communities by focusing on anti-colonial, third-world literature. It's the only bookstore in East Oakland, making it even more sacred than it already is."
"The Samoan Community Development Center (SCDC) has been a hub for cultural preservation, youth development, holistic health support, and intergenerational community engagement within the Samoan (and broader Pacific Islander) community in the Bay Area for over 30 years. Based in my hometown of San Francisco, SCDC was a lighthouse for many Samoan and Pacific Islanders who immigrated from the islands to the US, offering social services that were culturally competent and met the growing needs of our Pasifika community. It's also the place where I led my very first poetry residency with our Samoan youth back in 2009 with fellow Samoan poet Andrew Vai."
From Nidhi Chanani, illustrator, artist, author, and graphic novelist:
"Momo n Curry in Concord is delicious! They never sacrifice quality and have truly delicious Indian and Nepali food. If you're wondering what to order, I suggest trying their Malai Kofta and Chili Momos."
"I've followed and learned from the work of SAALT (South Asian Americans Leading Together) for years. I became aware of their work when post-9/11 hate filled my life. They host an activist summit annually. They do concrete work with and for the community."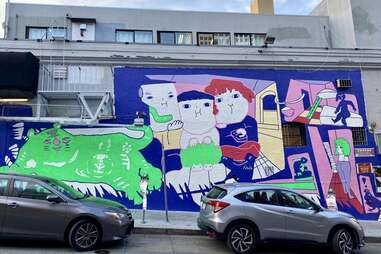 "This is classic Chinatown dim sum in the best possible way: affordable, nutritious, and delicious. The dim sum crowd is a lot of neighborhood residents coupled with Downtown and Chinatown office workers. It's the perfect snapshot of the intersections of our community. In that sense, it's the perfect example of a Chinatown "community space," but in the form of a restaurant.
"The owner, who I know simply as "Mr. Zhou," is an example of a hard-working Chinese immigrant who worked his way up from line cook to restaurant owner operator. He's the kind of person who symbolizes how Chinatown can be a platform for economic opportunity. Even better—he gives back to Chinatown by making his space available for affordable gatherings. This is exactly the kind of resident serving economy that we are fighting so hard to make sure can still thrive."
"Chinatown Media & Arts Collaborative (CMAC) is a new entity in Chinatown but holds a special place. It's the coming together of six nonprofit organizations revolving around arts and culture—including the well-known Chinatown-based ones like Chinatown Community Development Center, the Chinese Historical Society of America, Chinese Culture Center & Foundation of San Francisco, Chinese for Affirmative Action, Angel Island Immigration Station, Asian Art Museum, and the Center for Asian American Media.
To me, CMAC is a hopeful story of what Chinatown can be—and that is overcoming our differences to unify behind a broader goal. In other words, making our sum greater than our parts. CMAC came together at the best possible moment, right before the pandemic started. So you had this unified group going into the pandemic who will be part of the "solution" for keeping Chinatown vital and "real" coming out of the pandemic."
From Marky Enriquez, DJ, event producer, and marketing expert:
Located in the heart of SOMA Pilipinas neighborhood in SF, Arkipelago Books keeps historical and contemporary Filipino stories alive as one of only two specialty book distributors outside of the Philippines. From Baybayin studies to children's stories to science fiction and more, available in a number of languages, I always find unique books and gifts here."
"One of my favorite casual joints in SF is Señor Sisig, known for its Filipino-style tacos and burritos. My go-to is the Chicken Sisig Burrito, which has chicken, adobo garlic rice, pinto beans, lettuce, pico de gallo, and cilantro cream sauce. The Mexican and Filipino flavors are a mouth-watering combo! What's great is Señor Sisig is it's veggie-friendly too, so there's something for everyone. Don't sleep on the Tofu Sisig!"
From Betty Duong, Chief of Staff for the Office of Santa Clara County Supervisor Cindy Chavez
"I feel very privileged to live in the Bay Area where so many organizations have deep historic roots in our community and so many new emerging organizations and leaders. The Asian Pacific American Leadership Institute is the first organization I was ever involved with and am still a part of today.
Their mission is to elevate the national standing of our community through civic leadership training and building a community of leaders in government, nonprofit, education, and business sectors. They have a number of programmatic offerings, but my favorite is the Youth Leadership Academy for high school and college students hosted every summer at the De Anza Community College campus. Picture an intensive 12-week course on ethnic studies, Asian American studies, and intercultural communications all centered around current civic and social justice issues. Twenty years ago, this was my first introduction into Asian American studies and civic engagement. I am still with them today and can boast that my son and nephew are both alumni of the leadership academy too.
I support them because they create a safe and meaningful space for young AAPIs to explore the concept of identity, politics, and the history that is often left out of high school textbooks. APALI also does a great job of putting elected leaders, nonprofit executives, and activists in the classroom with students. The way they operate helps a student build their social and community network.
I come from a working-class refugee family with no network of my own when I became an adult. The community of mentors, advisors, and allies that I have today started at APALI, summer of 2002. The magic of this organization is that each participant leaves with a unique trajectory and perspective because it's not about having a singular playbook, it's about preparing the next generations of local leaders, advocates, and informed community members."
"San José Made (SJ Made) is my ultimate retail destination. They specialize in pop-up retail events and providing platforms for creators, locals, and small businesses. In recent years, SJ Made has become a leader in advancing micro-retail storefronts and redefining access to creatives and new vendors. In other words, you don't have to be "in the know" to know about all the cool new things. You can shop on their website, at their large and small events, or at Moment.
What I love most about shopping with SJ Made is meeting vendors who treat customers like their neighbors. My SJ Made shopping experiences typically involve meeting the owner/creator, hearing their story, getting in-depth understanding of their products, making a new friend in line, and having that warm feeling of knowing that my dollars are going back into my city and to our local creatives. Their annual Holiday Fair is probably their largest event and I finish all my holiday shopping there."
Momo Chang is a freelance journalist based in the Bay Area focusing her storytelling on food, culture, healthcare, and Asian American communities. She is the Co-Director of Oakland Voices, a community journalism training program that is a part of the Maynard Institute for Journalism Education. You can follow her at
@_Momo_Chang
on Twitter. Momo previously worked at the Center for Asian American Media.