The Ultimate K-Pop Guide to San Francisco
From what to see to where to eat and more, here are the best activities in San Francisco for the K-pop-obsessed.
San Francisco may not be known as a hub of K-pop activity, but there is so much to do if you're a K-pop stan living in or visiting the Bay Area. Not only is the K-pop fan community alive and well in the central metropolitan area, but the Oakland Arena is becoming a popular stop for K-pop idols and groups touring the United States. Factor in some of the local restaurants, K-beauty shops, karaoke bars, and coffee shops run by members of the Asian diaspora community, and K-pop fans visiting San Francisco can fill their entire itinerary with activities that satisfy their fannish persuasions. Here are some of our top recommendations for K-pop fans looking to adventure the afternoon or week away in or by the city by the bay.
Compared to Los Angeles, there aren't as many K-pop-specific shops in the Bay Area, but that makes SarangHello that much more special. Sarang means "love" in Korean, and there is so much to love about this Sunset District shop, which sells K-pop albums, accessories, and merchandise. For K-pop fans who care about getting their fave's latest single, EP, or LP on the charts, which, let's be honest, is most K-pop fans. Albums bought at SarangHello count toward Korea's Hanteo Charts.
In addition to having a wide variety of K-pop albums, SarangHello also hosts the occasional K-pop group signing event. Be sure to check their Instagram account for details on which lightsticks and albums are in stock and what events might be happening while you are in town. Even when there isn't an official event, the K-pop store, which moved into a bigger space last year, has a seating area with chairs and tables where guests can unbox their purchased items, take selfies, and trade photocards, should the mood strike.
Japantown
San Francisco doesn't have a Koreatown, but that doesn't mean there aren't pockets of Korean businesses throughout the city. San Fran's Japantown has several Korean businesses tucked into the neighborhood's corners, stretching across six city blocks in the Western Addition district.
Japan Center houses three separate malls—Kinokuniya Mall, Japan Center West, and Japan Center East—and the connected facilities make for a great afternoon or evening hangout for K-pop fans visiting the city. If you're looking for Korean makeup or face masks, check out The Face Shop or Fanloli Beauty. The Japan Center malls also house the oldest US branch of Japanese bookstore Kikokuniya, located in, as you may have guessed, the Kinokuniya building of the mall. The location opened in 1969, and while it focuses on Japanese books, magazines, and stationary, eagle-eyed K-pop stans will be able to find some merch. Nearby, Mai Do shelves some Korean stationery items, from specialty pens to the cutest of notebooks. After you're done shopping, take a walk to YakiniQ Cafe for a honey tea or a sweet potato latte.
If you're hungry, check out Seoul Garden, which offers Korean BBQ with traditional temple decor, or Beque Korean Grill, which has grills at the table and soju cocktails. If you have a small group looking for something cozy and low-key, stop by Doobu for mekju and tofu soup. Outside the mall, the trendy fusion restaurant Bangsang offers Korean-inspired tapas and creative drinks and has a lot of space for larger groups. If you're famished and have some money to burn, order kalbijjim, a large hot stone bowl of braised short ribs, at Daeho.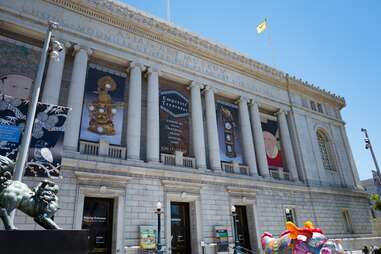 Arts & Culture
Asian Art Museum
If you're a K-pop fan looking for a broader cultural context around Korean pop music, consider visiting the Asian Art Museum. Located in the Civic Center and home to more than 18,000 pieces of art, San Francisco's Asian Art Museum boasts one of the largest collections of Asian art in the world. The museum has three floors of exhibition halls that you can explore in two or three hours if you're looking for a morning or afternoon activity.
The museum displays diverse examples of Korean arts traditions—from mulberry paper crafts to bojagi. On the building's second floor, the Koret Korean Galleries includes two sketchbooks and one painting from 20th-century Korean abstract artist Whanki Kim—one of BTS member RM's favorite artists. The museum's first floor houses temporary exhibits, often highlighting contemporary work or work around a broad, accessible theme. At the time of this writing, the museum is hosting a temporary exhibition on representations of "the underworld" in Asian art, including in the Korean cultural imagination. Previous exhibits have included the country's first major exhibition of Korean portraiture.
General admission to the museum costs $20 (with discounts for seniors and students), and the museum is easily accessible via BART. The museum is closed on Tuesdays and Wednesdays, so plan accordingly. Pro tip: Asian Box, the museum's Vietnamese cuisine-inspired cafe, has boba.
K-pop shows
OK, so you've purchased your lightstick at SarangHello. Now, it's time for a concert. The Roaracle, as it's known locally, is the Bay Area venue where the biggest K-pop groups, including BTS, Blackpink, and Stray Kids, come to play. While tickets often sell out quickly via Ticketmaster, resale options on sites like StubHub or SeatGeek are usually available. If you're visiting San Francisco for a K-pop concert at the Oakland Arena, public transportation is an option between the two cities; a pedestrian bridge connects the venue to BART's Coliseum Station.
Other venues in the Bay Area that regularly host K-pop acts include the Bill Graham Civic Auditorium, the Orpheum Theatre, and Golden Gate Park. To browse upcoming K-pop concert options, check out K-Play! Fest's calendar of upcoming K-pop concerts in the US, including in San Francisco and Oakland.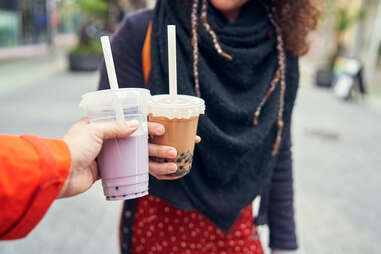 More Fun Things to Do
Cupsleeve events
There's a unique delight in attending a fan-organized K-pop meetup, and the Bay Area has many on offer. Cupsleeves are themed cafes organized by fans around a specific K-pop idol or group. Sometimes, they coincide with an idol's birthday. Sometimes, they celebrate the anniversary of a group's debut. Sometimes, they're just for the joy of it. If you're in San Francisco proper, check out 1011 Sip Tea and My Cup of Tea for cupsleeve events. Burlingame's Cafe Siete and Fremont's Mr. Sun Tea often host K-pop-themed events outside of the city.
If you're a K-pop fan, it's worth traveling to San Jose, which has a thriving Korean American population and plays host to many cupsleeve events. Caffe Bene, A Sack of Potatoes, R&B Tea, Guildhouse, and Teaspoon Campbell are all go-to venues for K-pop fan gatherings. Check out Cali K-Pop Weekly, an Instagram account that tracks K-pop happenings across the state, for an updated schedule of K-pop-centric activities in the Bay Area this week.